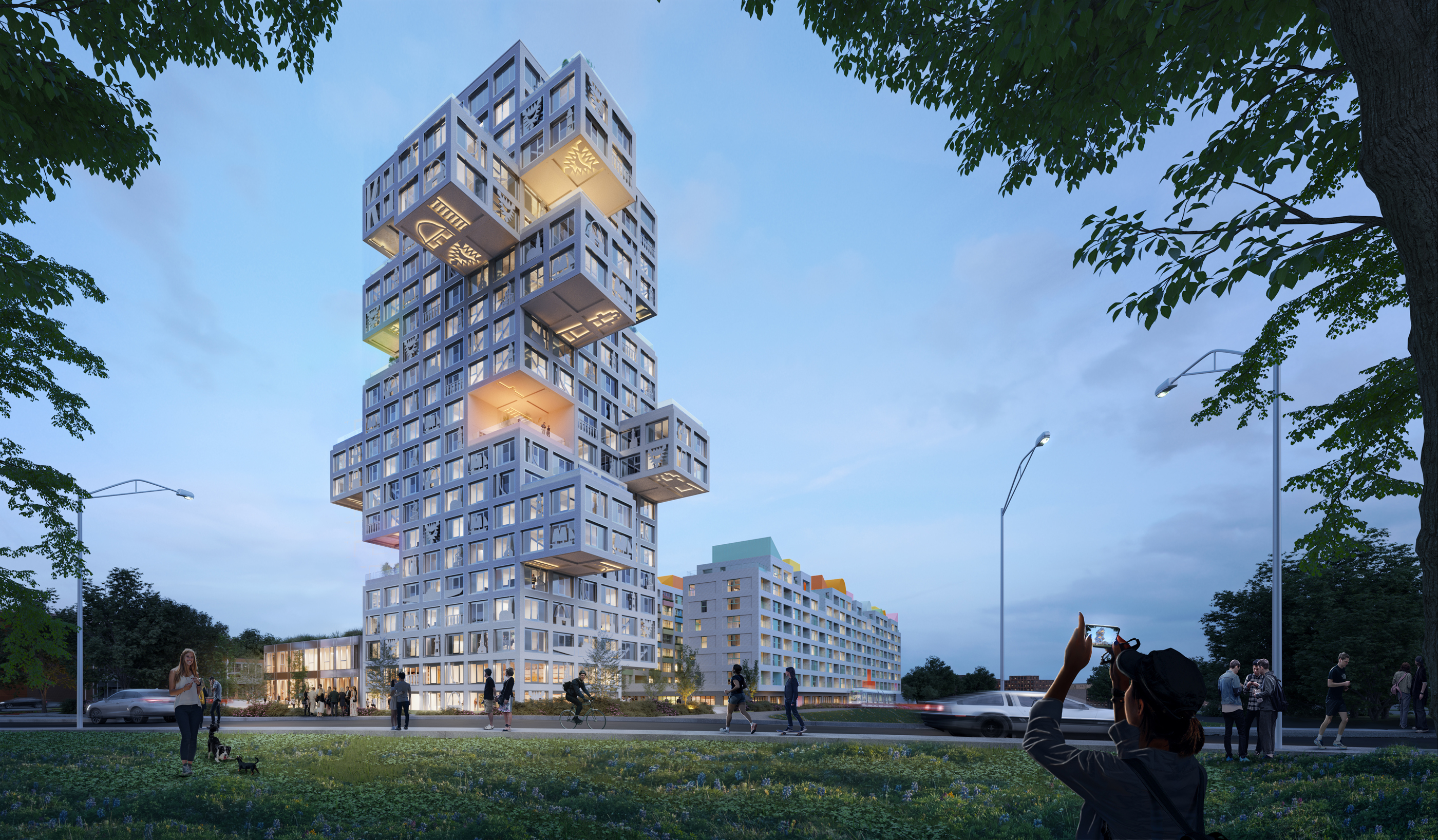 KoolKiel
Koolkiel is a 68,000-square-metre mixed-use complex that will redevelop a post-industrial site in Kiel, Germany. The proposal, which includes offices, residences, an elderly day care and commercial spaces, is tailored to the diverse community which will soon occupy the site that was historically connected to the activities of the harbour.
Location

City

Kiel

Year

2018

Surface

65000 m²

Client

Kap Horn GmbH

Status

In progress
Dubbed "KoolKiel", the proposal is located near the southernmost tip of the Kiel Fjord. Currently it is occupied by a large, single-storey building, which was originally used for storing chains for ships; however, in more recent times this location has become more notable for its connection to Germany's famous Werner comics, which were printed in the building from the early 1980s. The building is now known as W8 Medienzentrum, and is home to a variety of companies working mostly (but not exclusively) in media and the creative industries. This collection of tenants has given the area a unique and charismatic identity, which strongly influenced MVRDV's subsequent design.
The project aims to retain the creative and social diversity of the W8 Medienzentrum. In its place a plinth with commercial units is topped by two apartment blocks which enjoy an elevated courtyard, full of diverse activities for residents. Next to this, a new building is proposed with a zig-zagging plinth containing an elderly day care and shops, topped by three cubic blocks of social housing. At the end of the site, two towers emerge from a commercial plinth: a residential tower with staggered cantilevers, which will become a new icon for the city, and an office tower with 10,000 square metres of modern office spaces, overlooking the Fjord.
Lively exterior public spaces are key to the project: a green plaza is set between the buildings for the enjoyment of residents, shoppers and office workers, while a plinth rooftop park snakes its way around the three cubic housing blocks. The project's most eye-catching feature is the housing tower with its overhanging elements and lively facade. Aluminum panels sit in front of the windows and display a variety of icons inspired by the graphics of comic strip and symbolic elements connected to Kiel's history and culture.
"In a location with such a dynamic and creative existing community, we wanted to retain the same social and architectural diversity, liveliness and complexity," said Jacob van Rijs, principal and cofounder of MVRDV. "KoolKiel is not only inspired by the surrounding community, it is also tailored to the ambitions of the people living in the City of Kiel."
© all rights reserved
Architect
Principal in charge
Director
Competition design team
Design team
Visualization
Images
Copyright
Competition partners

Structures:

Fire strategy:

Cost calculations:
Partners