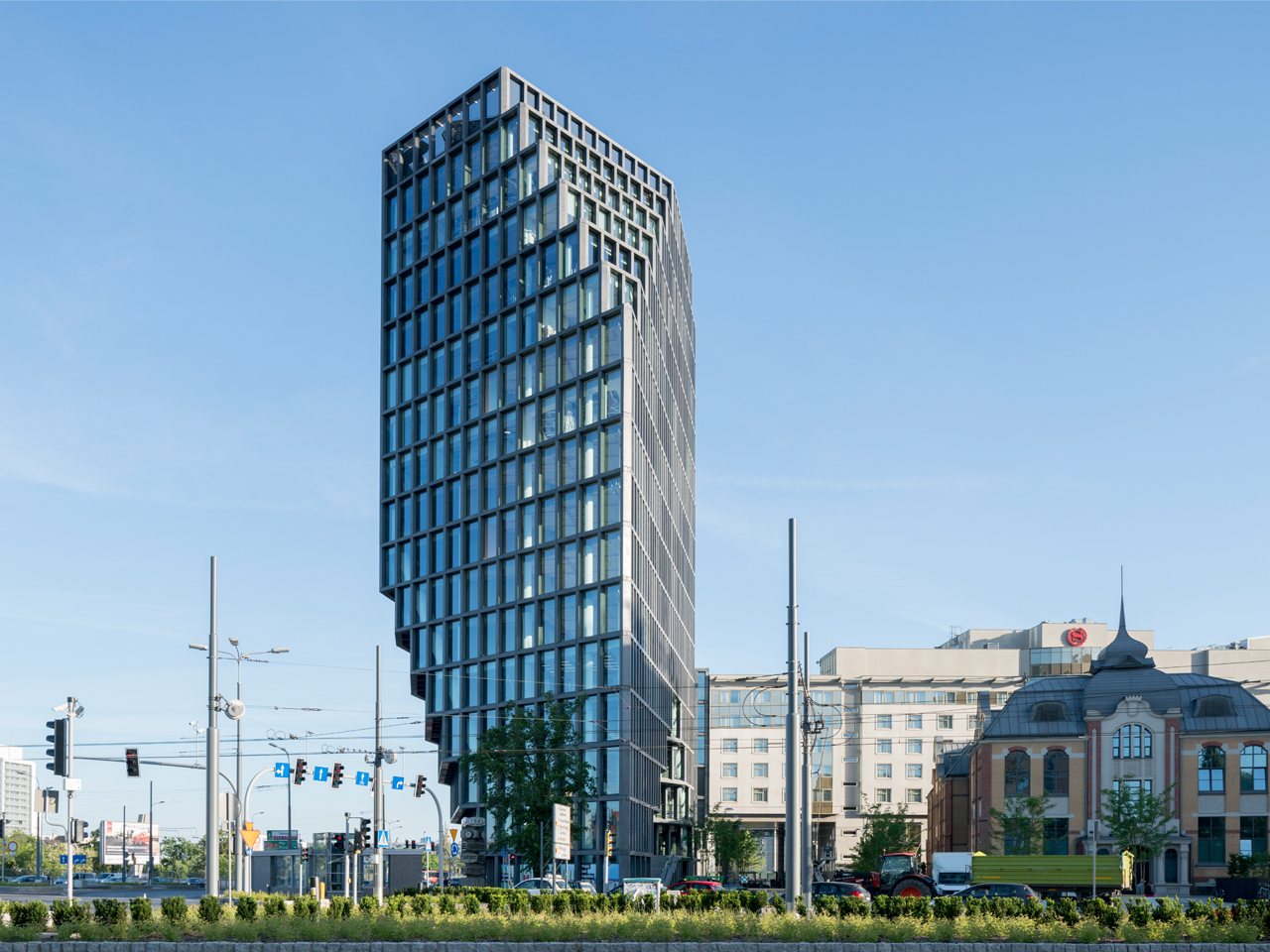 Baltyk
Together with investment corporation Sophia Sp. z.o.o MVRDV completed the Baltyk Tower in the Polish city of Poznań. The office tower has a total surface of 25.000 m² and is located at Rondo Kaponiera at the Eastern entrance to the historic city. It features retail and hotel accommodation as well as a panorama restaurant offering breathtaking views of the surrounding city.
Poznań is a city with a long history, and Baltyk draws inspiration from its modern heritage, particularly the iconic Okrąglak (Rotunda) designed by Marek Leykam. Occupying 16 storeys with an irregular arrangement, and towering over the city centre of Poznań, the building changes its shape depending on the viewing angle.

This 25,000m² building is divided into 12,000m² office space, 750m² panorama restaurant with a one room hotel, 1350m² retail in the plinth of the building and three levels of underground parking. The flexible office space is limited to a depth of seven metres allowing daylight to generously penetrate the workspaces.
Bałtyk is also a multifunctional building with innovative interior solutions, and scenic terraces offering panoramic views all across the city. In addition to business-oriented functions, the building will house catering establishments, a fitness club, and an intimate jazz club on the 16th floor. Its close proximity to the reopened Concordia Taste restaurant and Haven square creates social functions that encourage meeting and integrating different communities.

This results in a form which appears completely different depending on the angle it is approached from. Towards the south, a slope of cascading patios offers outdoor spaces to the users of the building. The façade is floor-to-ceiling glass with vertical louvres of glass fibre concrete softening the impact of the sun without losing the vistas over the city and zoo.
MVRDV and co-architects NO Natkaniec/Olechnicki Architekci design responds to the client's request for more fluid connections between lower and upper levels, connect the building to the neighbourhood and at the same time, is bold and significant with its depth in the volume. Diagonal shapes are turned into terraces for users, and this thins out as it ascends allowing for less square meters of offices in return for more public space below.

A building that is very different from all four sides and responds to the historicity of the site located on what used to be the old Baltyk cinema, from which the project takes its name.
© all rights reserved