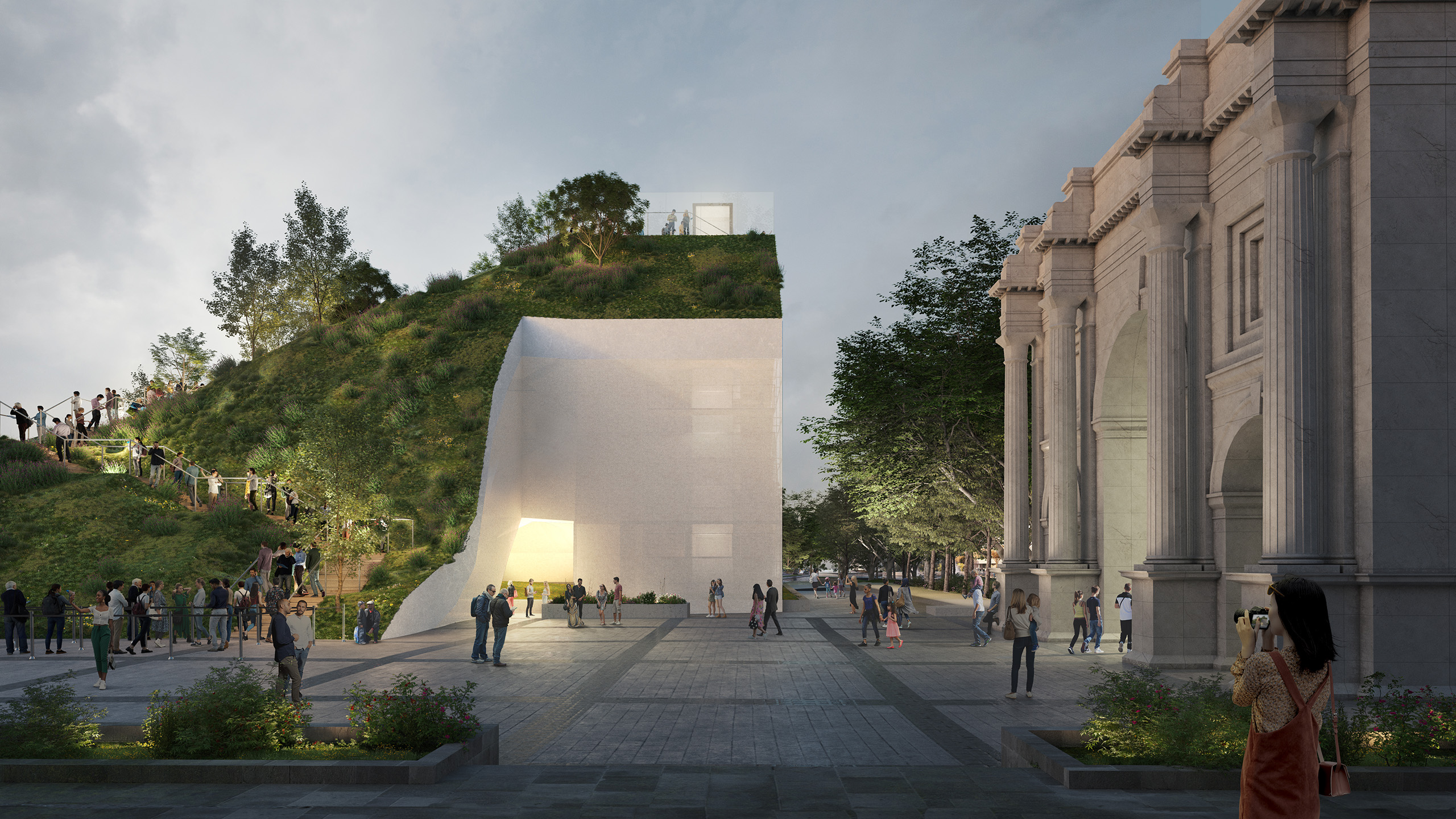 Marble Arch Mound
Commissioned by Westminster City Council, MVRDV designed Marble Arch Mound, a temporary landscape installation. The goal was to bring a renewed excitement to central London and to use the installation as a showcase for MVRDV's green ambitions. In its six-month run, 242,000 visitors climbed the path to the Mound's 22.5-metre peak and visited the Lightfield exhibition inside.
Location

City

London

Year

2021

Budget

£6,000,000 (MVRDV fee: £50,000)

Client

Westminster City Council

Status

Design

Programmes
The Mound was erected to lure visitors, shoppers and tourists back to post-Covid London, as part of a 150 million GBP operation to revive Oxford Street. MVRDV was tasked with the installation after the successful Stairway to Kriterion, which was a hit in Rotterdam and attracted large crowds. The same team designed a hollowed-out "mountain" that would offer views over the park and onto Marble Arch, while the "great hall" at the heart of its scaffolding structure would host the art exhibition. The installation was to not only be fun, but also demonstrate the need to add nature to cities and was meant to encourage Londoners to rethink the area and question why they allowed a former green spot became surrounded by traffic.
With its sloping landscape supporting 45 trees, Marble Arch Mound extended the green environment of Hyde Park back to its original boundary, which once included the site of Marble Arch before the area became a disconnected traffic island in the 1960s. MVRDV's design lifted this recreated corner of Hyde Park to create a viewpoint giving visitors an overview of Oxford Street and the park, and a new perspective on the historic Marble Arch. The installation consisted of sedum, plants and 45 trees, with a scaffold structure for its base; materials that could be reused after the structure is removed. The scaffolding structure was disassembled and reused, while the elements that make up its top layer – wood, soil, and trees – found new uses in nearby gardens and parks.
From July 26 2021 to January 9 2022, visitors had the opportunity to climb to the viewpoint via a path that wound its way up the hill's southern slope, after which they could descend into the heart of the hill. This space hosted the Lightfield exhibition by Anthony James, an installation of 16 cubes with an interactive, dancing light show that simulates the interconnected root structure of a birch tree forest.
An installation with plants and trees is vulnerable by nature, subject to the unpredictability of weather conditions. Drought in combination with unfortunate last minute design alterations meant that the installation failed to meet the quality that MVRDV normally stands for. For MVRDV, the installation was designed in challenging circumstances, from which some important lessons for the future were learned. Read more about these issues here.
© all rights reserved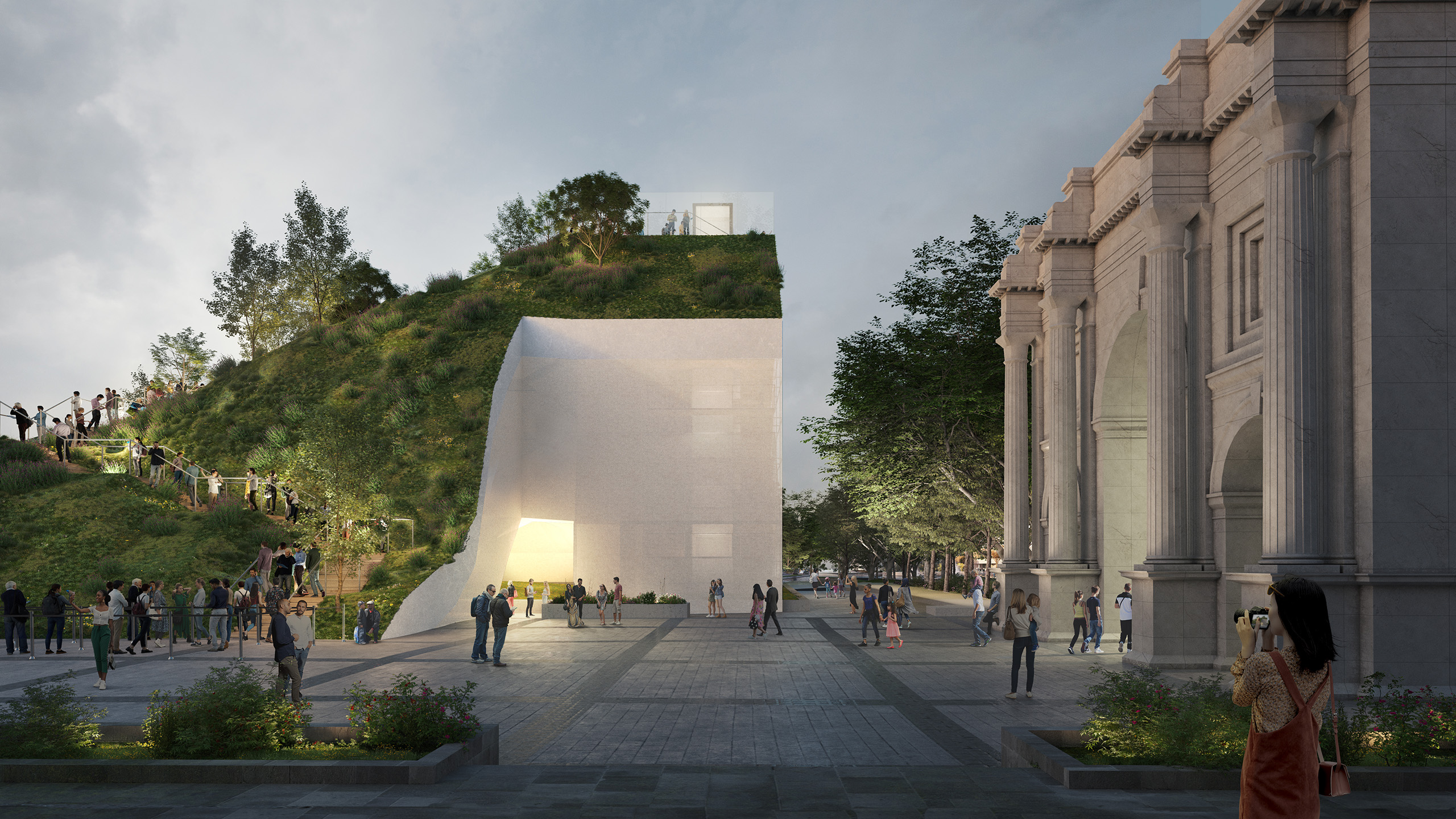 Architect
Founding partner in charge
Director
Design Team
Visualisations
Strategy & Development
Copyright