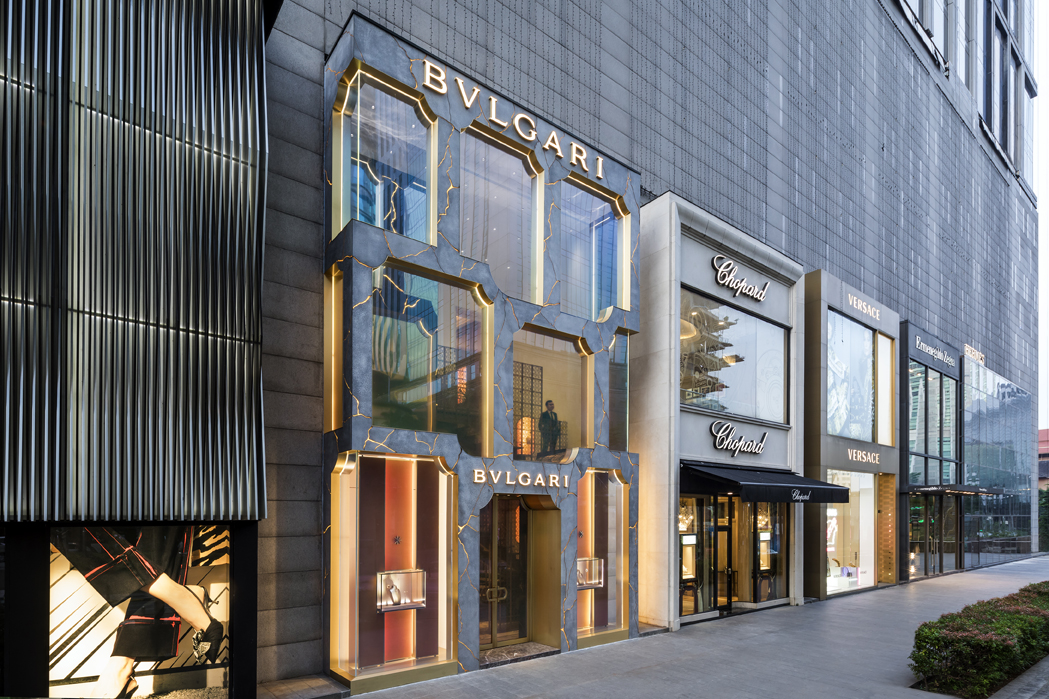 Bulgari Kuala Lumpur
The façade of Bulgari's flagship store in Kuala Lumpur reinterprets the luxury brand's heritage and experiments with traditional materials. The Kuala Lumpur storefront is the first in a series of façade designs for the luxury brand. Veins of gold light illuminate a concrete and resin façade that references the iconic cornice of Bulgari's via Condotti store in Rome.
Location

City

Kuala Lumpur

Year

2018

Client

Bulgari

Status

Realised

Programmes

Themes
For over a century, Bulgari has set the pace for Italian style with a forward-looking, creative spirit that draws inspiration from the timeless beauty of Roman art reinterpreted by a distinctive contemporary touch. MVRDV's design draws on the luxury brand's heritage. The cornice of via Condotti is a set element used asymmetrically in different locations over the world; an iconic marble façade reinvented and reinterpreted through material experimentation.
In Kuala Lumpur, MVRDV has experimented with a façade that by day references its organic materiality whilst at night achieves a dramatic, electric-like effect. The innovative façade was developed in collaboration with Technical University Delft, and Tensoforma, who worked on façade production. The collaboration resulted in a new product integral to the proposed façade design. Glass Reinforced Concrete (GRC) was cut according to a pattern, filled with resin and illuminated by amber LED Lights. A stainless steel sheet acts as a base for the resin, with panel joints concealed and integrated into the vein pattern.
By day or night the Bulgari façade achieves the desired translucent effect; radiating a warm amber glow. The proposed catalogue for future Bulgari storefront façades can be adopted globally, making them instantly recognizable and unique in any context - an approach offering endless possibilities that combines sophisticated detailing with high-quality, innovative materials.
© all rights reserved