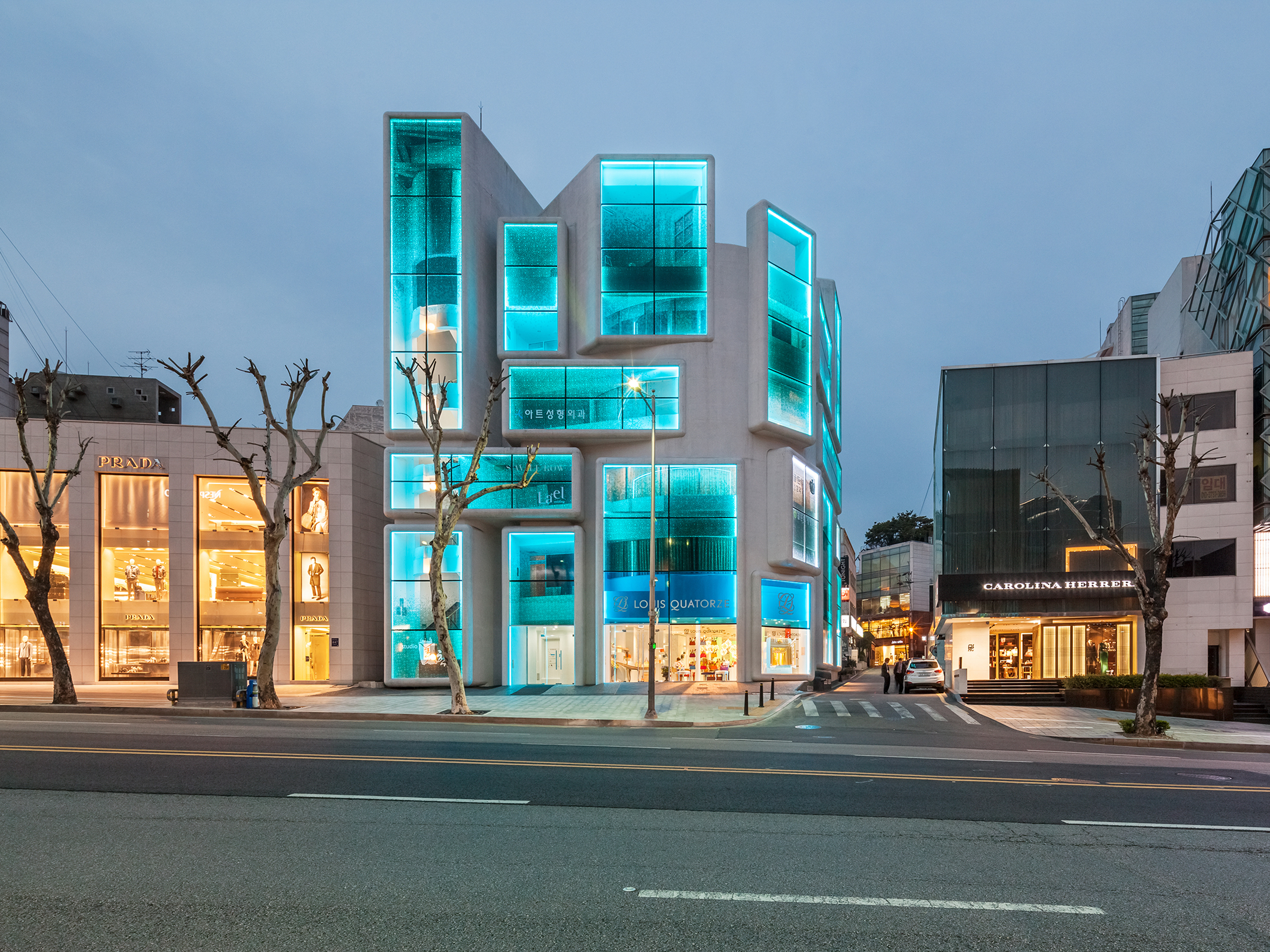 Chungha building
Just before a Korean pop-song became a global success on YouTube for the first time in history, MVRDV was commissioned by Woon Nam Management Ltd. to redefine a building on Gangnam's chic Apgujung Road. Even though the Chungha building was completed in the 1980's it was already outdated in a street dominated by flagship stores. The transformation, which added an extra level, was completed in just 9 months.
Location

City

Seoul

Year

2013

Budget

Undisclosed

Surface

2820 m²

Client

Undisclosed

Status

Realised

Programmes

Themes
The Chungha building had become a rotten tooth in a fast changing streetscape; dominated by single brand stores, this building contained a collection of brands in one. On the previous façade, a motley collection of fonts competed for the attention of passersby. The sober building's beige natural stone façade was ruined by commercial messages. The ground floor was occupied by French leather accessories label Louis Quatorze, the floors above held a wedding planners' office, the clients' maintenance society and two plastic surgery practices. The discretion required by clients of the plastic surgeries also had implications for the building. The windows of these floors were hermetically sealed, adding to the worn out feel of the structure.

The new façade concept is convincingly simple: Chungha is a multiple identity building which was transformed into a collection of shop windows so each commercial venture imposed onto the façade would have a fitting canvas for its display. The building's façade becomes more advertisement and less architecture, and in that sense, paradoxically more honest.
Curvaceous frames were found to be the best match to the large areas of shop windows, and an Italian mosaic tile consequently became the façade material to follow the curves.

Initially MVRDV was given 3 months to complete the façade refurbishment but the successful addition of an extra floor added half a year to the construction. Adding to the complexity was the limited size of the construction site - five storeys tall but only 2,5 metres at its widest point. Construction workers were required to balance and squeeze themselves into narrow spaces.

Once unwrapped, the building appears reborn, participating in the sudden media interest in Gangnam following the hit by rapper PSY.
The large windows are filled with transparent posters which provide space for changing brand identities and discretion for the clients of the plastic surgeon. A 10% addition on the top floor will be turned into a café with outside terraces, resulting in a total surface of 2,820 m2. The exterior façade tiles, which resemble white foam from close-up and smooth white stone from further away are also used on the sidewalk and in the lobby.


© all rights reserved