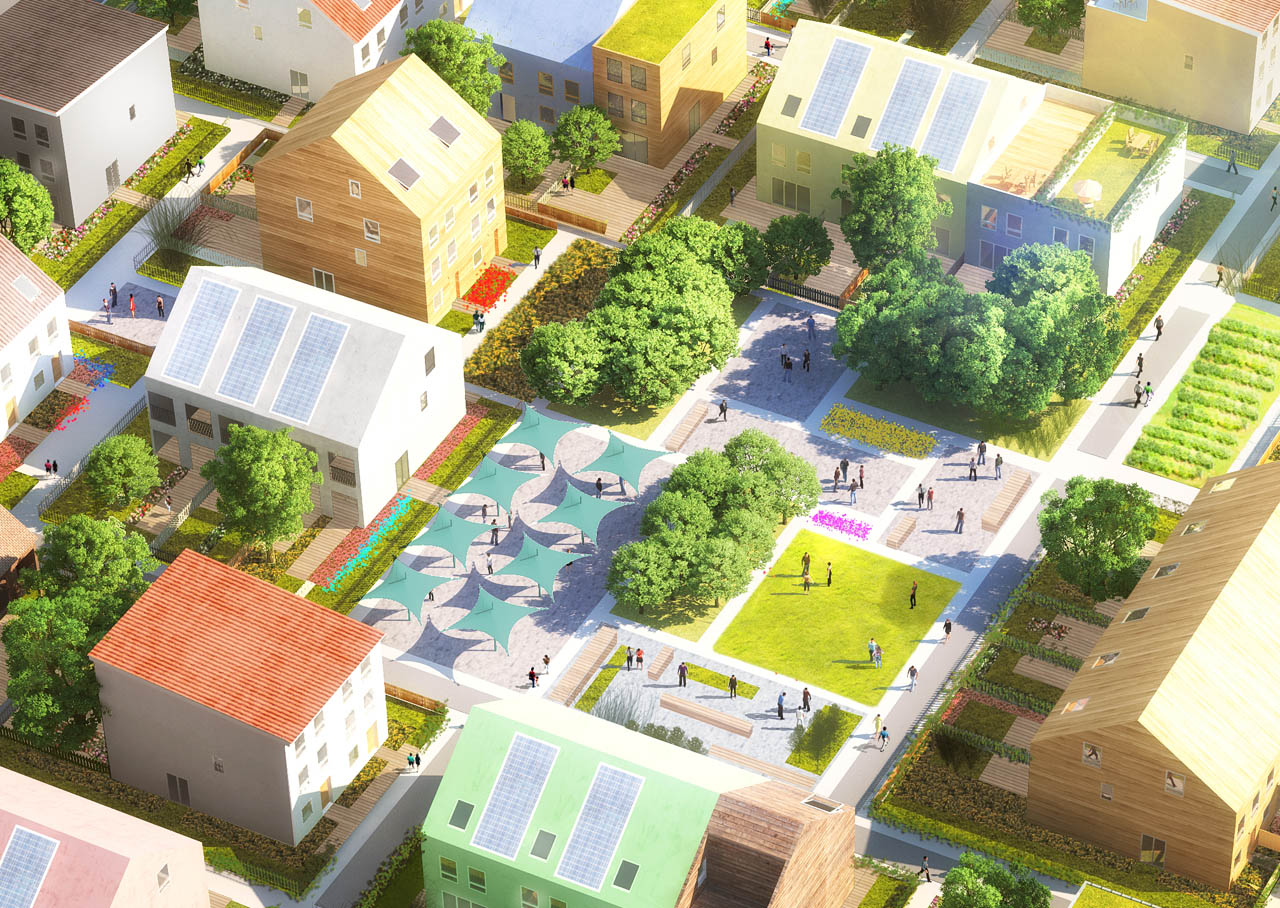 Traumhaus Funari
Traumhaus Funari redevelops parts of a former US Military barracks, takes a new approach to suburban development by combining affordability, individuality, and diversity, while prioritising pedestrians and greenery over cars. The design incorporates a series of options and rules, promoting diverse architecture and allowing future residents to make meaningful choices about their own homes.
Location

City

Mannheim

Year

2016

Surface

27000 m²

Client

Traumhaus

Status

On site

Programmes

Themes
Funari is one of five new districts in the redevelopment of Mannheim's Franklin quarter, an area developed from one of the United States' former bases in Mannheim. MVRDV's partner in the project, Traumhaus, is a prefabricated housing maker and developer with a track record of delivering affordable, high-quality housing thanks to their system of mass-produced, standardised elements. The Funari design expands on this standardised approach, creating a catalogue of dwelling typologies – a huge set of variations on Traumhaus' original design, with a variety of materials, sizes, interior layouts, and connections to the outside with each offering a variety of options that future residents can choose from. To target a range of budgets and demographics, the catalogue mixes the original Traumhaus offering ("Traumhaus 1.0") with variations that offer wider material choices (1.1) and different sizes (1.2), and finally a wide selection of Traumhaus 2.0 designs with more bold and individual styles, from stilt houses to colourful printed façades.
By encouraging a range of different inhabitants to live in the area MVRDV hopes to transform the typical suburban experience into a more richly diverse community where individuality and quality of life are paramount. Houses with green façades appeal to the budding eco-family, bright colours and patterns are on offer for people with highly individual tastes, while more traditional materials such as wood may suit those who are more reserved. Stilt houses open up the ground floor for a more outdoor lifestyle, whereas single-storey houses suit the elderly. Two larger apartment blocks further encourage diversity, offering homes suitable for students or the disabled, among other demographics. In the first phase, the masterplan adds a total of 124 single-family homes and 26 apartments to the Franklin district.
"Traumhaus has already shown how a systematic construction approach can increase affordability and accessibility in housing", says MVRDV founding partner Winy Maas. "With Traumhaus Funari we want to take the next step, creating a model that retains this affordability while challenging the expectations for lifestyle, and the and variety of ways to inhabit, a suburb or village. In Funari we are creating something that is more sustainable and more social – a model that can be replicated across Germany and beyond, to the benefit of everyone. From Traumhaus to traum world."
Greenery encircles and permeates the Funari site, with a park surrounding the development that ties into a network of footpaths through the neighbourhood. Car parking is relegated underground, allowing the entire ground level to be pedestrianised – an approach that is controversial in Germany – with open spaces such as sports parks, eco-spaces such as fruit alleys or butterfly gardens, and gardens for residents. The landscape design of the masterplan brings more colour, with plant species selected for their bright flowers making the neighbourhood biodiverse. The different housing types open up opportunities for many different styles of garden, allowing residents themselves to choose the outdoor lifestyle that suits them, from vegetable gardens to play spaces for children.
© all rights reserved
Architect
Principal in charge
Director
Design team (competition)
Design team (Schematic Design)
Design team (Detail Design)
Visualization
Copyright
Partners