This interview will be featured in a forthcoming book by garden specialists De Bloeimeesters, which collects insights and experiences from a number of their collaborators in the field of nature-inclusive design. The interview was conducted by MVRDV's global head of PR Irene Start.
Senior Associate Arjen Ketting and designer Quentin Aubry are members of MVRDV's Climate Team, which consults with design teams across the entire company to ensure the sustainability and resilience of MVRDV's work. At the core of MVRDV's sustainability strategy are the United Nations Sustainable Development Goals (SDGs), with three of the goals – 11, sustainable cities and communities; 12, responsible consumption and production, and 13, climate action –being core targets for every MVRDV project.
In addition to these core targets, every project also presents its own set of opportunities to address additional SDGs selected by the design team, client, and stakeholders. Among these, a common target is to contribute to biodiversity, encapsulated in SDGs 14 and 15. Nature-inclusive design is thus an important ambition of the global design firm, but what does that actually mean? And how does MVRDV develop its knowledge of plants and trees?
Irene Start: MVRDV has a Climate Team. Why does an architectural firm have its own climate team?
Arjen Ketting: The effects of global warming are becoming increasingly visible, there is the nitrogen discussion, rising sea levels, super storms, droughts, flooding… The list is endless, while many obvious solutions – densification and greening, better use of roofs – are not being used. Within MVRDV we have been working for some time on which things we can already make more sustainable: how we can take the lead with our office of nearly 300 architects, urban planners, and landscape architects to make construction less polluting.
IS: The sector is already working on this – there are sustainability certificates such as BREEAM and Green Star, correct?
AK: Certainly, and that's good, but sustainability cannot always be expressed in certificates. You also have social and ecological sustainability. Our ambition is to take more steps in this direction and to get the entire chain on board. That means continually improving the sustainability of our work, and our office practices, and then communicating those improvements and where we can still do better. We think it is important to account for this to the outside world, so that everyone can see that we do not engage in greenwashing.
IS: What is your ambition when it comes to planting?
Quentin Aubry: We want to build nature-inclusive. This goes beyond adding some greenery to façades and roofs; the greenery really needs to be integrated into the design. We want to make buildings and public spaces that are inviting to people, that add something. Municipalities often consider nature conservation to be the most important. We extend their package of requirements to improve the ecological value of an area.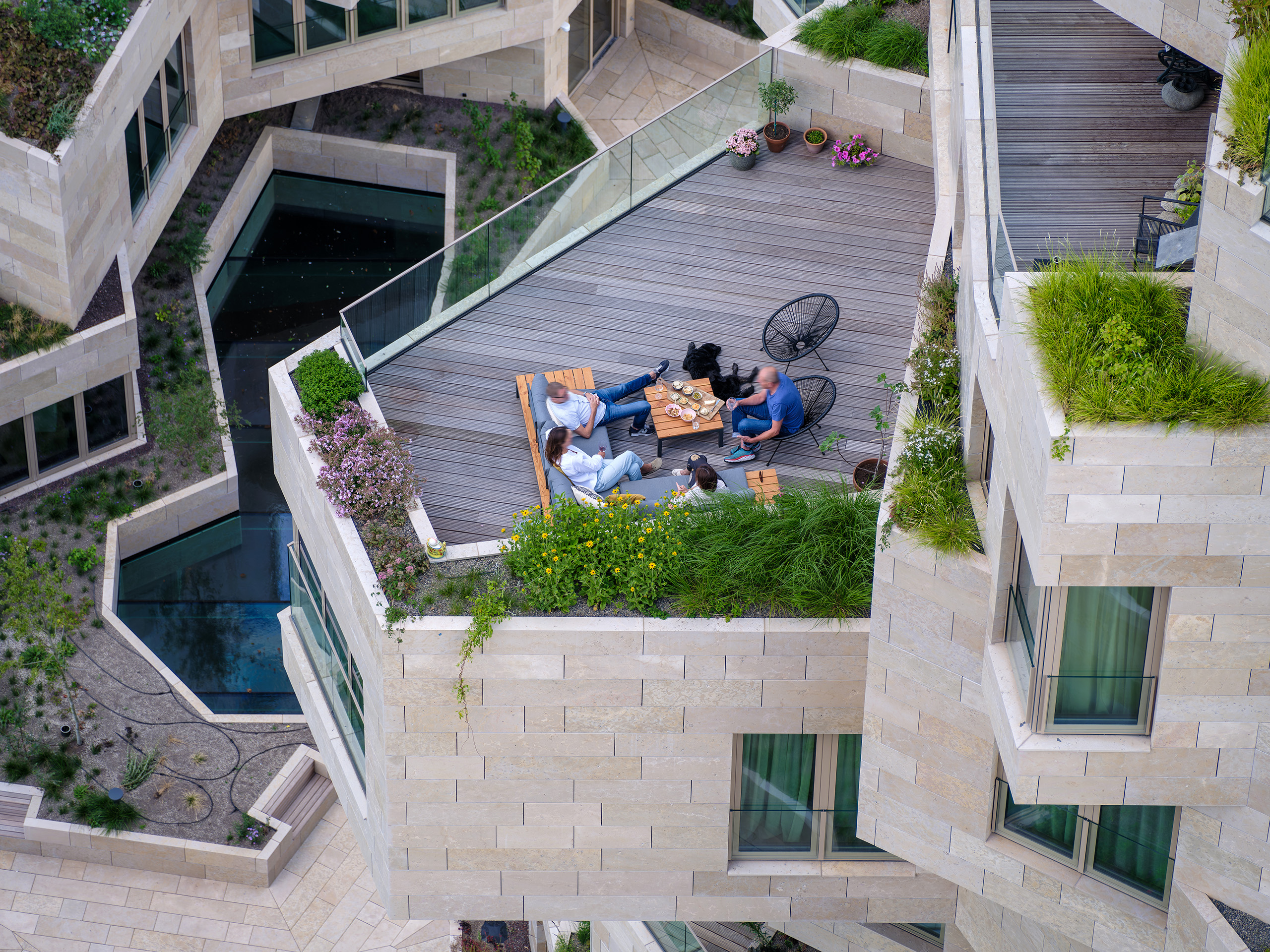 Valley. Image © Ossip van Duivenbode
IS: You have developed a special tool for that.
AK: Yes, we have developed a nature-inclusive goal setter, a kind of checklist to help design teams address ecology at an early stage of projects. As an architect, you may want greening, but it is also important that you convince the client.
IS: How do you do convince them? Developers mainly look at the cost, don't they?
AK: When we present a green plan, we show the benefits to our clients. Nature-inclusive construction not only ensures biodiversity, it is also good for water retention. People enjoy it, a green roof cools down a building better, you have less maintenance and there is less risk of flooding. I could go on like this for a while. I notice that clients are increasingly sensitive to these kinds of arguments.
IS: Does MVRDV always come up with the greening and choice of plants itself, or do you work with external agencies?
QA: We do a large part ourselves: in addition to architects and urban planners, MVRDV also employs landscape architects. We have an advantage in our scale, which allows us to respond flexibly, since MVRDV comprises eight semi-independent design studios and can therefore easily share knowledge.
IS: You cannot do everything alone, though; in Valley, for example, we collaborated with Piet Oudolf.
AK: Specialists are extremely important to us, and there are plenty of examples; for the master plan for Matosinhos, Portugal, we are working with LOLA Landscape Architects, for Depot Boijmans Van Beuningen in Rotterdam with MTD Landscape Architects. Recently in our "Specialism Month" we further expanded our garden in the courtyard and had a workshop with Cor van Gelderen of De Bloeimeesters, a cooperative of planting experts.
IS: How important is it that you keep learning?
QA: Very important! Biodiversity ends with 'diversity' for a reason. The enormous knowledge of plants that these designers add to our designs provides significant added value. We often design large projects, where the client, or sometimes we ourselves, might add a landscape architect to the team. But we often also do projects in which the client pays no attention to the landscape. It is precisely in those kinds of projects, where we do the landscape design ourselves, that we like to work with plant experts. Then it is possible – often with minimal resources – to create something extra for all users, from people to animals.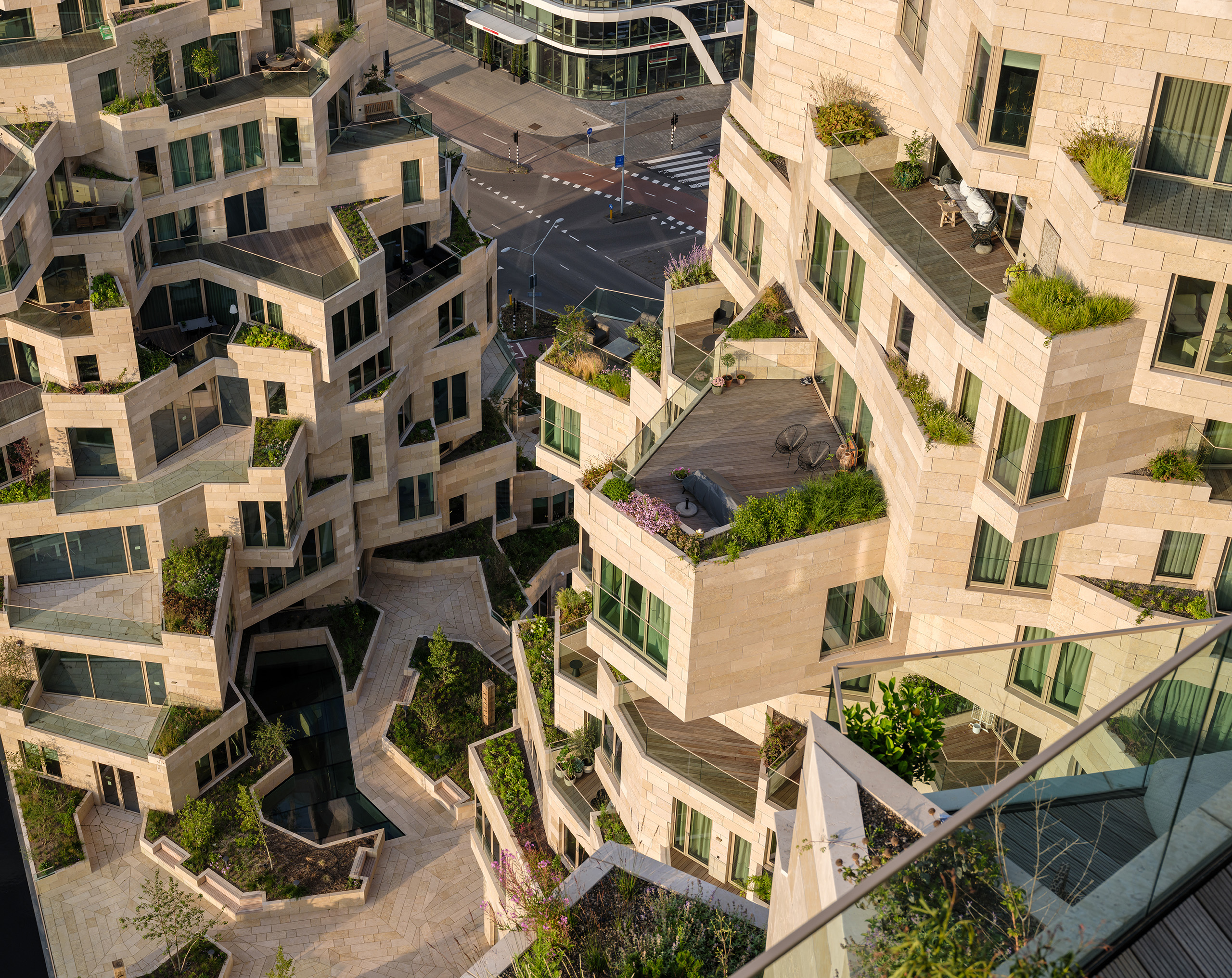 Valley. Image © Ossip van Duivenbode
IS: Can you name a recent example of greening?
AK: The most recent is Valley, which was already mentioned. The assignment was to design a sustainable and affordable multifunctional building with which we could make this colder part of Amsterdam, the Zuidas, greener and more liveable. NRC Handelsblad already called it "an oasis in the stone desert". We hope it will be contagious and the municipality will also add parks at ground level. It is a complex design, but in terms of greenery we added 370 natural stone planters with plants designed especially for the location by landscape designer Piet Oudolf and Deltavormgroep. The choice of young plants was not accidental; as a result, the greenery has a better chance of survival, each plant is tailored to the wind, sun, and shade in its location. In total – and here it gets very detailed – 227 trees and shrubs representing 63 species, 12,846 perennials representing 155 species, and 391 climbing plants representing 5 species have been added to the building.
IS: At the Depot, you also planted a rooftop forest, which received an award even before it opened.
AK: I was the project leader of this for seven years – I really lived with this building. Depot Boijmans Van Beuningen is built in a park, so in order to construct it we had to remove trees of course. To affect the park as little as possible, we kept the footprint of the building as small as possible and created the rooftop forest as compensation. Because it is a landscape at a height of 34 metres, we were limited in the number of species. In the end, the decision was for multi-trunk birches, which are real pioneers that can take a beating. The 75 birch trees on the roof were prepared for three years in a nursery, their roots are as flat as possible and they are not in pots but in soil that is a metre deep. The rooftop forest has already weathered the first storms and has held up well. When designing the roof pavilion, restaurant Renilde, we also took the trees into account; it is cross-shaped so that the trees are more sheltered. They're just like people, they find that kind of draft unpleasant.
Depot Boijmans van Beuningen. Image © Ossip van Duivenbode
IS: Greening is quite a buzzword – how do you prevent greenwashing?
QA: With us, nature inclusion is really anchored in our projects. We have developed a checklist that is broader than that of municipalities. Our ideal is for the landscape to extend from the ground floor to the top of buildings.
IS: Practice what you preach: you developed a green wall in the courtyard of your office. Why did you do that?
QA: I was responsible for this project. I think it is very important that we also show that we take nature inclusion seriously. We designed a vertical garden to add greenery a stony courtyard. Working within the green façade system, a local start-up called Omlab developed special cassettes to add space for fauna. These were exciting, because they tried out natural materials for us that they have not tested before, materials that are circular and bio-based. More than 700 plants went into the containers, most of them native species. We are using these plants to investigate what works and how we should set up the irrigation of a green façade such as this. To build it, on Earth Day I asked colleagues to help with planting and maintenance, which turned out to be a pleasant afternoon. The façade garden is therefore not only a way of acquiring knowledge, but also a social instrument.
Omlab designed circular, bio-based additions to the MVRDV green wall to make it more attractive to fauna. Image © MVRDV
IS: You also participate in the National Championships for tiles, I understand?
QA: This is one way to describe it! In November we expanded this project with an extra garden by removing sections of the pavers in the courtyard, and creating a garden with very diverse plants in collaboration with De Bloeimeesters. That was very instructive, because we are used to adding mainly local species to our buildings. This showed us that variation is also possible, so the collaboration with De Bloeimeesters provided new insights in that respect.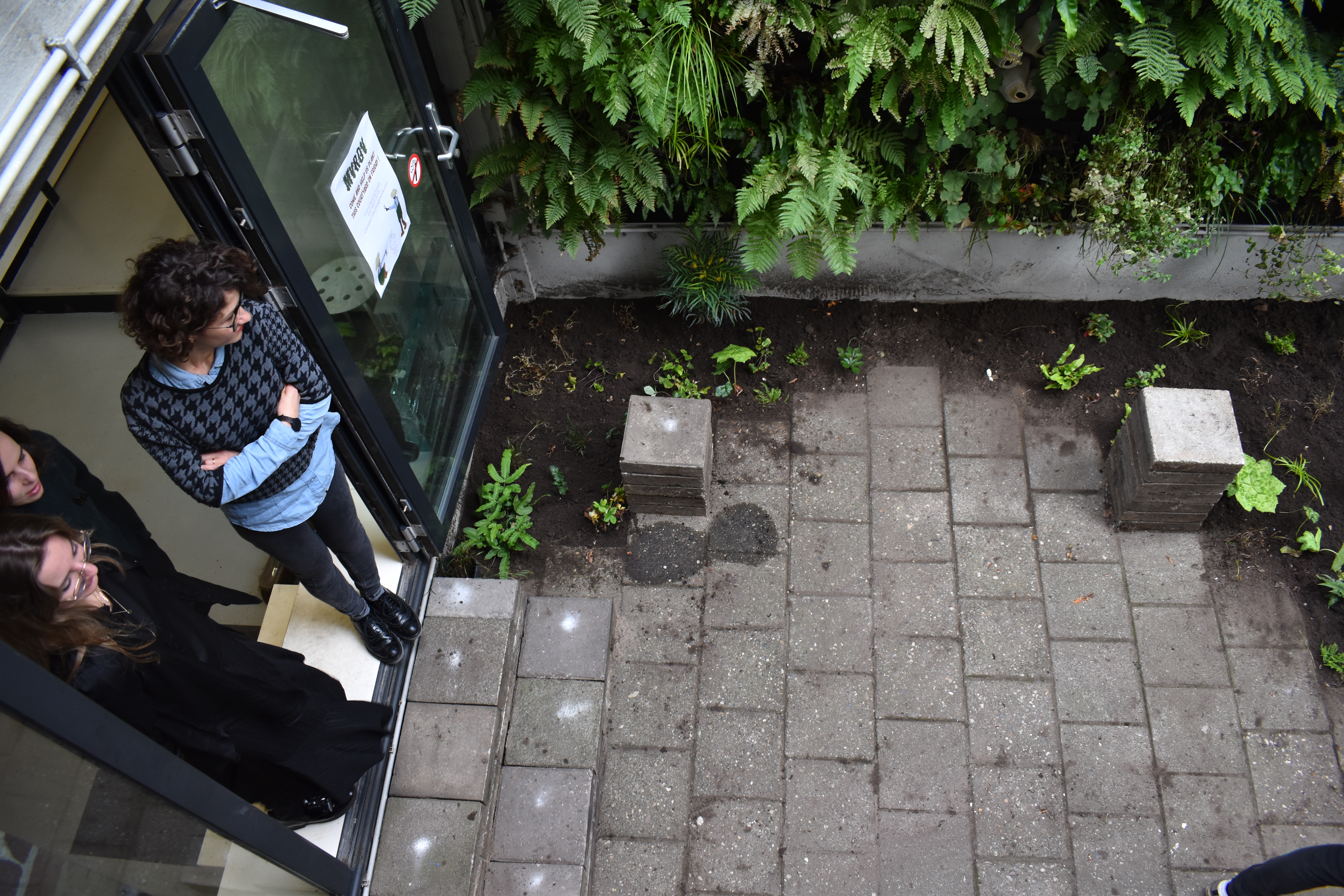 The latest addition to the MVRDV courtyard saw concrete pavers replaced with a biodiverse garden, with the help of De Bloeimeesters. Image © Jessie Veldhof / Bloeimeesters
About MVRDV Climate
MVRDV Climate was founded in 2017 by concerned architects who drew attention to sustainability by organising various events on the subject. This led to the "Green Reality" handbook, a kind of "how to go green" guide for project leaders. With the arrival of two sustainability experts who measure each project against the yardstick of the UN's Sustainable Development Goals, things got even more serious. MVRDV Climate now consists of a Climate Collective and Climate Lab. Climate Lab helps design teams to design more sustainably and is involved in more than half of the 200 projects on which MVRDV works. The Climate Collective is a group that focuses on office improvements; that has resulted in vegetarian lunches, recycled paper, a worm hotel, and a vertical garden.