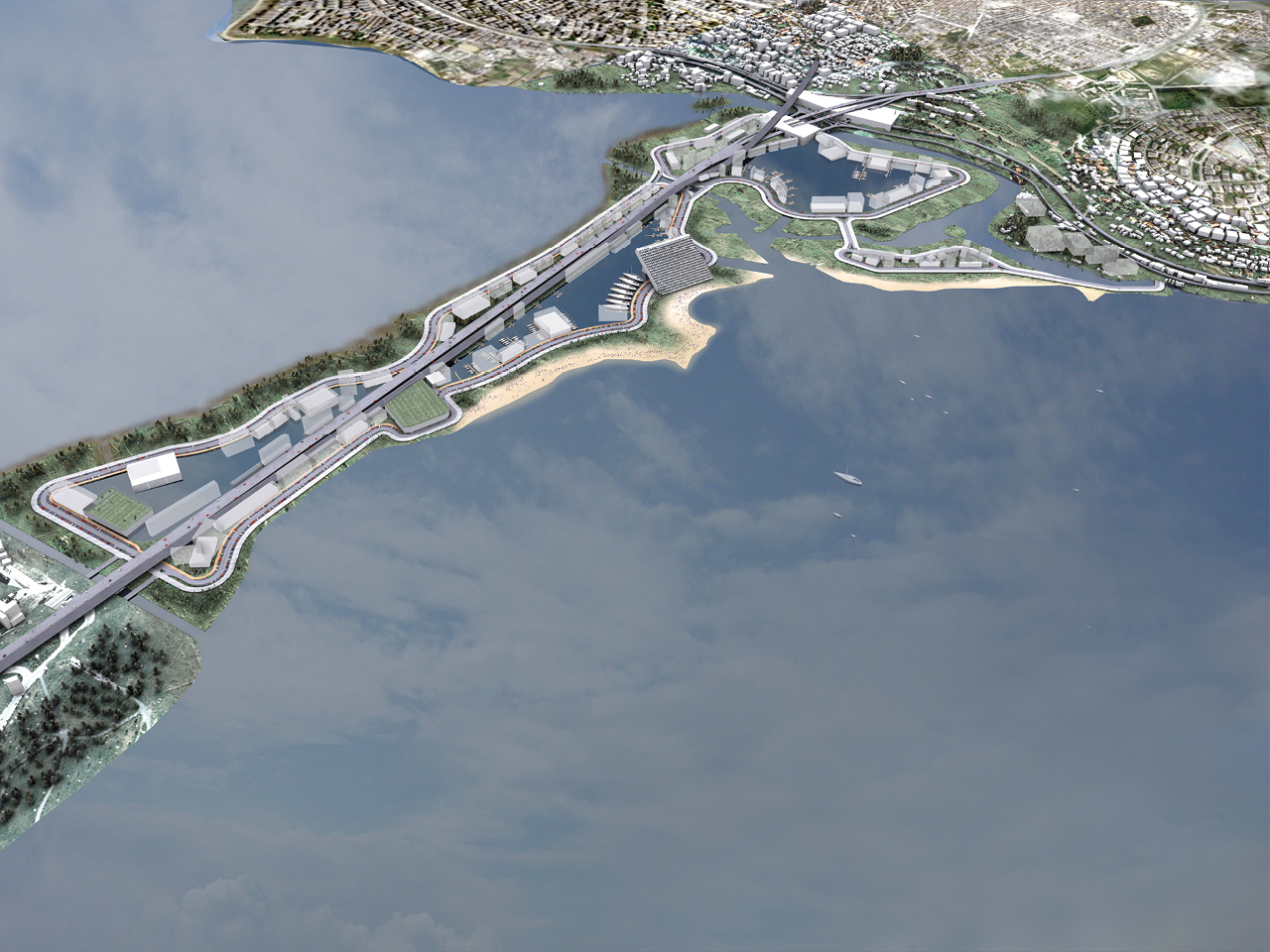 Lagoon City
The site can be seen as a grand paradox. On the one hand it is naturally very attractive, on the other it this distorted by heavy infrastructure. It connects the city with the sea and the lake, but a highway divides the two. The area lies at the junction of the sea and two different neighborhoods. The main potential of the site lies exactly in this very combination of access, water and land: it can be read as the uttermost accessible shore that can thus combine urban programs with leisure, environmental interventions, and nature itself.
Location

City

Istanbul

Year

2006

Budget

Undisclosed

Surface

2600 m²

Client

Municipality of Greater Istanbul

Status

Competition

Programmes

Themes
By defining and designing the perfect 'bundle' of amenities (transport, car access, bicycle paths, parkland, parking, boating bays, beach and reed zones) its potential is maximized. This long bundle creates intense combinations: boats in all formats, sunbathers, leisure seekers, birds, nature seekers, for housing, hotels, restaurants.

By curving the programmatic 'bundle' as a piece of elastic land inwards,' the capacity can be extended to be worth of a metropolitan area the size of Istanbul (20 Million). This extended shoreline gives a base for limitless future development. Activities and programs can be positioned at a distance, while marinas can be positioned in its vicinity. This bundle gives a distinct character to the site that becomes a distinctive and prized element within the city and a focus point for the surrounding neighborhoods.
How to update the urban area for a growing city, while maintaining and even improving its natural value? Circulation is radically simplified. Spacious off ramps between highway and local road are replaced with simple straight ramps.

A transfer point on this junction works as compact transport hub for cars, trains, trams and busses. The new canals turn the existing strip into an archipelago of potential identities and help to flush the polluted lake. Reed beds around the perimeter of the lake improve the natural habitat and diversify flora and fauna.
By digging down parts of the islands, as 'offsets' of the existing shorelines between the edges and the existing highway, internal lakes or basins can be made. These can work as marinas both for yachts from the Sea of Marmara as well as from the lake. Each basin can 'specialize' in terms of types of boats and visitors. These basins turn the site into an attractive sequential lagoon, a water park.

Along the 'inner side' of the bundle that functions as a corniche program can be positioned equally: This position between the new lakes and sea/inner lake, between the marina and beach, allows for an attractive positioning of the demanded program: hotel, yacht-club, community center, and indoor sports. A water cleaning plant is integrated into this program, wrapped by shopping and sports facilities.
© all rights reserved