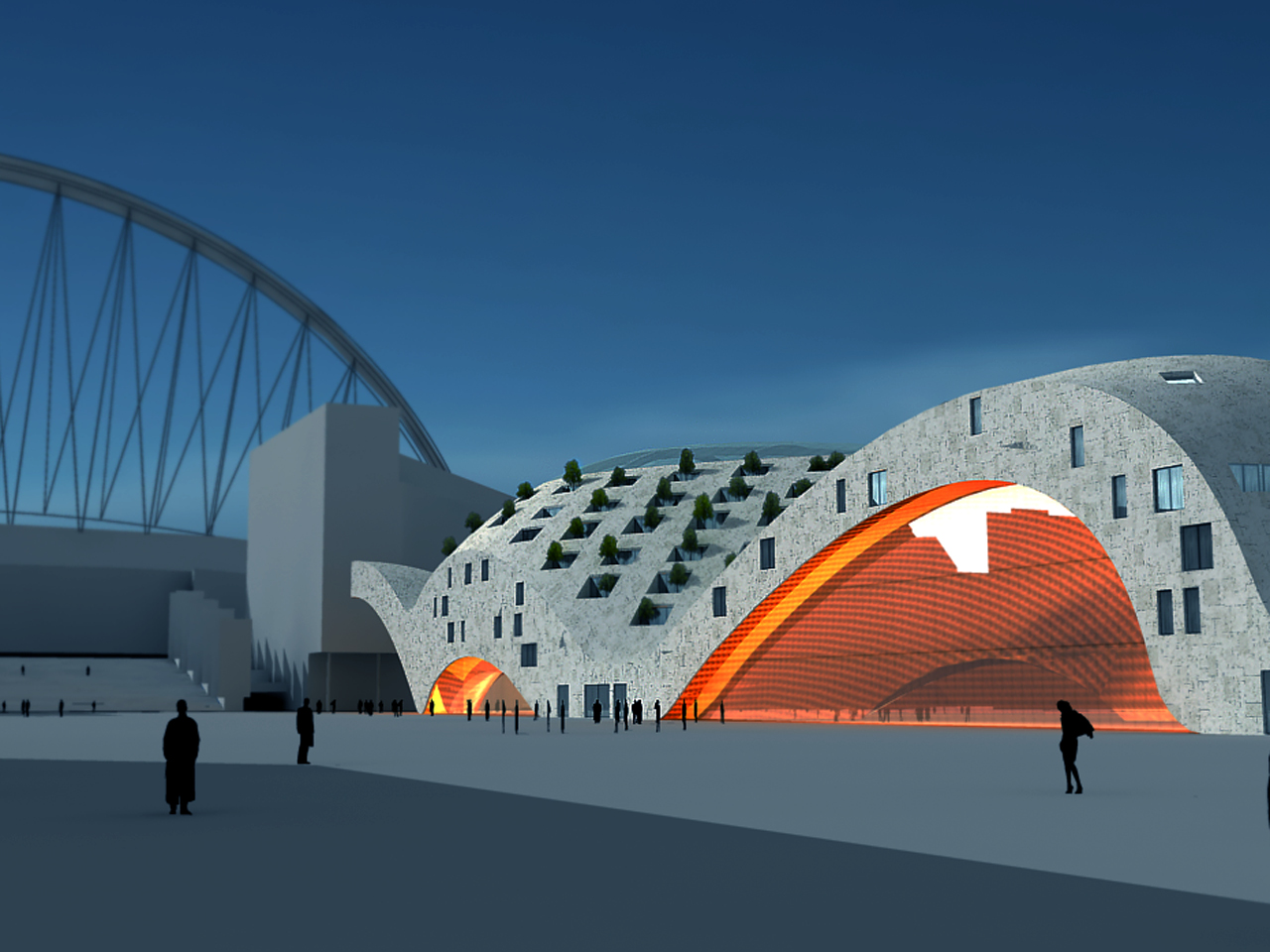 Wembley Casino Hotel
The design for the new casino, conference and hotel complex at Wembley questions the mostly American casino typology that predominates. Situated in the surroundings of the new stadium, the complex is a relatively low and clear rectangular block which fits into the existing urban typology. Each space is given a distinct size and height, which in turn gives them their unique qualities and appearance. The result is a sequence of interrelated cupolas which in turn create an iconic appearance of a hilly roof landscape.
Location

City

London

Year

2006

Budget

Undisclosed

Surface

110000 m²

Client

Quintain Estates and Development, London, UK

Status

Competition

Programmes

Themes



The design for the new casino, conference and hotel complex at Wembley quests the classical casino typology that is mainly based in the US. How can a European translation of these suburban and heavily thematized casino-complexes that are surrounded by parking lots be imagined? How can it fit in the urban context while 'stand out' in order to create this specific casino atmosphere that attract customers? How to combine recognition with a blending with the environment, the outstanding with the contextual?

The new surroundings of the new Wembley Stadium are designed as a new urban tissue for London, composed of streets and blocks. A maximum height allows seeing the stadium from anywhere and from far.
By turning the new casino complex into a relatively low and clear rectangular block, the new complex fits in the surrounding urban typology: the complex will this create facades that continue the intended urban spaces.

The surrounding urban mix is 'echoed' in the complex program. The combination of hotel, casino, conference halls and parking allow for a mutual synergy. The program is read as a three-layered sandwich of parking, public functions (casino/lobbies and conference centre) and hotel rooms that can maximize the in-between relationships.
By 'pushing up' the hotel program locally, a series of cupola spaces, the classical casino space pur sang, can be created that allow to characterize the programmatic differences of the public layer.

By giving every space of the public space its distinct size and height, they all obtain their unique qualities and appearances. It leads to a sequence of interrelated cupolas. When the cupolas meet the surrounding streets, bigger openings are foreseen, thus 'showing' the internal activities and attracting possible visitors. Every cupola obtains its own cluster of program.
© all rights reserved