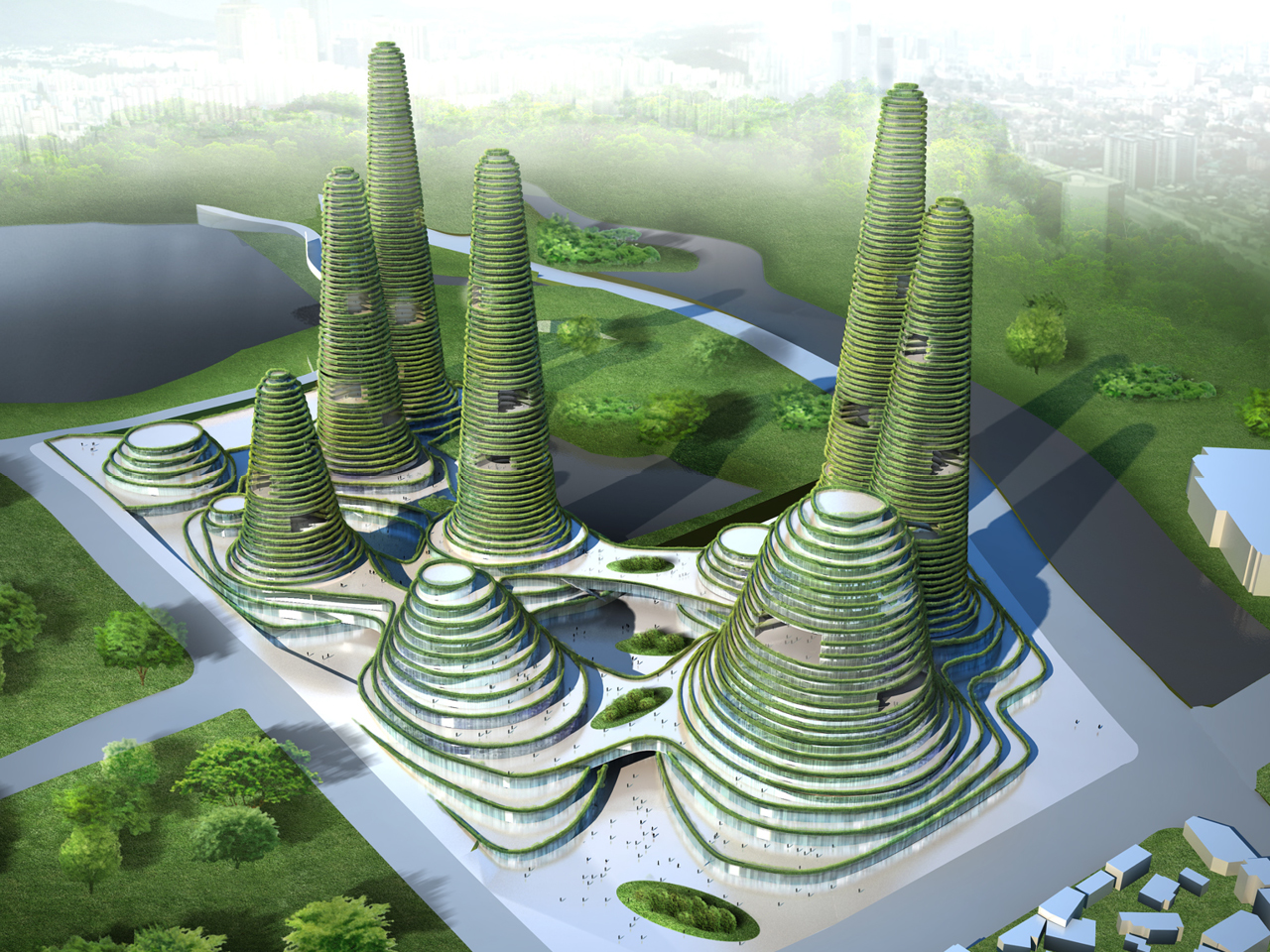 Gwanggyo Power Centre
The Daewoo Consortium and the municipality of Gwanggyo announced in 2008 that the MVRDV concept design for a dense city centre was the winner of the developer's competition for the future new town of Gwanggyo, located 35km south of the Korean capital Seoul. The plan consists of a series of overgrown hill shaped buildings with great programmatic diversity and sustainable credential, aiming for high urban density so as to encourage further development around the so called 'Power Center' of this New Town.
Since the beginning of the millennium, local nodes with a high density concentration of mixed programs have been used in Korean city planning.

These nodes consist of a mix of public, retail, culture, housing, offices and leisure generating life in the new metropolitan areas and encouraging further developments around them: the Power Centre strategy. These centers would normally sever any connection with nature.
The site is surrounded by a beautiful lake and forested hills, and the design responds by placing a carpet of green atop the new program to mediate its impact . The shifting of floors to create balconies has the added beneft of allowing hollow cores that form large atriums. These serve as great communal spaces; lobbies for the housing and offices, plazas for the shopping centre and halls for the museum and leisure functions.

In each tower, a number of voids connect to the atrium providing for light and ventilation and creat semi-public spaces. On the lower floors, the atriums are connected through a series of public spaces on various levels linking the towers and serving outdoor facilities of the culture, retail and leisure program.
The diverse program has different needs for phasing, positioning and size. To facilitate these complex requirements, each building is designed as a series of rings. By pushing these rings outwards, every part of the program receives a terrace for outdoor life. Planting around the terraces with a floor to floor circulation system store water and irrigate the plants. The roofs of these hills and terraces are planted with box hedges creating a cohesive, vertical park. The greenery will improve the climate and ventilation, reduce energy and water usage. As a result, the city itself becomes a kind of landscape.

Time Magazine: 100 Green Designs
'Call it responsibility or accountability. Or simple popular demand. The rarefied world of design is embracing the environment as never before. Top architects are implementing revolutionary methods. Fashion and furniture mainstays are manufacturing products using sustainable materials. And luxury empires are establishing credos on issues their customers are still waking up to. Behind the scenes, trailblazing executives are taking big risks to make it all happen — beautifully.'


© all rights reserved