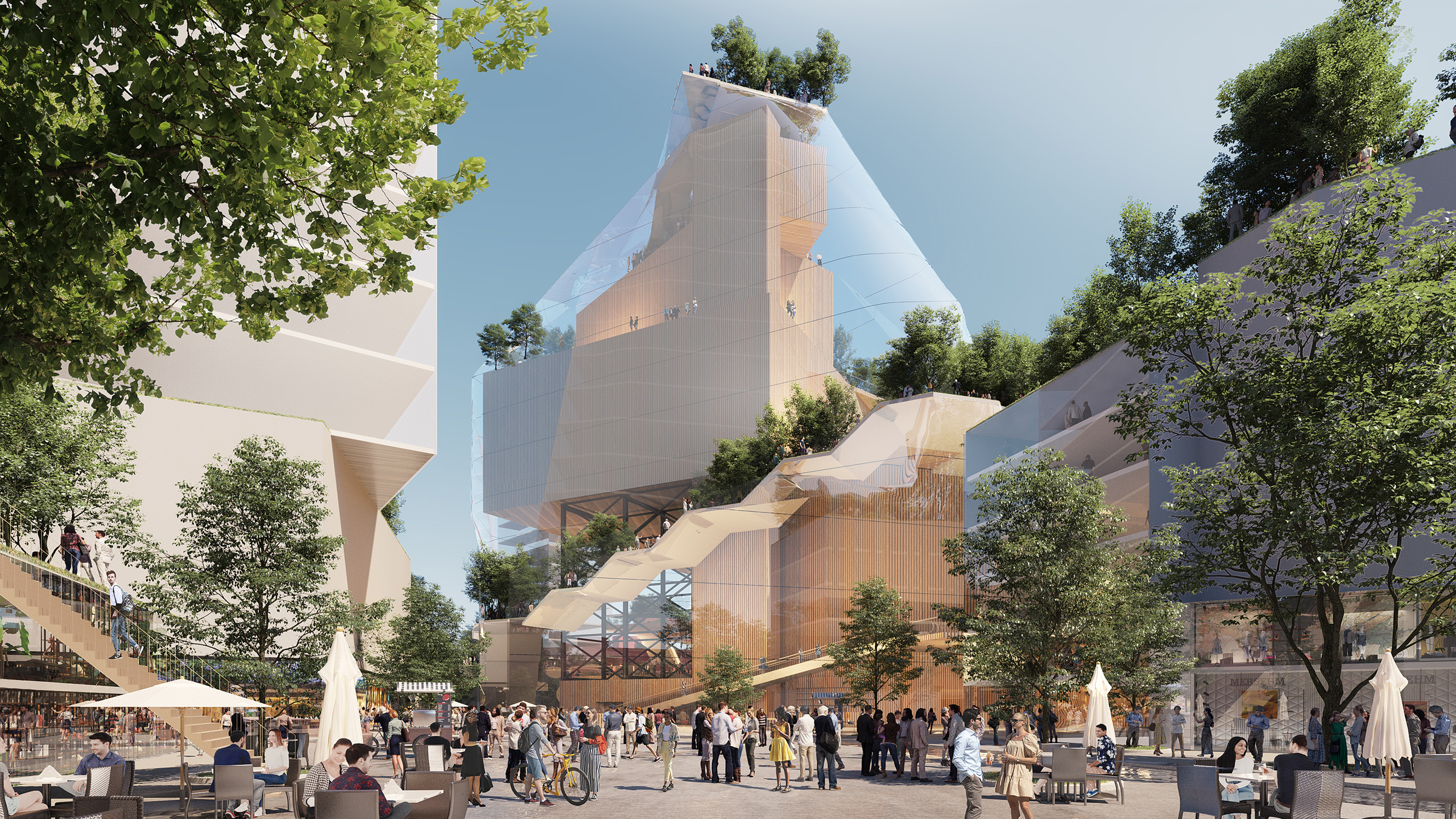 De Heuvel
Reflecting a trend that has seen shopping centres worldwide struggle with declining visitors, the Heuvelkwartier presents one vision of how the future of these ubiquitous buildings could look. The proposal radically transforms Eindhoven's Heuvel shopping centre into a green cultural quarter. On its roof, the design features not only a park, but also a stacked cultural building under a "glass mountain".
The project is the result of an agreement made in 2020 between CBRE Global Investors, the municipality of Eindhoven, the province of North Brabant, the Muziekgebouw Eindhoven, and VNO-NCW to develop a sustainable solution for the outdated Heuvel shopping centre and the Muziekgebouw, a music venue located in the existing shopping centre.
In MVRDV's vision, the Heuvel will be transformed into an urban quarter where shopping, culture, and recreation take place in the same location. The existing buildings will be expanded and broken open so that they better connect with the surrounding public spaces and cultural buildings of Eindhoven's inner city. The covered passages of the shopping centre are replaced with open streets, making the quarter an active part of the life of the city, while the roofs are accessible and green, creating a park that adds to the area's attractiveness.
Above the existing Muziekgebouw will be a stacked cultural building under a "glass mountain". This mountain – which visitors can climb for beautiful views of the city – creates an eye-catching landmark for the Heuvel, and makes the quarter an important contribution to the densification and greening of central Eindhoven. It also creates additional space for the Muziekgebouw, allowing the venue to adopt a broader programme. The ambition is to turn the Muziekgebouw into a living room for the city: during the day, Eindhoven residents will be able to stay in the building's foyers to work or relax. With this new mix of functions and the much broader programme offering, "Het Heuvelkwartier & De Muziekberg" ("The Hill Quarter & The Music Mountain", as the proposal has already been christened) will draw Eindhoven residents in greater numbers.
"Culture makes a city attractive, and a city as fast-growing as Eindhoven deserves a central music venue that is more visible", says MVRDV founding partner Winy Maas. "Our vision is an open and accessible shopping, residential, and cultural quarter. We achieve this by radically opening up the existing buildings, transforming the complex into seven new city blocks, and expanding upwards from the roofs. Our goal is to make the complex attractive again for all the people of Eindhoven who want to shop and go out, while at the same time ensuring interaction with the inner city. In our vision, the area will have a totally different allure."
© all rights reserved