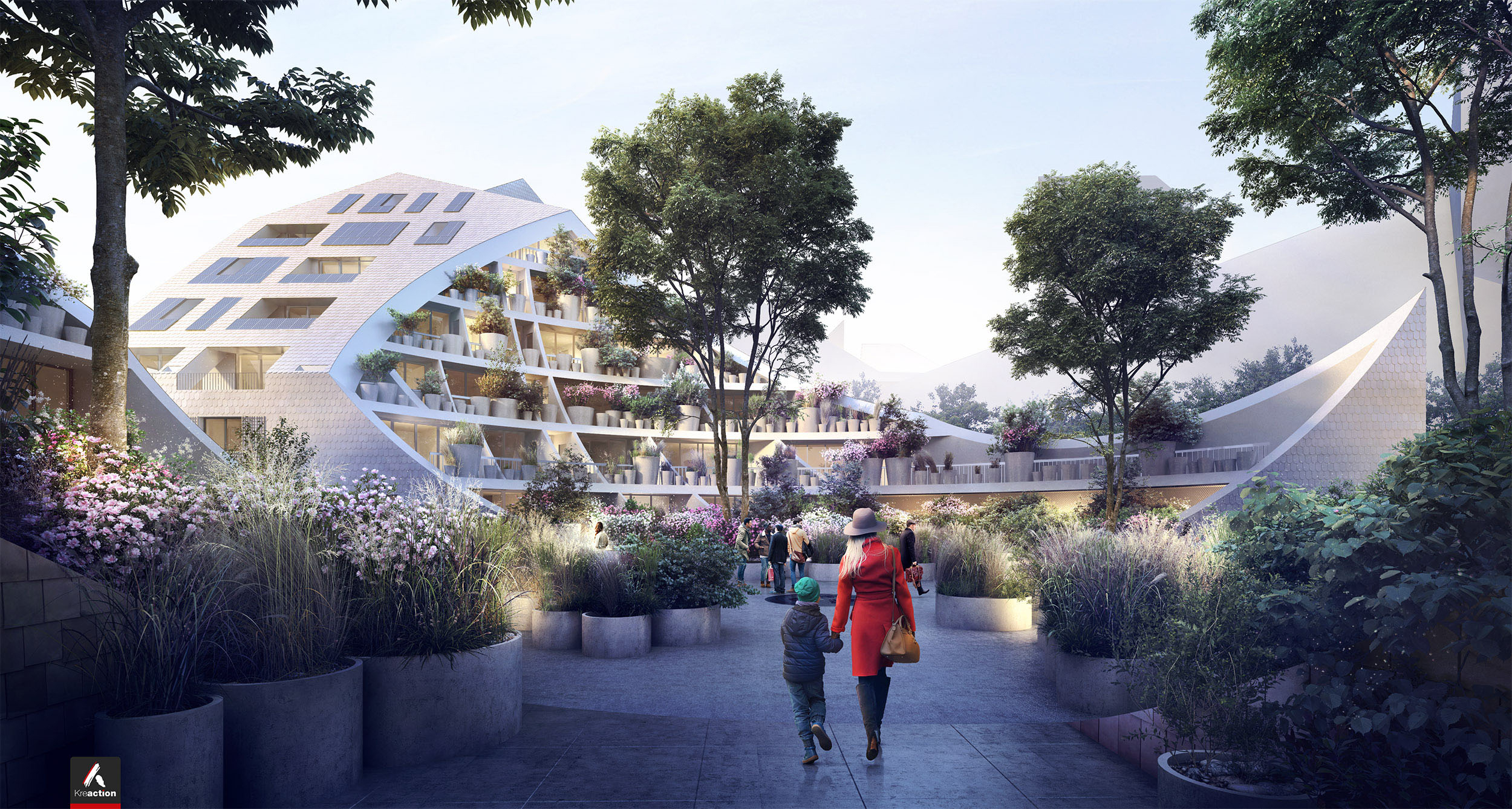 La Vallée Verte
La Vallée Verte, a residential project within the Bastide-Niel district of Bordeaux, combines the angled forms of MVRDV's own Bastide-Niel masterplan with a verdant "crater" - a circular internal courtyard with an abundance of plants adorning generous terraces. The project with its courtyard offers a lively new piece of the city and a variety of homes for residents from all backgrounds.
Location

City

Bordeaux

Year

2016

Surface

5250 m²

Client

Pichet

Status

On site

Programmes

Themes
MVRDV's Bastide-Niel masterplan creates a new district in the centre of Bordeaux through careful retention and renovation of existing buildings, and controlled development. The area's architecture is commissioned from 144 different offices, coordinated by MVRDV. La Vallée Verte, designed by MVRDV itself, serves as an exemplary project following the principles of the Bastide Niel masterplan.
The residential project is made up of three buildings on a triangular plot. On the street side, the façades and roofs are smooth, following the shapes based on daylighting requirements from the masterplan. In contrast, at the centre of the site the three blocks seemed to have to been hollowed out. Like an excavation, this "crater" forms an inner courtyard revealing private terraces, lined with a wide variety of tree pots and vegetation.
The façade in the courtyard has an exponential curve, creating larger terraces on the lowest floors. The apartments have large, full-height windows with dark joinery that further accentuate the shape of the buildings, highlighting their light edges.
The plants on the terraces create a true park effect. The pots have various dimensions to allow different plant species to be able to flourish. Large pots also function as a fence for the balconies. The project replicates a natural valley landscape, with different plants at different levels, to enable a diversity of species.
The privately owned housing will allow for a diverse mix of residents. Because of the differently sized apartments, the homes are suitable for a wide array of Bordelais. This will range from first-time buyers looking for 2- or 3-room apartments to large families.
On the ground floor of one of the buildings will be a two-level restaurant overlooking both the Quai des Queyries and the internal courtyard. This restaurant will add to the liveliness of the development, allowing city strollers to stop by and enjoy the park throughout the day. Located in the same building, another commercial space is will brighten up the corner between the Rue Niel and Quai des Queyries.
The entire Bastide-Niel district aims to obtain the label of an Eco-neighbourhood. To contribute to this objective, the thermal needs of La Vallée Verte are fully provided by renewable energies.
© all rights reserved