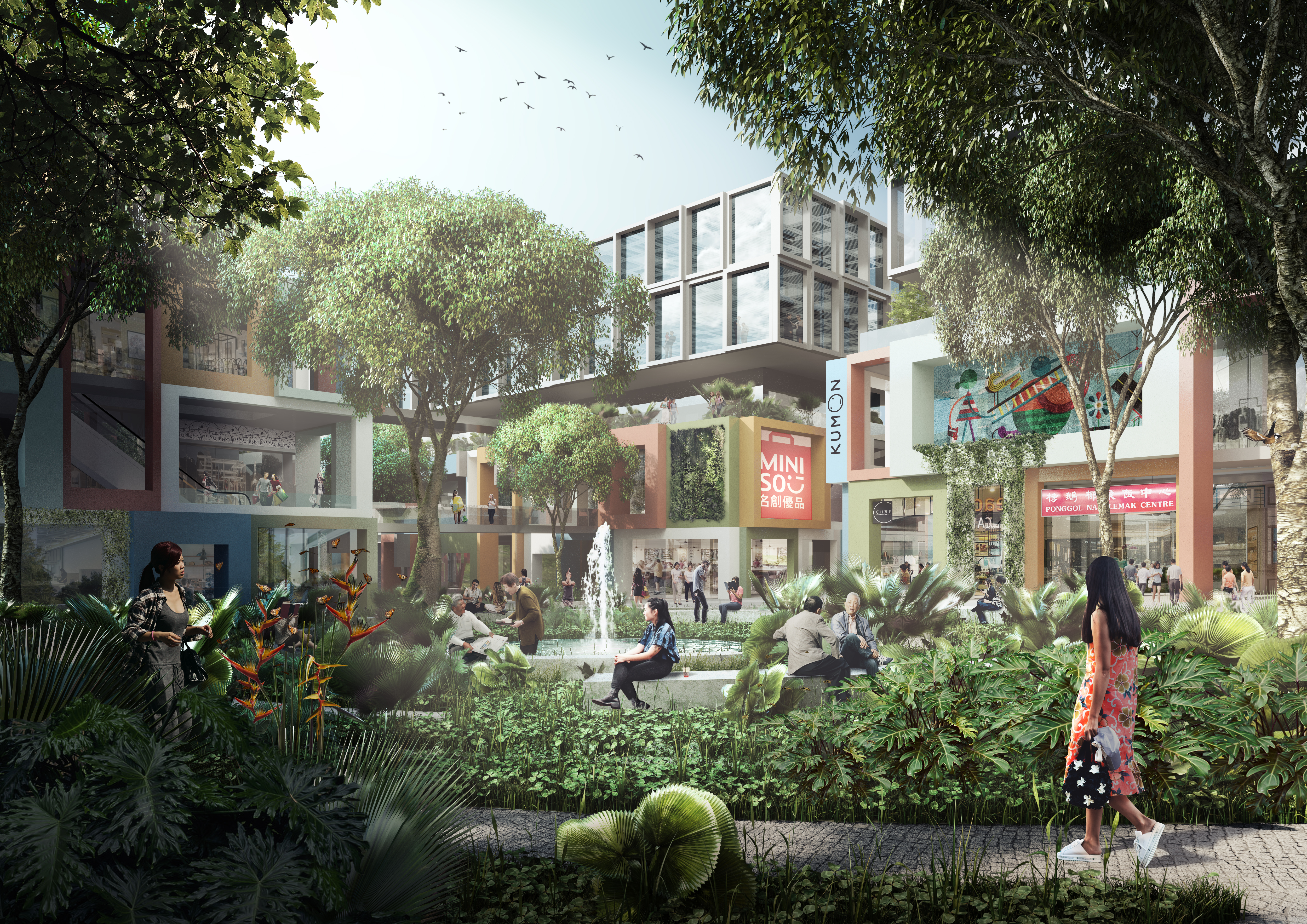 Holland Village
The ambition for the expansion of the Holland Village neighbourhood in central Singapore was to create an endearing and enduring design grounded in humanism, purpose, practicality and longevity. MVRDV's dynamic mixed-use proposal, developed in consultation with West 8 Urban Design & Landscape Architecture, arose from an understanding of the site's unique history, its cultural and architectural significance, and its potential as a site of urban regeneration and densification in years to come.
Location

City

Singapore

Year

2018

Surface

59715 m²

Client

Pontiac Land Group

Status

Competition

Programmes

Mixed use , Offices , Retail , Residential , Bar-restaurant , Master plan

Themes

Architecture , Housing , Leisure , Mixed use , Transformations , Urbanism
Holland Village is a popular shopping and dining destination. On any given day, Lorong Mambong teems with locals and expatriates vying for a table at some of Singapore's most renowned pubs and restaurants. It is the seemingly unfinished and ad-hoc nature of the neighbourhood that gives it its unique atmosphere. MVRDV sought to preserve and amplify this character through a proposal that is open, expandable and flexible in nature. The resulting masterplan, a double circulation loop that orbits the Hawker Centre, ties into surrounding pedestrian networks while maintaining the 'backyard' character and scale of the neighbourhood.

MVRDV's commitment to an accessible and inclusive Holland Village is evident in the design of public and landscaped areas. Here convention is eschewed in a proposal that centres on the pedestrian with streets and structures constructed around paths of circulation. Landscape interacts with art, buildings, playgrounds and pathways to create a sequence of shared spaces that come together in a narrative of relaxation, connection and enjoyment.
In its "formlessness", Holland Village has provided an unsurpassed degree of urbanity, complexity and programmatic variety. This flexibility is characteristic of Holland Village and, rather than the result of a top-down dictation, evolves from the interactions between a community of residents, business owners and visitors. Holland Village is thus a palimpsest of old and new. It allows shop owners to make use of its architecture to their advantage: signage, outdoor seating and interesting displays. In order to safeguard this freedom MVRDV proposed a simple four-step framework for commercial and office buildings that would welcome appropriation and allow for endless permutations. The architecture of Holland Village becomes an adaptable canvas that enhances and reveals the activities of an ever-changing mise en scène.
In a similar manner, the architecture of Holland Village adapts to the demands of context and climate. The proposal integrates seamlessly into the existing urban fabric by adopting a stepped massing that privileges existing views and acknowledges the scale of neighbouring buildings. Lower towers continue the urban edge along Holland Road while a 35-storey tower rises up to meet surrounding high-rise HDBs and anchors the proposal within the city. The grid-like façade of the buildings is equally dynamic. A dense grid on lower levels ensures adequate shading and privacy for residents. On higher levels, the grid opens up affording residents panoramic views to the city. Subtle traces of colour hint at the vibrant activities that take place within the village.
© all rights reserved