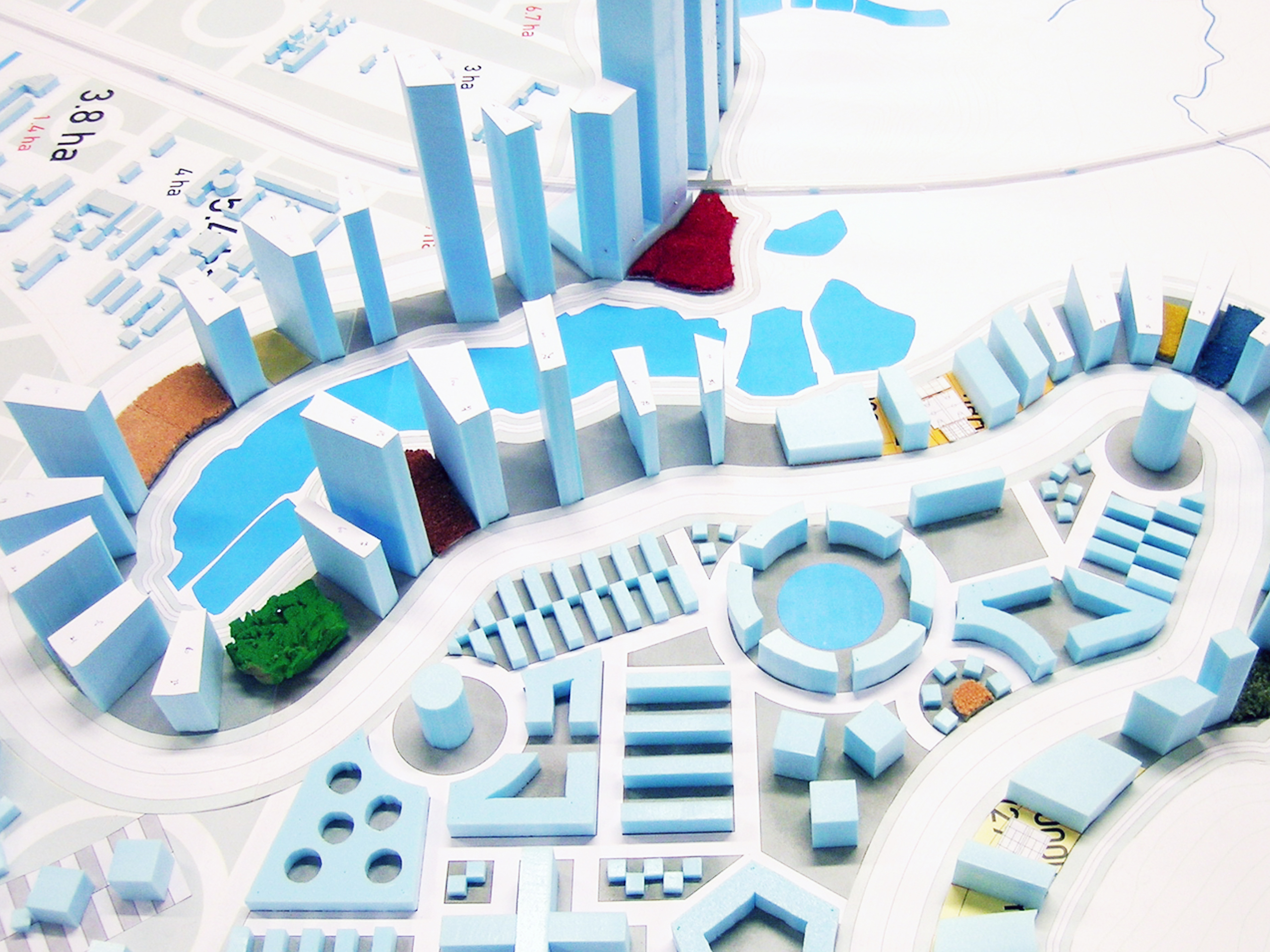 Shenzhen Super Window
MVRDV's proposal for the Guangming New Town combines a collective ecological vision and large central greenspace with an urbanism of differentiation and variety along its border. The masterplan creates a patchwork of speciality areas while private and public outdoor spaces bond together to form a grand landscape of parks, lakes, shopping areas, cultural districts, farms, schools, visitor centers, and offices, all clustered along a serpentine boulevard which connects everything in a loop around the park.
Location

City

Shenzhen

Year

2006

Status

Competition

Programmes

Themes
The design for the Guangming New Town offers the possibility of developing an innovative urbanism, which response to the future need for individuality and diversity in the urban environment as well as the need for a collective vision for the role of nature in the city. Some parts of the beautiful existing landscape of the site should be preserved. By declaring these elements as non-built areas, and by building on the other zones only, a fantastic combination of public and private, of open and closed, of light and dense, and of landscape and city can be created.

This new open area consists of hills, lakes and fields, and can give an entirely unprecedented character to this new city. It opens up the regular urban tapestry and gives it space to breathe, a space for recreation and exercise. It connects the new and old city with the hills towards the east. It creates a permanent 'window' from the city to the mountains, which can be framed by the built program.
The central park and its landscaping are designed to celebrate the classic countryside of the area. By keeping the existing vegetation, pools, the farms, Lychee-trees at the hills and opening them for the public a 'public farm' emerges. By extending these zones with a variety of orchards into the fields a giant super-farm is created in the heart of the city, a kind of urban Eden. By protecting all the existing landscape qualities and surrounding this with the loop a highly diversified open space emerges. The park is encircled by a 100-meter wide 'band' or loop of program and circulation, an exciting trajectory for cars, public transport, pedestrians. A serpentine boulevard: Park Avenue reimagined with sweeping curves, with a view both into the new city and into the landscape
Due to the positions of the existing landscape elements such as lakes and hills, the Loop turns into a winding road: a green avenue with surprising 'pockets' for shopping areas and cultural pockets. The meandering route creates a surprising variety of perspectives. By attempting to give almost every plot its address directly from Park Avenue, the loop maximises the usage and symbolic meaning of the collective green space at its centre. And it maximises the value for all the plots: everyone can live on Park Avenue, and it becomes a legible main street for the new city, giving new meaning to the collective space at its heart.
© all rights reserved