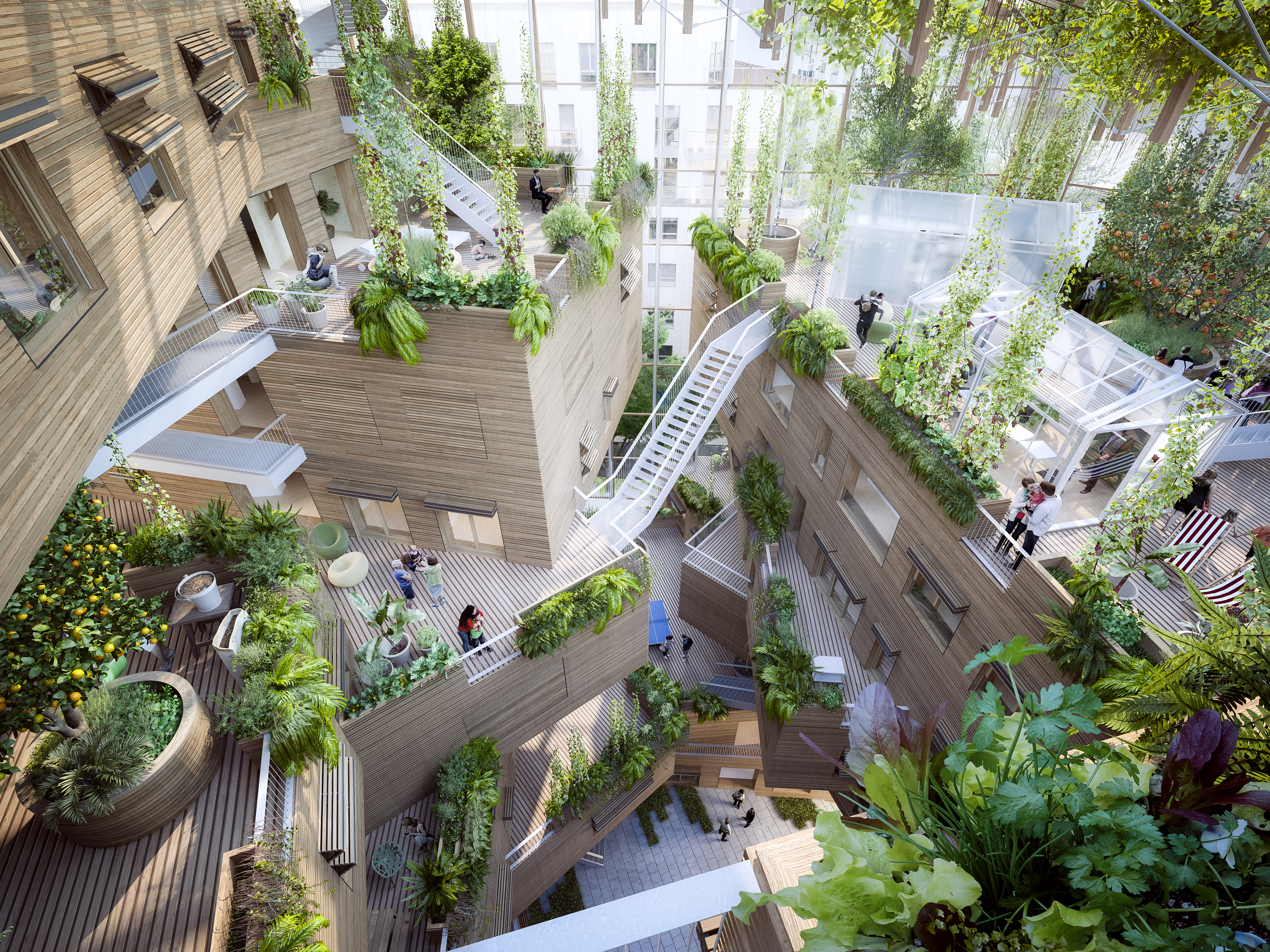 Jardin Habité
In the age of the 'instant city' and fast-paced communication, a buffer space for contemplation and return to nature becomes an essential feature of our urban environment. Situated in Issy-les-Moulineaux, one of the main poles of Métropole du Grand Paris, the Jardin Habité is a greenhouse apartment building consisting of 111 residential units intended as an urban oasis, a place of gathering and shelter, in a continuously evolving metropole.
Location

City

Issy-les-Moulineaux

Year

2017

Surface

10000 m²

Client

Client: OGIC, Mairie d'Issy les Moulineaux

Status

Competition

Programmes

Themes

Architecture , Housing , NEXT
MVRDV's participation in the Inventons la Metropole Grand Paris competition saw the further development of ideas regarding dwelling innovation. In response to the competition brief, MVRDV proposed a daring hybrid residential typology that challenges the conventional boundaries of architecture and catalyses the proliferation of diverse lifestyles.
The Jardin Habité is a micro-village within the city, a haven of greenery, an explosion of vegetation overturning the norm of traditional two-dimensional housing experiences. The proposal embraces a vertical dimension, a space of conviviality that welcomes the formation of social ties and bonds that bind neighbours.


To realise this vision the project employs a nudge approach that seeks to create 'vicinity units'. Scaled in proportion to the building and assembled in a manner that stimulates interaction, the units articulate an animated neighbourhood within the building envelope. Interstitial 'left-over' spaces, neither strictly urban nor domestic, host an array of functions and programs that are slowly disappearing from our cities.
A 'vertical village' tucked underneath a generous greenhouse, MVRDV conceptualized the different units as Jenga blocks stacked in a manner that generates large terraces for planting and leisure. This method also allowed for the placement of gardens and protective canopies on the roof. The Jardin Habité heralds the renewal and recovery of nature in the city on the Avenue de Verdun.
MVRDV's entry into the competition led to a follow-up project that will be realised on a nearby site.
© all rights reserved