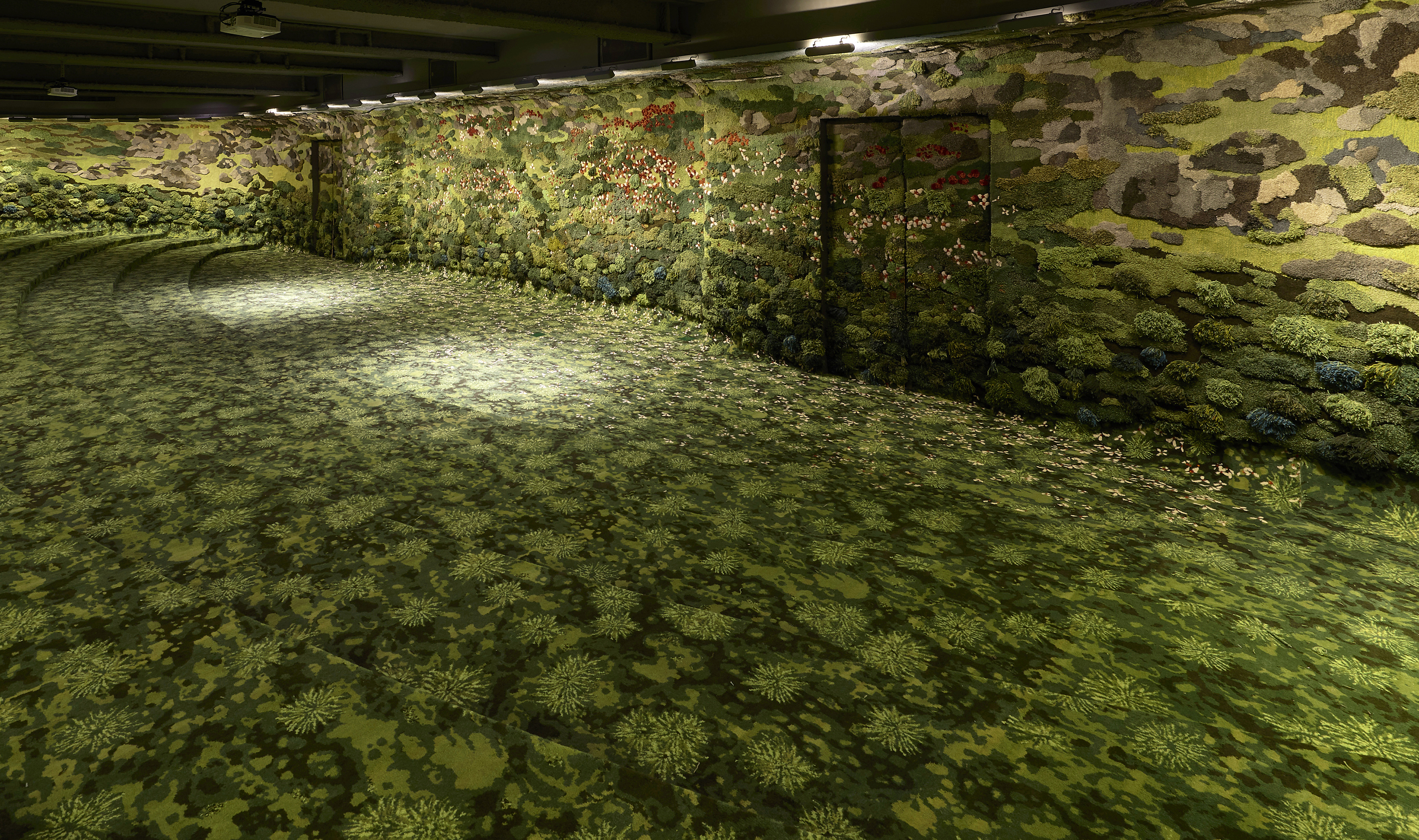 Jut Interior
MVRDV's interior for the 240 m2 Jut Group lecture hall is an inspiring space that welcomes Taipei's lush vegetation inside. The specially commissioned wall-covering artwork by Argentinian textile artist, Alexandra Kehayoglou transformed the interior into a green dream by using recycled threads.
Location

City

Taipei

Year

2017

Surface

240 m²

Client

Jut Group

Status

Realised

Programmes

Themes
The lecture hall accommodates up to 176 people and is located at the Jut Group head office in Taipei. The design concept, that of a green carpeted landscape, draws on MVRDV and The Why Factory's research into the potential of future transformable environments.

"The interior is literally a green dream," says Winy Maas, MVRDV co-founder. "Together with the artwork, it represents the natural landscape of Taiwan and at the same time, acts as an acoustic intervention. In the midst of the hyper-urban condition of Taipei, audiences will be surrounded by this green dreamscape."
MVRDV transformed the lecture hall into a verdant cocoon through the application of a wall-to-wall single textile artwork by Alexandra Kehayoglou. The site specific nature of the intervention and Kehayoglou's signature hand-tufting technique meant it took over a year to complete the work. The artwork is crafted from recycled threads salvaged from the artists' family carpet factory in Buenos Aires and is a reflection of the Jut Group's continued commitment to collaborating with the most talented artists, designers, and architects.
The project marks MVRDV's second collaboration with Jut Group which began with the Jut Foundation for Arts and Architecture in 2009 and the fourth edition of the exhibition series "Museum of Tomorrow". The temporary museum explored ideas related to a contemporary vertical village: a three-dimensional community that restores personal autonomy, diversity, flexibility and neighbourhood life to cities in Asia. The Jut Foundation is committed to working collaboratively and in a multi-disciplinary manner with its ground floor space dedicated to a temporary exhibition programme.

MVRDV worked with Jut Land Development (The Owner), AI Group (Design Development), Alexandra Kehayoglou (Tapestry artwork) and DaYi Construction Group (Construction).
© all rights reserved