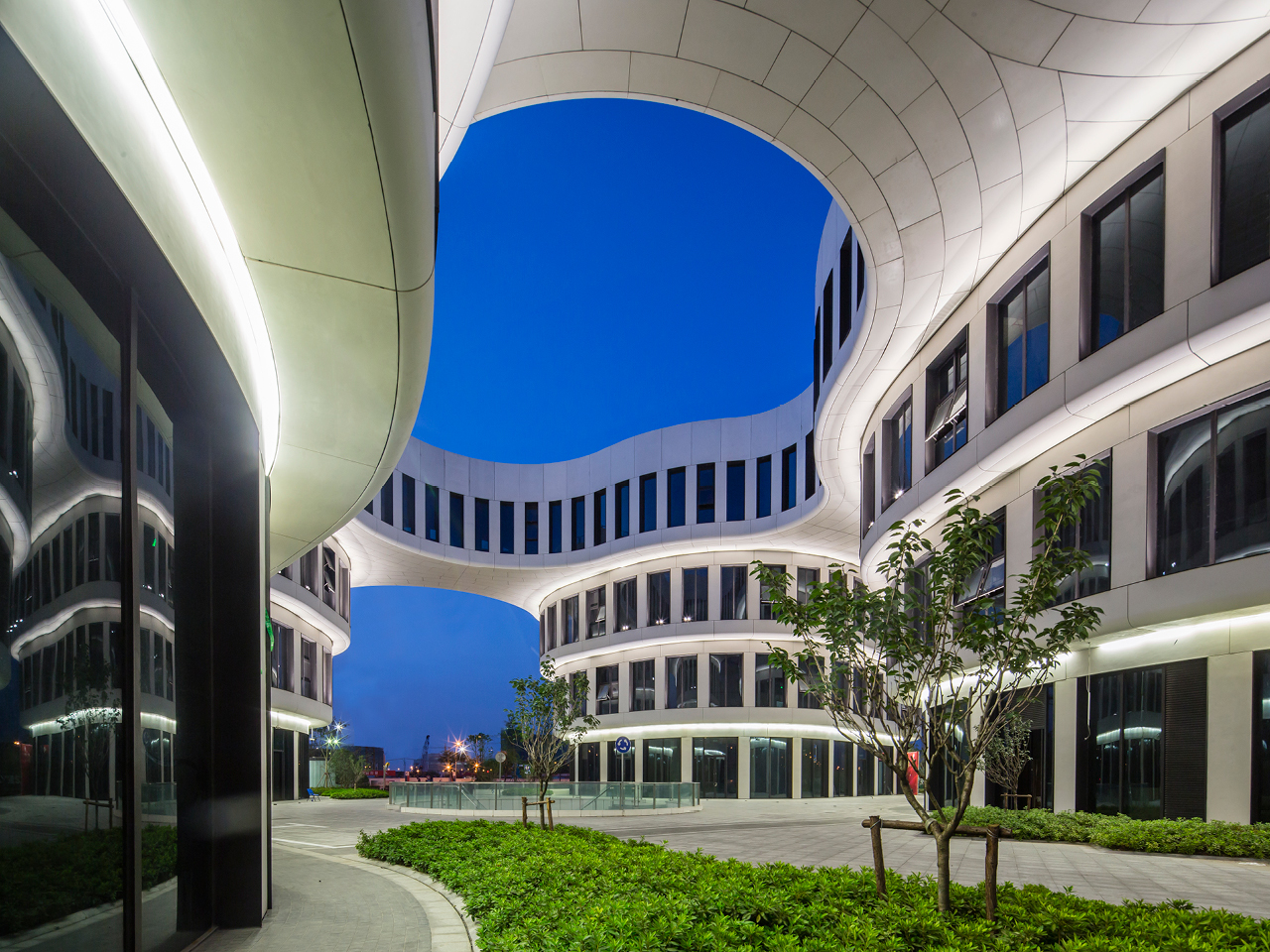 Hongqiao Flower Building
The Hongqiao Flower Building, a flower shaped landmark offering 15,000 m2 of Grade A offices, is the first of 9 buildings, atop an Aedas-designed underground shopping centre, that form part of MVRDV's 45,000 m2 masterplan for the Hongqiao Central Business District (CBD). Completed in 2015, the Hongqiao Flower Building received a 3-star Green Building Label, the best energy performance rating in China.
Location

City

Shanghai

Year

2015

Surface

15000 m²

Client

Sincere Property, Shanghai, China

Status

Realised

Programmes

Offices , Retail , Master plan

Themes
The building merges the footprint of four towers to create a shaded and intimate plaza below. The ground floor features retail space, whilst connections between the uppermost floors allows for flexible tenancy. A rounded form means that views and floorplates are maximized whilst the amount of façade (and associated costs) is reduced.
The cantilevered, self-shading form of the Flower Building is complimented by a façade with smaller openings on the upper floors. This dramatically reduces energy consumption and is one of the many innovative features that contributed to the building's 3-star energy rating. The white façade, comprised of extremely light but highly-insulated GRC panels, offers a subtle, shifting grid that expands as it reaches the ground to become more public and open to passers-by, and contracts as it moves up to reduce the need for air conditioning.
The Hongqiao Central Business District will achieve three stars, the highest ranking of the Chinese 'Green Building Label'. Buildings will exhibit sustainable features that include high performance insulation, optimised building forms, shaded spaces, natural ventilation, rainwater collection, permeable road surfaces, links to public transport and a reduction in the urban heat island effect. All 10 buildings will also offer green roofs as a habitat for local wildlife species
© all rights reserved