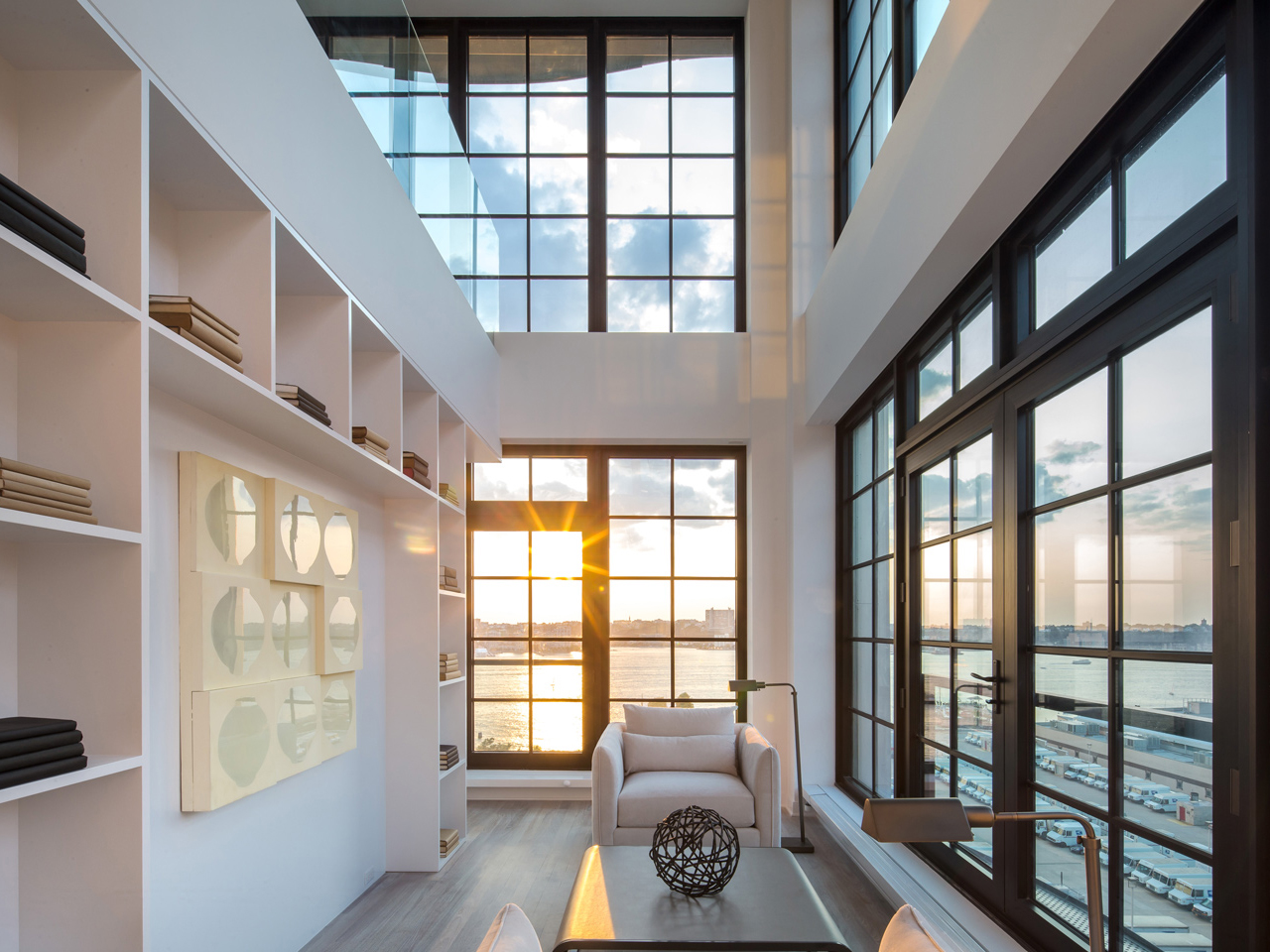 Sky Vault Penthouse
They say that in New York City, small is sophisticated, at least when it comes to apartments. MVRDV transformed the interior of this penthouse, sitting at the highest end of the luxury market, with features such as a glass enclosed storage vault, a mirror finished garage and a customized bathroom fully clad in softly glowing walls, while optimizing floor space and usability.
Location

City

New York City

Year

2014

Surface

335 m²

Client

Youngwoo & Associates

Status

Realised

Programmes

Themes
Re-imagined, the home's new layout will be dressed in exquisite high-end finishes, including Dornbracht taps, a customized bath sculpture and a spiral flooring pattern. The existing Sky Garage, accessed by a personal elevator that carries your car to the parking space adjoining the apartment in less than 60 seconds, has also been trasnformed. Now completely clad in wall-to-ceiling, high gloss stainless steel, the reflective garage space, with large windows to the East, will highlights high end vehicles as well as the incredible city views.

Renovated to increase usable square footage, the lower level consists of a master bedroom with ensuite bathroom in fully clad in a custom, translucent white resin to create a softly glowing, relaxing atmosphere. A world class walk-in-closet, and a sculptural bathtub have also been added to the bedroom. The rest of the lower floor consists of a double height study, along with a second bedroom with ensuite.
The upper level is home to the enlarged living and dining area, made possible with the increased floor area gained from removing the internal stairwell from the existing double height space, and creating the Sky Vault. It also features a disappearing kitchen in teakwood, guest bedroom with ensuite, adjacent car garage, and two large loggias with sparkling city and water views to the North, East, and South.

The Sky Vault connects the two floors, and is a disappearing, glass-encased staircase and vertical chamber. It is designed to provide storage for unique collections owned by the apartment's owner, whether they be shoes, wine, or something entirely more exotic. Maximizing efficiency and creating character, the Sky Vault is on display as the heart of PH1 and is an exhibition for its residents' most prized possessions. Boasting a walkable glass ceiling, teak stairs, and automated extending glass railing and hatch for access, the Sky Vault transforms the stairwell into a safe and a gallery — becoming its own work of art in the process.
The Sky Vault Penthouse sits in one of New York's prime new buildings. No longer just a vision of integrated elegance, exclusivity and innovation, 200 11th Avenue now holds rank among the world's classic buildings.

Appropriately situated among the plethora of New York City's contemporary art galleries, 200 11th Avenue was one of the first projects to capitalize on the residential rezoning of the neighborhood. Home to only 14 unique apartments, residents get to enjoy every amenity luxury has to offer: 24/7 attended lobby, key-lock elevator entry, fully equipped fitness facility overlooking the Hudson, and even A-list neighbors.
© all rights reserved