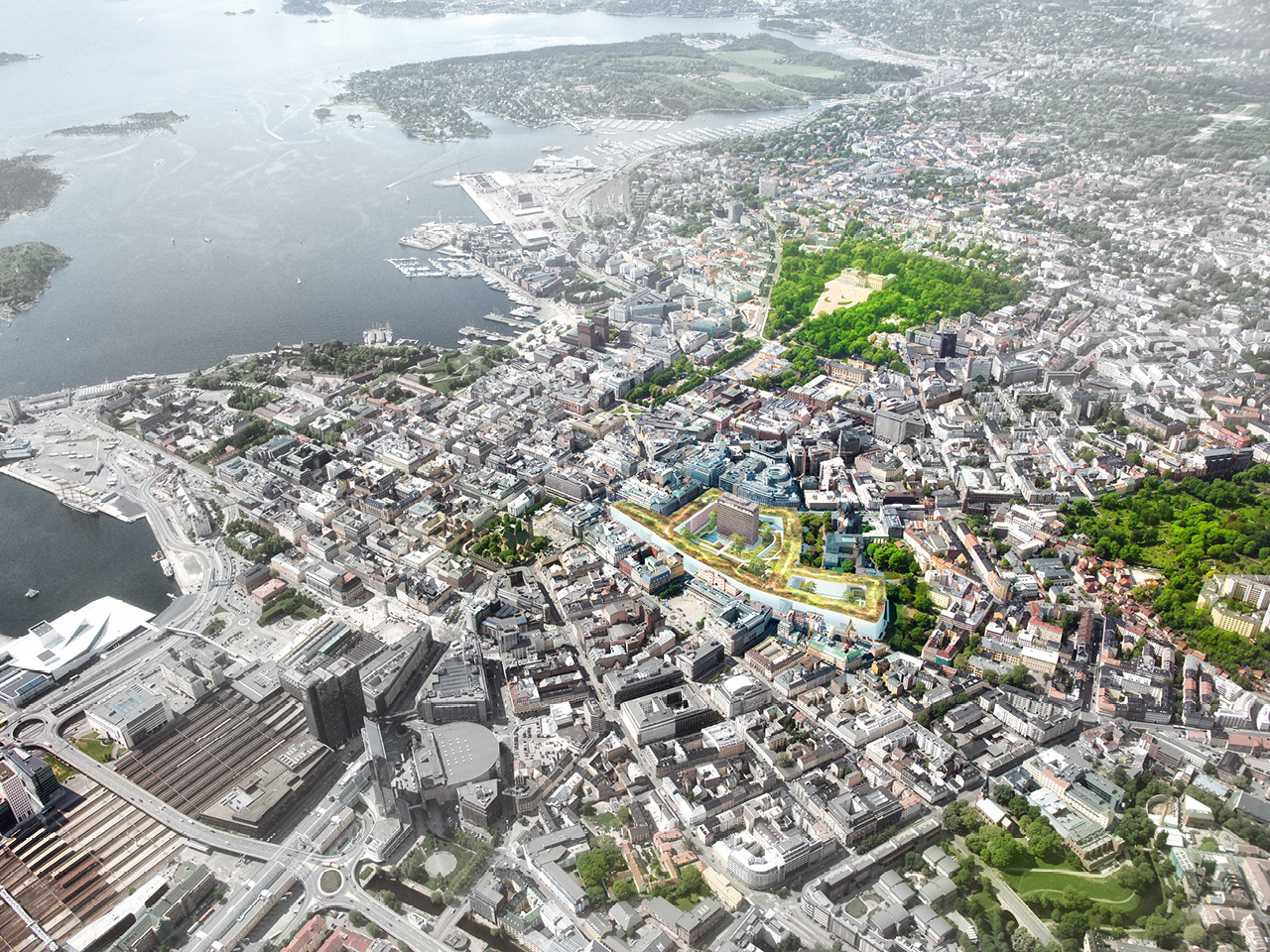 Government Quarter Oslo
MVRDV was selected in a competition to propose a future vision for the development of Oslo's government quarter, which suffered a tragic terrorist attack in 2011. The proposal was considered the best option by the jury, receiving praise for its low-rise development approach in contrast to all of the other contestants' high-rise designs. The plan represents the desire for a representative, green public space and a 'cluster' of buildings which can become an integral part of the surrounding area.
Location

City

Oslo

Year

2015

Surface

200000 m²

Client

Statsbygg (Norwegian Directorate of Public Construction and Property), Norway

Status

Competition

Programmes

Themes
What features define Norwegian identity today? What changes will Norway face in the coming century? What type of building complex and which kind of architecture respond best to the future expectations of a physical framework for democracy? With these questions and much more, MVRDV began the process of developing a vision for the future of Oslo's government quarter, the Regjeringskvartal (RKV), and its expansion to include 200,400 m2 of offices and public spaces.

The choice of one concentrated government centre that collects all of the vast ministries together is a powerful change. Such a move allows for organisational flexibility over time and creates a sense of interaction rather than separation. Identity is something that is constantly developing but is essential to pinpoint architecture in a historical perspective. What does it mean to be Norwegian, and should the future RKV express the desired identity or be more neutral in relation to these issues? Oslo is Europe's fastest growing capital city and it is currently undergoing the most significant and controversial changes to its built environment since the 1600s.
MVRDV's analysis of the site, brief and program led to number of different conclusions, which together formed the basis for defining the task: the desire for a representative, green public space and a 'cluster' of buildings which can become an integral part of the surrounding area, with good physical connections to the surroundings, and access from all sides. The working environment should be friendly and efficient. And, security must be provided without the building becoming a fortification.

What type of organisation creates an optimal working environment? Experts suggest that a horizontal organisation of working space, with larger horizontal floor surfaces, provide more room for cooperation than a conventional, vertical subdivision, as in a tower building. Can a complex be created as "horizontal" as possible? The best workplaces also maximize natural daylight and ventilation, and views of surrounding streets or green areas is an important factor.

MVRDV's proposal creates a ring of offices in a lowrise, horizontal format, which respects the surrounding historic city centre while creating an ideal working environment.
The new government quarter aims to connect, rather than separate, with its grand bridges spanning multiple buildings and creating a network effect which improves collaboration and communication between government departments.

The ring concept gives Høyblokka with the prime minister's office a central position in the building complex. And because the ring is not higher than ten floors, Høyblokka will remain the highest building. In MVRDV's proposal, the central role of Høyblokka is maintained, and it will be reused as the core of Norway's leadership.

Inside the ring, a huge new urban garden is created. The employees have views onto the garden, which will be planted with species from the Norwegian landscape such as conifers and heather, mosses and lichens. The garden can become a symbol of Norway's democracy and it's government. A symbol for a country for whom nature is a most exceptional characteristic, as well as being the source of much of its wealth.
© all rights reserved