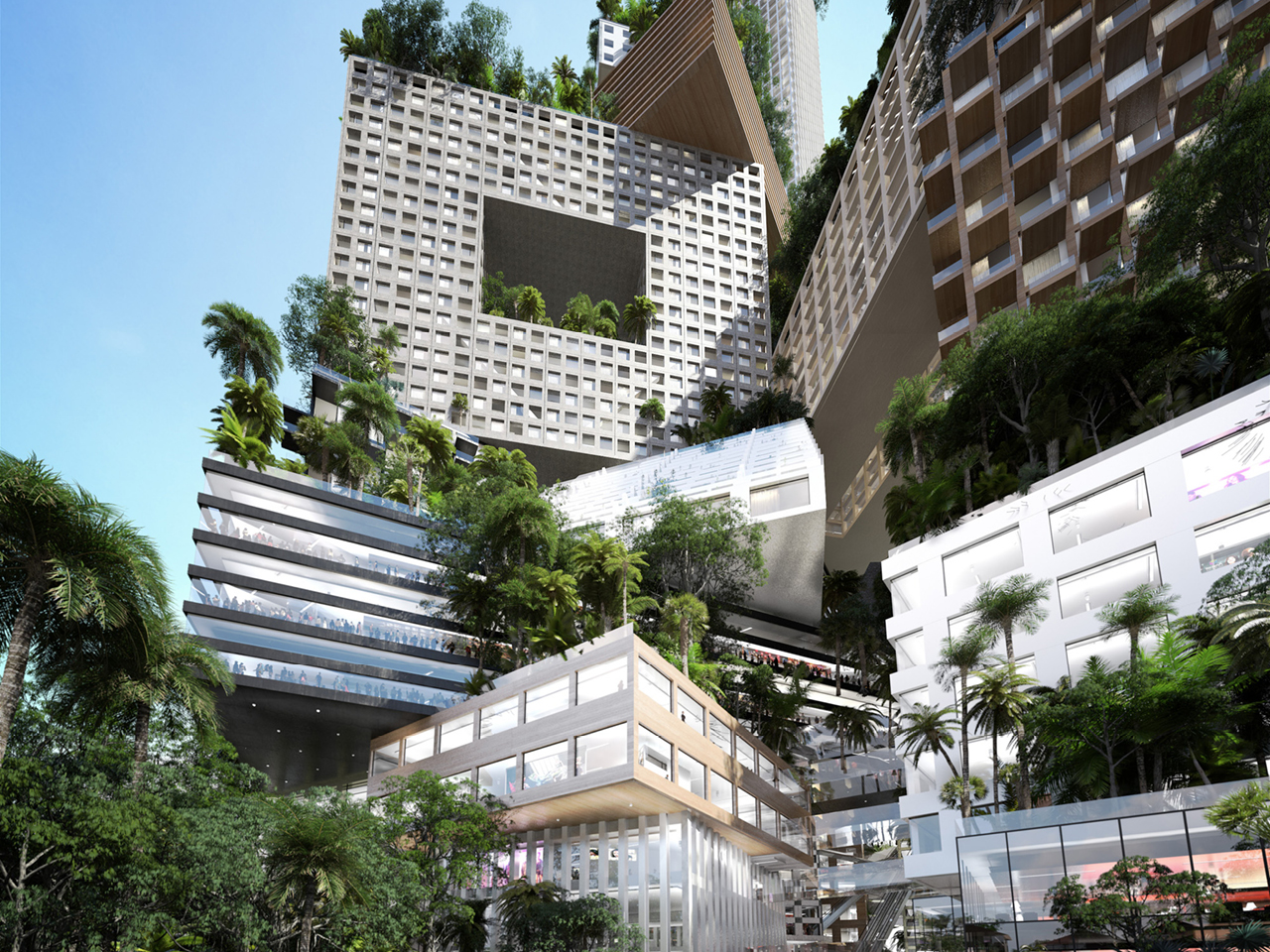 Peruri 88
Peruri 88 combines Jakarta´s need for green space with its need for higher densities, whilst drawing on typologies from the current urban fabric. The tower represents MVRDV's long standing ambition to create a vertical city with a high quality of living and high sustainability credentials. The 360.000m2 mixed use development includes a wide variety of housing, offices and commercial space as well as internal and external public spaces and much more.
Peruri 88 combines Jakarta´s need for green space with Jakarta´s need for higher densities whilst respecting the typologies of the current urban fabric.

The site, which is owned by Peruri, is located at Jl. Palatehan 4 Jakarta, a block formerly used as Mint which sits right next to a future metro station. The mix use project offers a great variety of office and housing typologies, from large office surfaces to living/working units, from lofts to townhouses, from terraced houses to patio living.
Each of these stacked urban blocks comes with a semi-public roof park, an abundance of gardens, playgrounds, spas, gym's, outdoor restaurants and swimming pools available to the inhabitants and office employees. The tall trees on these decks will provide extra shade whilst the height of the parks allows for a cooling breeze.

The high rise, a luxury hotel from the 44th floor to the 86th floor, rises from a platform with the park, swimming pool and the marriage house. On top of the hotel, a panoramic restaurant and viewing platform complete the structure on the 88th floor.
The commercial podium, which is located from levels B2 to the 7th floor is designed by Jerde Partnership with MVRDV. Its most characteristic feature is the central plaza, sheltered by the stacked volumes of the mid-rise it offers multiple outdoor layers of restaurants and shadow and natural ventilation. A series of escalators connects the shopping and retail centre to the parks of the mid-rise.The Peruri 88 commercial podium reflects the city's historic islands with reflective bodies of water and landscape traversing the public street levels, while integrating a sunken garden plaza. The buildings structure has five principle cores and is less complex than visually apparent. Four traditional constructed tall towers rise up between which bridging floors will be constructed. Arup will continue to develop and rationalise the structure to satisfy regulations and the budget.
© all rights reserved