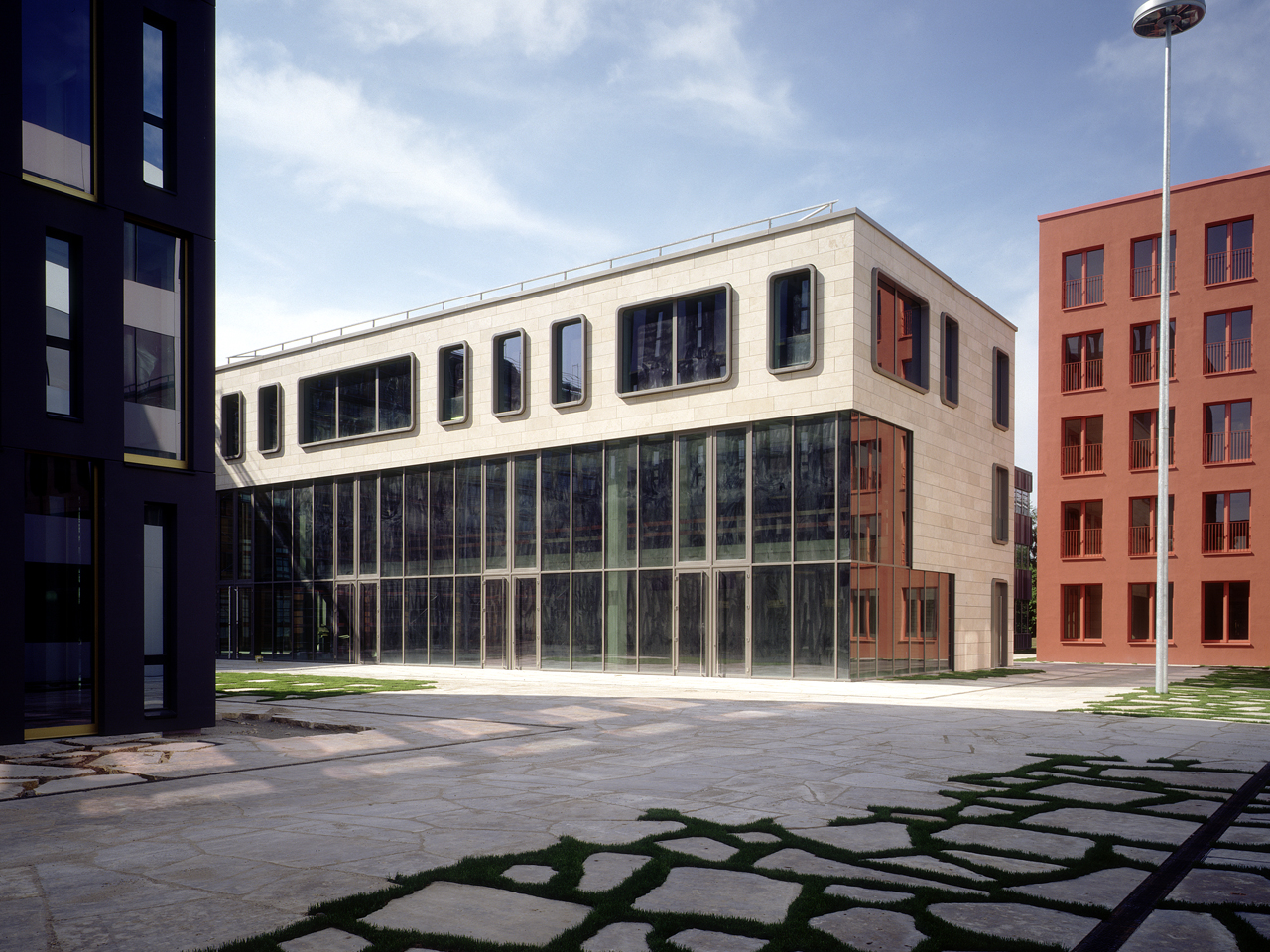 UPV Munich
After winning the competition in 1999, MVRDV was commissioned to develop a master-plan for an office park in a commercial area north east of Munich. The ambition was to mix public and private spaces to create a modern office complex. Every building has its own address and identity, but together they form a cohesive village. A parking level under the entire site provides for the necessary parking space with one central exit to the plaza level.
Location

City

Munich

Year

2003

Budget

€21,000,000

Surface

23000 m²

Client

Merkur GmbH & Co., Munich, Germany

Status

Realised

Programmes

Themes
The master plan of Unterföhring Park Village will be realised in two phases. Four of the nine buildings in the first phase are planned by lauber architekten (Munich) and five by MVRDV. The houses vary in volume and façade material as determined by the master plan. This results in a heterogeneous ensemble, contrasting the large-scale projects in the neighbourhood. A new community is growing out of a mix of various tenants and firms.



Nineteen different buildings are arranged on a shared plaza in order to create the highest possible density with an urban atmosphere. A parking level under the entire site provides for the necessary parking space with one central exit to the plaza level. The 'car free' plaza functions as a meeting point, open to the public. Car access is only permitted for services and the fire brigade. It is covered with natural stone. Private gardens, lawns and terraces on the roofs form another landscape, visible only from inside the offices.

Surrounded by trees and hedges, the ensemble receives a green belt, bordering on the neighbourhood. The 'Village' fills a central void in the commercial area of Unterföhring Park and thus becomes the new centre.
The project aims at a mix of public and private functions such as offices, shops and gastronomy. Every house has its own address and identity. Together they form a catalogue of materials, like the 'glasshouse', 'stonehouse' and 'wooden house'. All four facades are the same, so there is no front or back side.The flexible office units are being equipped with the latest standard in information technology. They are adaptable and extendable within a 1.35m grid, allowing for uses such as cell office, open office or mixed office. Each floor can be divided into two separate renting units. Individual buildings can also be linked under or above ground in case larger units are needed. Circulation and service space is minimised to a singular inner core.
© all rights reserved