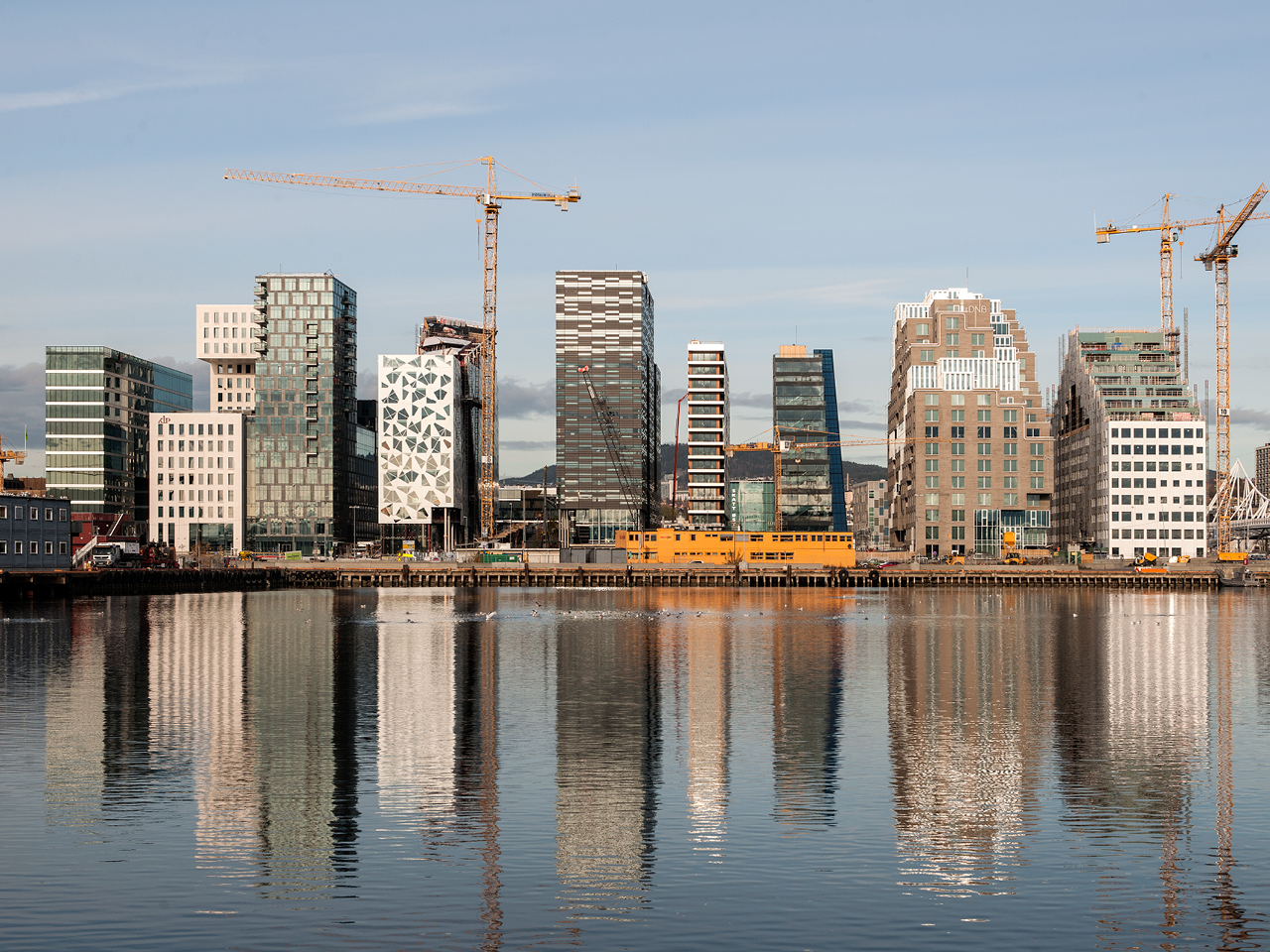 Bjørvika Barcode
In 2003, MVRDV together with Norwegian firms Dark and A-lab, won the competition for the Bjørvika waterfront development. Bjørvika Barcode, a dense 220,000 m2 mixed-use urban masterplan situated along Nyland Allé, was developed and realised by Oslo S Utvikling (OSU) in 2016. Included in the masterplan is MVRDV's design for the DnB NOR headquarters completed in 2012.
Location

City

Oslo

Year

2016

Surface

220000 m²

Client

Oslo S Utvikling (OSU), Oslo, Norway

Status

Realised

Programmes

Themes
The masterplan occupies a unique site in the city between the expanse of the fjord and a major transport hub that comprises the Central station and highways. The goal of the project was to maximise urban and architectural diversity as well as spatial flexibility, and the realization of a pedestrian-friendly zone in the center of Oslo. The site is divided into narrow strips, creating the so-called 'Barcode'. Each building has one façade facing the fjord and one facing the transport hub. This allows for maximum views and an increased number of addresses whilst maintaining flexible space for housing, office, commercial or cultural programs. The buildings are unique in identity and material expression whilst relating to neighbouring buildings in shape and architecture.

The masterplan offers a series of 'urban rules' as guidance. These include the differentiation in height and width of each building, the minimum width of passages between buildings, a minimum of 50% green outdoor space on horizontal surfaces, and that each program should be present in all phases to create a balanced development from the beginning.
The Barcode consists of 11 buildings designed by different architecture firms according to these rules. Participating firms were selected through individual commissions and organized competitions. The masterplan accommodates a total of 135,300m2 office space, of which 80,000 m2 is devoted to the headquarter-complex of DnB NOR. An additional 36,200m2 is allocated to housing with the ground level of each building reserved for commercial and cultural facilities of which 8,100m2 facilitates a public program. In addition to an array of communal programs, underground parking and technical facilities connect the buildings of Bjørvika Barcode. Included in this is a museum devoted to the archaeological discoveries unearthed on the site during construction of which a series of 16th and 17th century boats take pride of place.
The execution of the masterplan allowed for a phased development. Each building was constructed independently from the others with the public space around becoming a 24h-accessible, animated, pedestrian-zone.

VISIT

The Barcode masterplan is open to the public at ground level, where the majority of the space is commercial or cultural. Visit the museum while you are there to learn about the history of the site and see artifacts unearthed during the construction process. For those wishing to take the train, Oslo Central Station is directly adjacent to the site.

Address: Dronning Eufemias gate, 0191 Oslo, Norway
© all rights reserved