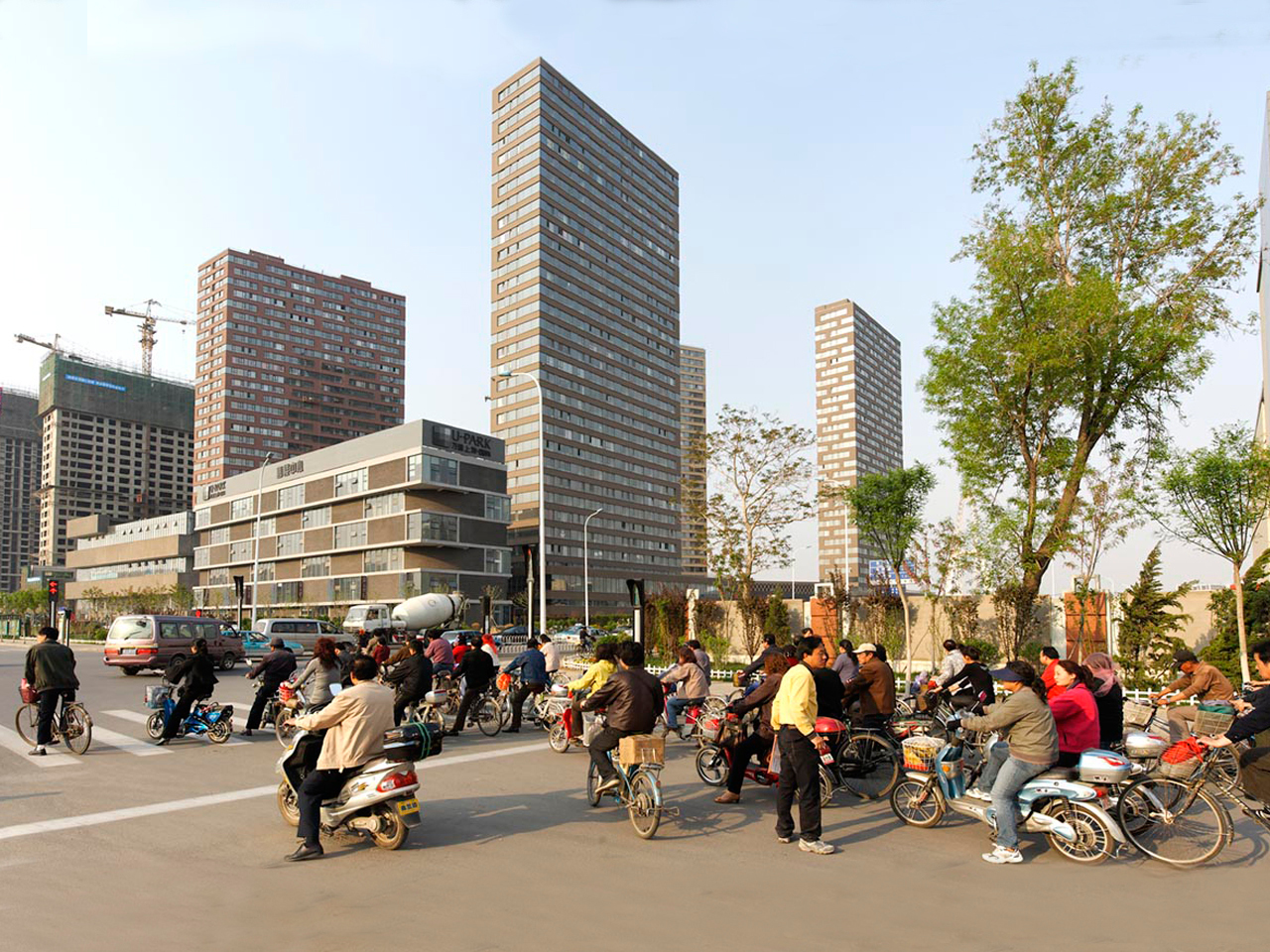 TEDA Urban Fabric
An urban plan for housing and retail in Tianjin, China, TEDA combines towers and low-rise typologies along the lines of the old street patterns to preserve trees, as well as the rich tapestry of urban lifestyles that have historically existed there. TEDA succesfully combines the required square metreage with a high quality living environment that mediates between different functions and scales.
Location

City

Tianjin

Year

2009

Budget

Undisclosed

Surface

280000 m²

Client

TEDA Vantone Real Estate Co. Ltd. Tianjin, CN

Status

Realised

Programmes

Themes

Architecture , Housing , Mixed use , Urbanism
An urban plan for 280.000 m2 housing and retail in Tianjin, China combines a development of 75% towers and 25% low-rise typologies following the old street pattern, so as to densify a traditional urban setting. The re-introduction of Chinese residential typologies and creation of public space also feature as part of the plan.

Recently, in China, many old neighborhoods have been replaced by new ones. The existing urban patterns are being erased and new towns are built without any specific links to what was previously there. In case of TEDA town, re-using most of the existing tree lined street produces a series of plots on which the program can be positioned. To combine the street feeling with the total requested amount of square meters, a mix of towers and low-rise typologies was proposed.
Each tower is accompanied by an open space, opening up the dense pattern of the existing streets. The towers are positioned to maximise light and views while leaving enough space for low-rise developments. The low-rise housing is organized into archetypal patio houses and townhouses of 3 or 4 levels, surrounding courtyards with plants and water features. On the main streets, ground floors can be used as shops and studios. Parking is organized in several underground garages.

In this way a new neighborhood is recreated that echoes the character of the old streets. It combines a dense urbanity with traditional layout, creating a lively, attractive and sustainable urban area.
VISIT
TEDA Urban Fabric is an urban development and therefore it can be visited by walking through the streets of Tianjin. The buidings themselves are private homes so, when visiting, please respect the privacy of the residents.

Address: He Bei Da Jie, Hongqiao Qu, Tianjin Shi, China, 300141
© all rights reserved