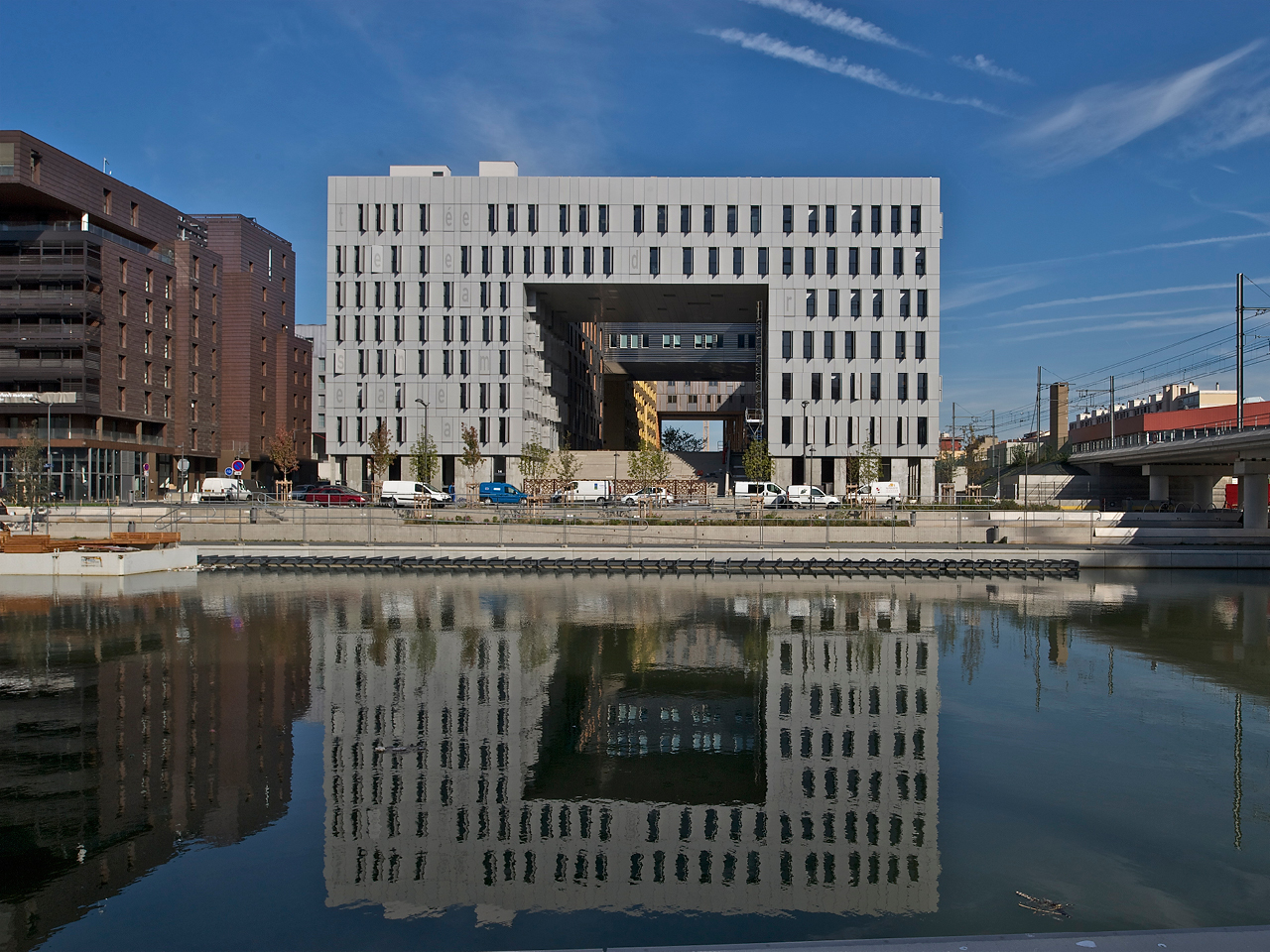 Le Monolithe
Le Monolithe is an energy efficient, mixed-use urban block located at the confluence of the Saône and Rhône rivers in Lyon. Forming part of a larger urban renewal effort, MVRDV 15.000 m2 masteplanned the development, with each of the five sections designed by a different European architect, including the south end by MVRDV. A large interior court, with a raised public space overlooking the city, echoes the classical space of a Grand Gallérie. The building uses 80% renewable energy.
Location

City

Lyon

Year

2010

Budget

€45,000,000

Surface

15000 m²

Client

ING Real Estate with Artemis, Paris, Fr

Status

Realised

Programmes

Offices , Retail , Residential , Master plan

Themes
In 2004, ING Real Estate Developers invited a group of international architects to design the 15.000 m2 masterplan, for which MVRDV was chosen as winner. Based on this masterplan, each architect was asked to design a section which together form 'Le Monolithe'.

The urban superblock is a mixed-use development comprising of a mix of social and rental housing, offices and underground parking. The block is characterised by a large interior court with a raised public space overlooking the city, the new marina and a park, recalling the French neo-classical 'Grand Gallérie'.
The block is divided into five sections, each designed by a different architect so as to achieve diversity and architectural variety. MVRDV is responsible for the front section facing south towards the waterfront. This section incorporates 3.900 m2 apartments, commercial space and offices. (MVRDV's section budget about 9 Million euros). Each section is unique in material, composition and architectural expression. The project forms part of the urban regeneration project 'Lyon Confluence', a 150 hectare site located at the southern tip of Lyon's Presqu'île, where the rivers Rhône and Saône merge.

The interiors of MVRDV's building are protected from the sun by a system of aluminium shutters which reference local building traditions. The apartments offer a wide variety of floorplans in order to attract different types of inhabitants to reflect Lyon's diverse population. Offices are divided into separate units of a minimum of 500 m² privately access via three vertical circulation cores.
The building complies with High Environmental Quality (HQE) criteria such as solid insulation, careful selection of materials according to sustainbility criteria, and rainwater management. Fully 80% of the total energy consumed is provided by renewable energy sources. The combination of efficient spatial composition, passive energy, thermal and acoustic comfort and an energy strategy that includes heat storage, PV-cells, low-e double glazing, compactness to minimise heat loss, natural ventilation and an environmentally responsive façade system make 'Le Monolithe' a highly efficient low energy construction. Le Monolithe is one of the projects within the greater scheme for Lyon Confluence which has been developed as part of Grand Lyon's European Concerto-Renaissance program, a project supported by the European Commission.

The interiors of MVRDV's south facing building are protected from the sun by means of aluminium shutters as a reference to traditional local architecture. Apartments inside Le Monolithe offer a great diversity in order to attract different groups of inhabitants making the block a reflection of Lyon's population. Offices are divided into separate units of min. 500 m² which are accessed by three vertical circulation cores, providing individual access. Each unit allows for a flexible fit out, depending on the tenants' needs and requirements. All spaces are naturally lit and ventilated.

In June 2005, when France and The Netherlands voted against the European Constitution, MVRDV decided to redesign the façade and integrate a reminder of the values, ideals and needs of the European Union. When all shutters are closed, the first article of the European Constitution can be read: "The Union is founded on the values of respect for human dignity, liberty, democracy, equality, the rule of law and respect for human rights, including the rights of persons belonging to minorities. These values are common to the Member States in a society in which pluralism, non-discrimination, tolerance, justice, solidarity and equality between women and men prevail." It aims to advocate a possible 'Yes' for Europe in days of protectionism, accompanying the collective EU spirit of the gathered architects:




Traite Etablissant : Une Constitution pour L'europe
Article 2 : Les valeurs de l'Union

L'Union est fondée sur les valeurs de respect de la dignité humaine, de liberté, de démocratie, d'égalité, de l'État de droit, ainsi que de respect des droits de l'homme, y compris des droits des personnes appartenant à des minorités. Ces valeurs sont communes aux États membres dans une société caractérisée par le pluralisme, la non-discrimination, la tolérance, la justice, la solidarité et l'égalité entre les femmes et les hommes

VISIT

Le Monolithe is primarily a private building made up of residential units and office space, however members of the public can enjoy the building through the large interior court and public space. We ask that when visiting the building you respect the privacy of residents and those working inside.

Address: Quai Antoine Riboud, 69002 Lyon, France.



© all rights reserved