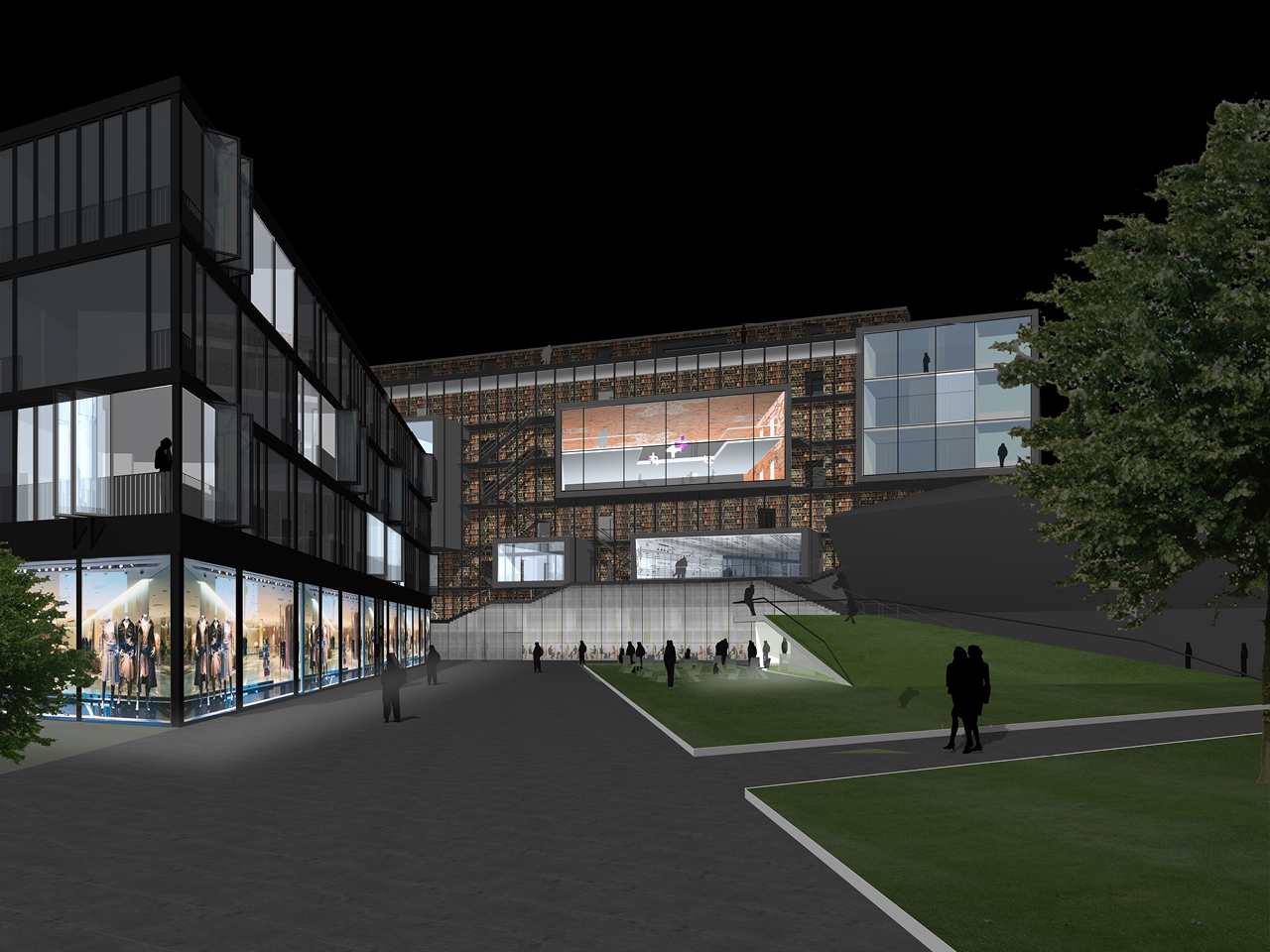 Music Quarter
The Dutch town of Enschede has ambitious plans for its future as a local centre in the border region of Twente. MVRDV's design for a National Music District strives to create a lively new neighbourhood with a variety of activities contained within a plinth, as well as to contribute to the existing music oriented facilities including the Music Centre, Pop Podium, Opera House, Conservatory and Music School. Adding a library and media annex to this residential development provides an opportunity to create a meeting point for the city.
Location

City

Enschede

Year

2006

Surface

7000 m²

Client

Plegt Vos Vastgoedontwikkeling, Oldenzaal, The Netherlands

Status

Competition

Programmes

Offices , Retail , Residential , Cultural

Themes
How to create a lively town centre and an iconic cultural building which serves the community? Adding a library and media annex to this residential development provides an opportunity enliven the area enormously. To enhance the program's visibility, the building has been opened and positioned against the facade. A façade filled with books.

In between the structure and the facade the special programmatic elements of the library are carved through the building at different heights, a local history collection, the CD collection, the children's collection etc. After entering the building one can stroll along these special collections, crossing the building from one side to the other and back – almost like in a museum.
Since all the activities take place against to the facade, an always lively, bustling building is created, which appears to participate in the life of the town. The stairs outside the media annex flow into the stairs inside the building, creating one route, ending in the auditorium with a roof terrace.
The transparency of the facades of the mediatheque are maximal and the special collections show themselves as special framed spaces, with their own identity and scale on the facade. At the ground floor a reading café is situated and a little higher on the side of the music school nine short-stay apartments are planned. In between the main entrance of the mediatheque which can be entered from the café. All elevators go up to the roof with a terrace which also can be used as an outside foyer for the auditorium, but also offers a special place to overlook the centre. In this way the media will be a destination in itself, open to visitors, readers and students. A true public building.
© all rights reserved