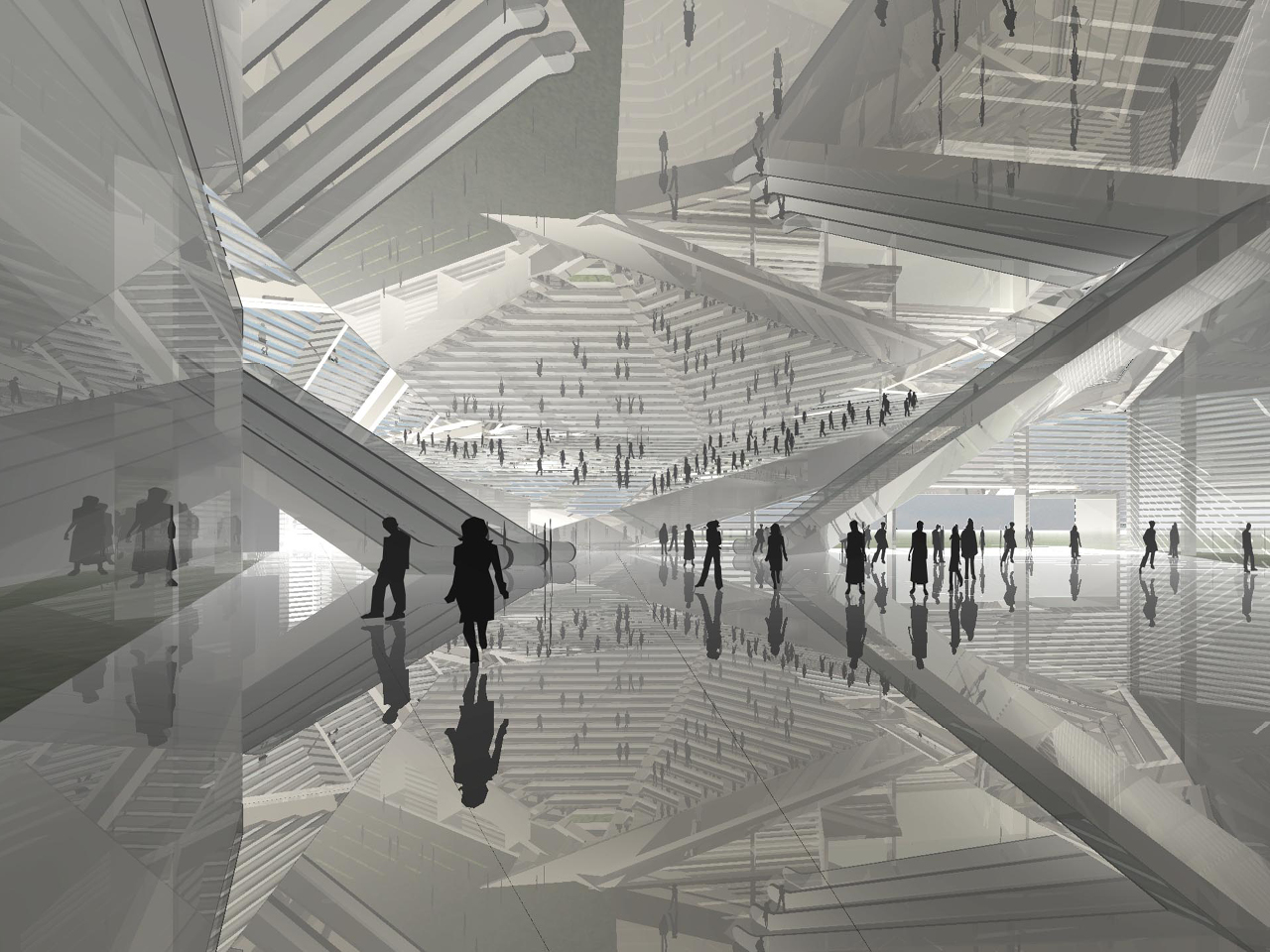 Philharmonie de Paris
La Villette provides an inspiring location for Paris' new concert hall, placing high art within a public context and further enlivening and investing in the periphery of the city. The spaces around the concert hall, as well as its roof, become one reflective public plaza. The building becomes a piece of landscape itself, which in turn becomes becomes a park within park.
Location

City

Paris

Year

2007

Budget

15,190,000,000

Surface

26000 m²

Client

Association Philharmonie de Paris

Status

Competition

Programmes

Themes
The intention to position the new concert hall in Paris' La Villette was an inspiring choice: it provides an opportunity combine high artistic ambition with a popular public space. It also provides an opportunity to enliven and invest in the periphery of the city.

By treating the complete site as one reflective plaza, its somewhat hidden position within La Villette is liberated. By keeping a continuous surface material and treatment accross the public plaza and building itself, the composition becomes a cohesive whole. The plaza allows the public to climb up the building, in the name of equality, and to preserve the public space the building is built on. The plaza becomes a public space that is completely accessible, to all people, at all times. A monument to the public itself, remembered through use, rather than monumentality. It becomes a park within a park, and adds to the diverse collection of different gardens and elements that make up La Villette.
The hall forms the central figure within the program. It is the apotheosis of the experience. The hall is literally served by secondary functions such as the rehearsal rooms, backstage, galerry, school, offices and restaurant which 'plug in' to it. These space form intermediaries, protecting the black box theater, designed to contain high art, from the hustle and bustle of world outside. Where each function meets the hall, large openings form liasons and entries to mediate between city on the outside and performance on the inside.
The size requirements for the hall lead to a highly compact volume with many balconies to accommodate the audience. The balconies are connected with catwalks leading to the windows that connect to the foyers and other functions. They are accentuated by the garde-de-corps, or railings, that can be illuminated with texts and messages, adapted the atmosphere to suit the performance.
© all rights reserved