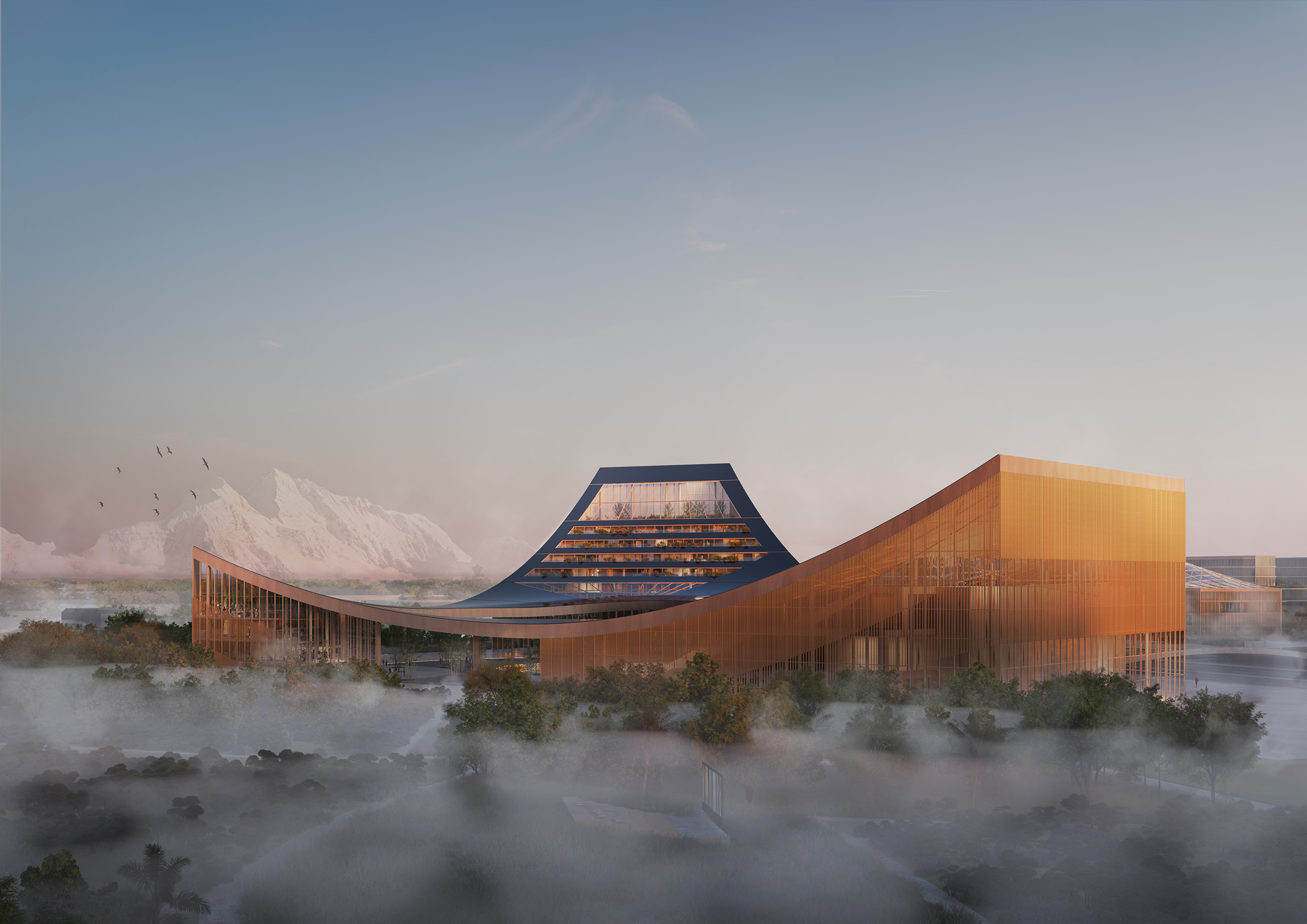 Pujiang Peaks
The area around Chengdu is known for its nature, with lush greenery, good water and air quality, and a deep-rooted agricultural tradition. Expanding the city to the southwest, Pujiang is intended to capture this spirit, offering a sustainable, high-quality-of-life urban development. As one of the new town's most emblematic developments, MVRDV's proposal for the civic centre complex leads the way in this ambition, following the spirit of a simple slogan: Pujiang is where future meets nature.
Comprising a civic centre, conference centre, hotel, and offices, Pujiang Peaks features a collection of timber structures with sweeping curved roofs, set in a natural park landscape that maximises biodiversity and walkability.
At the heart of the design are three triangular building clusters around circular courtyards. The largest cluster, in the centre of the site, contains the civic centre, conference centre, and hotel; the other two clusters contain offices. Sweeping curved roofs unify each cluster, also supporting photovoltaic panels to generate electricity. Inside, the buildings are welcoming and dynamic thanks to the use of "3D lobbies". Public entrance spaces wrap around on top of the buildings' functional spaces, with cascading terraces and stairways that put the building's activity on display to create a lively atmosphere.
The structure and façades of the buildings are made with locally sourced timber, sequestering carbon in the building, as well as reusing salvaged materials from existing structures on the site to reduce waste in construction. The design also reduces energy use, and therefore carbon emissions, during operation: in addition to the energy-generating panels on the roofs, timber louvres are denser on south-facing façades to reduce solar gain, while the open courtyards of the building clusters help to enable natural ventilation. As a result of these measures, the project is projected to be zero-carbon, or possibly even carbon-negative, over the course of its lifespan.
The landscaping design is equally important in delivering on the design's sustainable ambitions. A parkland of indigenous trees and grasses increases the biodiversity of the area and reduces local temperatures. Berms of earth – created using repurposed soil from the excavation of the Pujiang's central lake – improve natural ventilation, blocking the cold winter wind but directing cool summer breezes through the park and into the buildings. The project uses "sponge city" principles, which help to avoid flooding, and enable rainwater to be collected and stored for later use in the buildings or for irrigating plants.
This park landscape is criss-crossed by paths to make the site more walkable. The natural shade provided by trees is supplemented by a variety of pavilions, allowing people regular respite from hot weather. These pavilions also add valuable activities that make a visit to the park more memorable, and they allow for themed routes through the park – visitors can follow the "sports route", the "culture route", and so on.
© all rights reserved