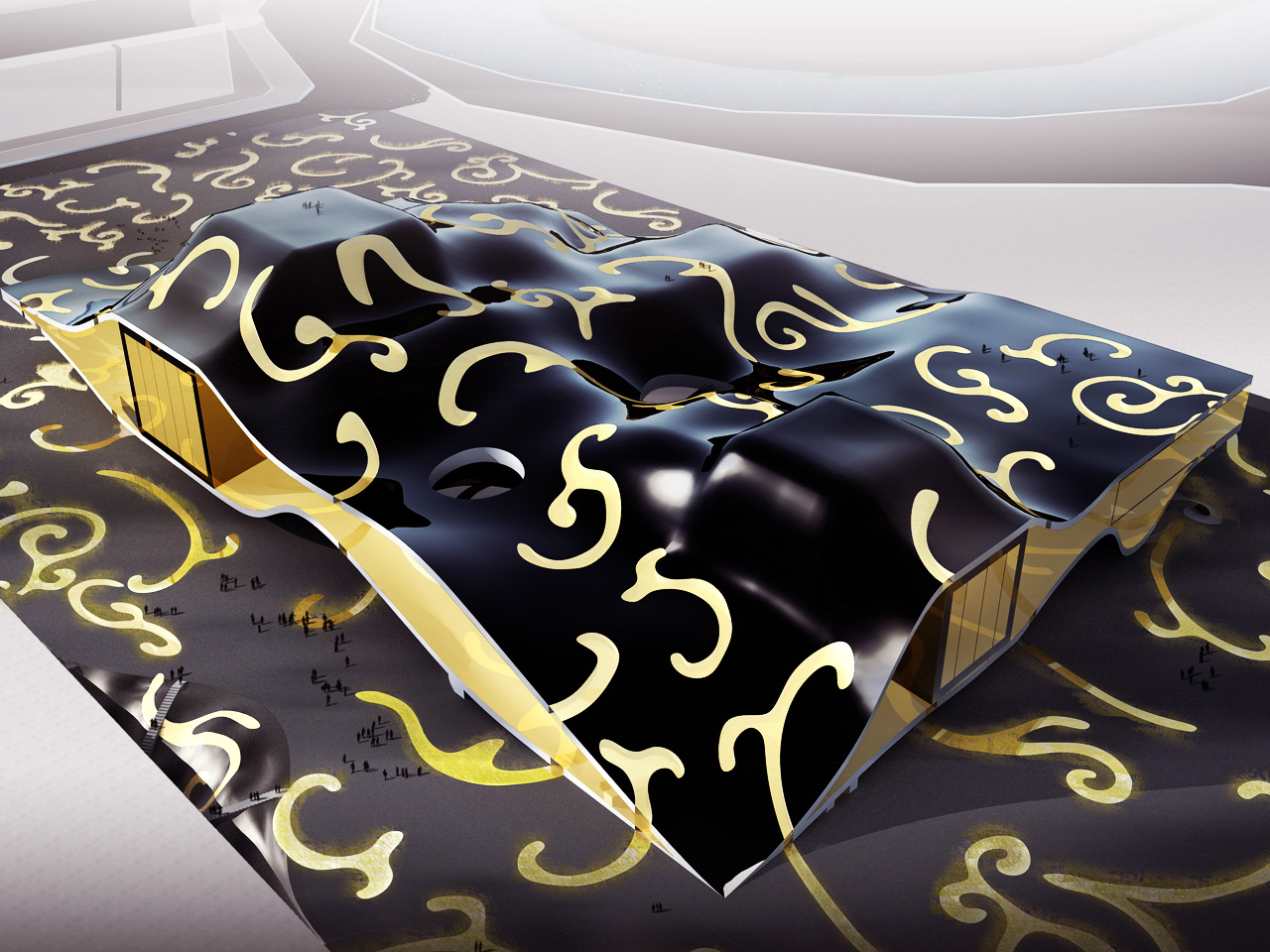 Chengdu Centre for the Arts
The new Chengdu Centre for the Arts combines a music and cinema building, a conference centre and the new Museum for the Arts creating a great hall for the arts. The roof of the museum is draped over the solid stones like a carpet. For this reason the roof undulates in sync with the interior levels, which creates a roof top of valleys and hill-tops. The building turns into a public hill, extending and elevating the park while providing panoramic views of the surroundings.
Location

City

Chengdu

Year

2007

Surface

80000 m²

Client

Chengdu Exhibition & Travel Group

Status

Competition

Programmes

Themes
The Chengdu Centre for the Arts is composed of a music and cinema complex, a conference centre and the new museum for the arts. The grouping of the museum program with the theatres and the conference centre allows the creation a great "hall for the arts". In this hall the theatres appear as solid "stones" or jewels. The theaters are carefully positioned. The opera next to the main road opposite Ocean World so that people can spill out towards the main face of the building, the concert hall towards the river allowing for a beautiful backdrop of the concerts, the medium theatre towards the highway giving a face to the Ring Road, the cinemas towards the north, connecting with the surrounding neighborhood.
The back stages can be opened so that the context can become part of the stage-set. These openings create urban windows. By pushing the lowest floor of the hall up, public open passages can be formed that create liaisons through the building between the different parts of the Ring Park. They give access to the heart of the building. They 'open' the complex. These arcades are the places for buying tickets, having a drink, for waiting, queuing.

There are terraces, kiosks, information booths, ticket counters, and advertisement areas. In these arcades, sheltered events, performances and concerts can take place. And outside art shows. The form of the arcades leads to spaces that are acoustically equipped for concerts and performances.
This pushing act leads to an undulating floor that forms the base for the museum hall. This new topography allows for different 'situations' with different exhibiting qualities in the museum. Terraces with an overview over the art. Valleys and pockets with shelters for more intimate parts of the collection. Grottos for private viewing. It combines specificity with flexibility. A new landscape for art.
© all rights reserved