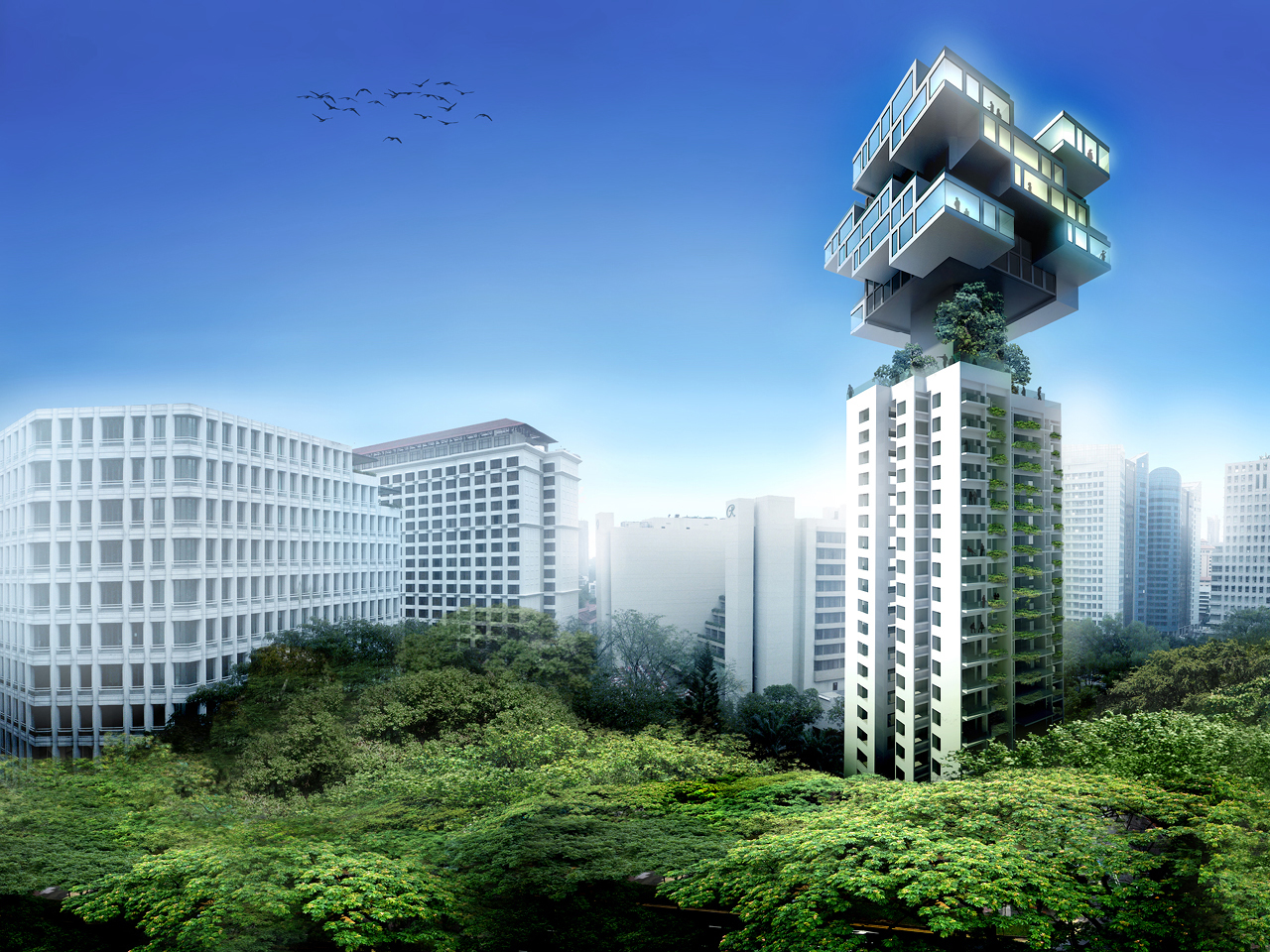 Singapore Westwood
The Westwood Tower is situated in a prime location on the Orchard Road, Singapore's Champs-Elysées. MVRDV propose an intensive refurbishment, revamping the tower to give it a new iconic expression which maintains the modest qualities of the existing layout. By removing the existing six top levels, a new sky village can be created which stacks thirteen penthouses on top of each other.
Location

City

Singapore

Year

2008

Surface

20000 m²

Client

YTL Corporation, Malaysia

Status

Design

Programmes

Themes
Built in the seventies, the Westwood Tower lacks architectural expression and amenities. Deriving its identity from the exposed concrete construction, it presents itself as a 'building without characteristics', being neither inspiring nor appealing. Nevertheless, the building quality and layout of the apartments are good. Therefore an intense refurbishment of the tower is considered. But a mere renovation won't be enough, something special is needed to give it a new iconic expression. A sky village is created by stacking 13 penthouses on top of each other.
The sky village is lifted towards the maximum height of 100 m, allowing a new sky deck to be realized on top of the remaining tower. Sky deck The sky deck has a free height of 15m. It contains two small swimming pools and a sundeck with trees surrounded by a transparent windscreen. A small fitness area is positioned inside the core that is supporting the 13 new penthouses.

The existing entrance level is buried and used for parking, so that the new entrance level can be at the same level with the street. A new higher entrance lobby is created by removing the lowest level of apartments. The new lobby is accessed via a pond in which the existing tower is standing. A small waterfall filters the water and creates an idyllic background.
What type of penthouses would be most desirable in Singapore? A villa in the sky with a private sky terrace would combine the exclusive intimacy of a villa with the grand views of a penthouse. The new sky village is organized around a central core area with 3 spiraling stairlike cantilevering rooms with terraces above. Each penthouse has access to a large terrace. To achieve maximum privacy most penthouses are duplexes. The new structure is positioned on top of the existing tower via a structural transfer layer in which several elements of the collective sky deck are integrated (the pools, the tree pots, etc).
© all rights reserved