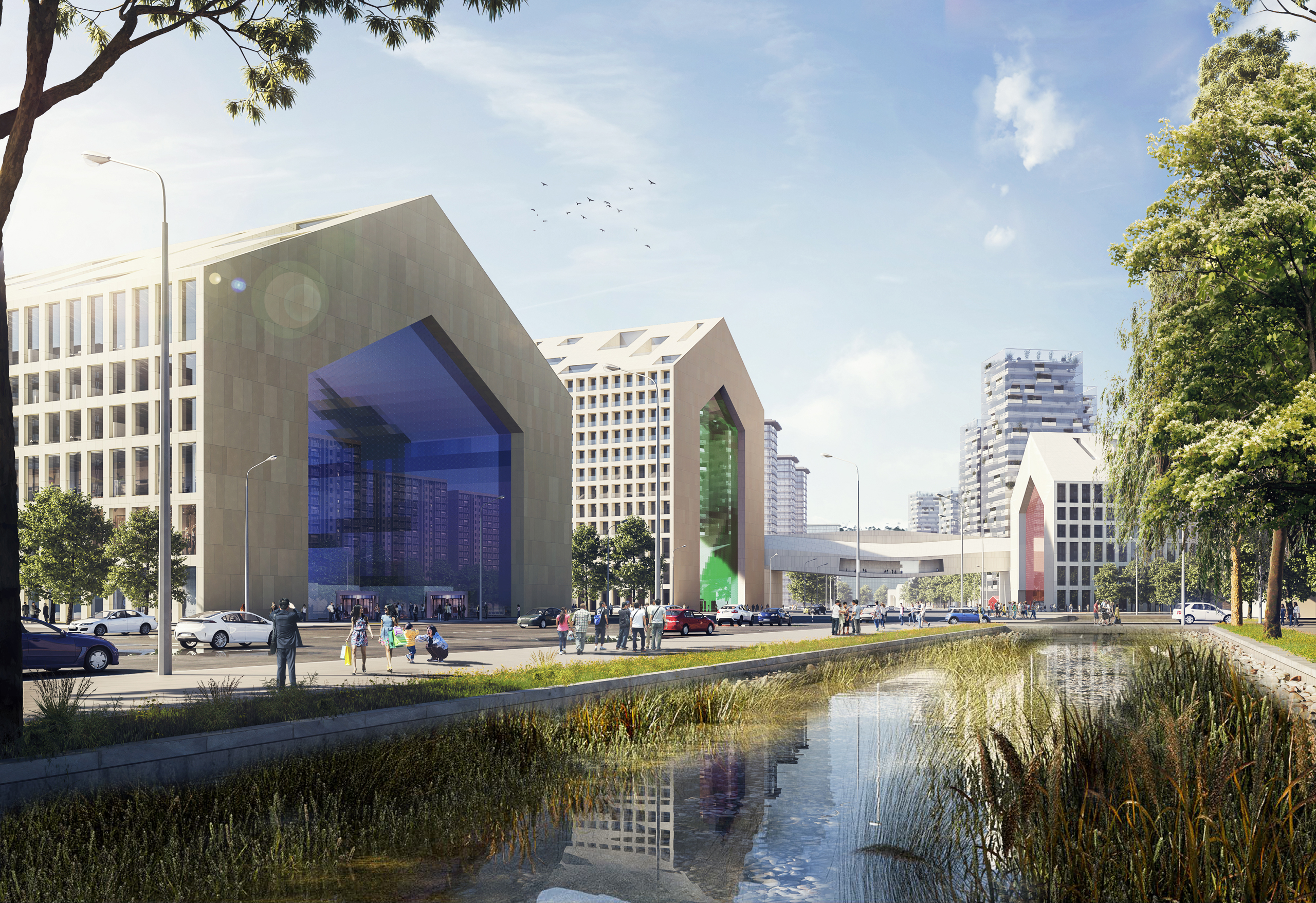 Kerry Center Hangzhou
Located in the city of Hangzhou, a powerhouse for the Chinese tech industry, this well-connected brownfield site lies in close proximity to the UNESCO-protected West Lake and the Jing Hang Grand Canal. Water, native vegetation, and the mountainous surrounding landscape play an important role in the revival of this vestige of Hangzhou's recent industrial heritage, helping to facilitate the city's complete transition to new economies and ways of life. In its urban and architectural strategies, the masterplan consolidates everything that Hangzhou has been, is, and has the ambition to be.
The plots connect the Hangguo and the Hangyang industrial heritage sites, along Dongxin Road. Supported by an analysis of key site features and adjacencies, the plan articulates a rich landscaping tapestry that stitches the fragmented site together and to its immediate context, by celebrating the mountainous region's native vegetation, while recollecting the striated pattern of the nearby built environment. These striations can be any combination of different elements: vernacular warehouse forms hewn from hedges, greenhouses, and feature educational programme.
The ambition of the masterplan is to offer high-end housing, working spaces and shopping landmarks in a strong ecological context where water and local plants unite a community and provide a living destination for the city of Hangzhou.
By strategically integrating and connecting water systems, implementing a human scale for retail programme in and amongst high-end residential towers on Plot 1, 2, and 3, and further networking all five plots with underground parking and poetic pedestrian bridges over vehicular thoroughfares, a vibrant, village-like experience is created.
The residents of the towers supply the population and density to enliven it by offering high-end living experiences with a strong connection to light and landscape in three view aspects. The tower's "skin" facilitates a lush greening of the towers with climbing indigenous vegetation.
Plot 1 and part of Plot 2 can either function as a gated community or have controlled access and facilitate the free flow of pedestrian activity in and around the buildings, through the vibrant retail / residential village-like atmosphere of Plot 3, over iconic pedestrian bridges to the commercial, and hospitality activities in Plots 4, 5, and potentially Plot 7. Here, three mountainous landmarks house a hotel, food hall, co-working offices, gyms, pool, theatres, and event facilities. Each recollects different natural and cultural material qualities to ascribe a contextual but innovative character upon a vernacular pitched roof form for a community that appeals to the tastes, leisure lifestyle, and economic pursuits of a new generation.
© all rights reserved