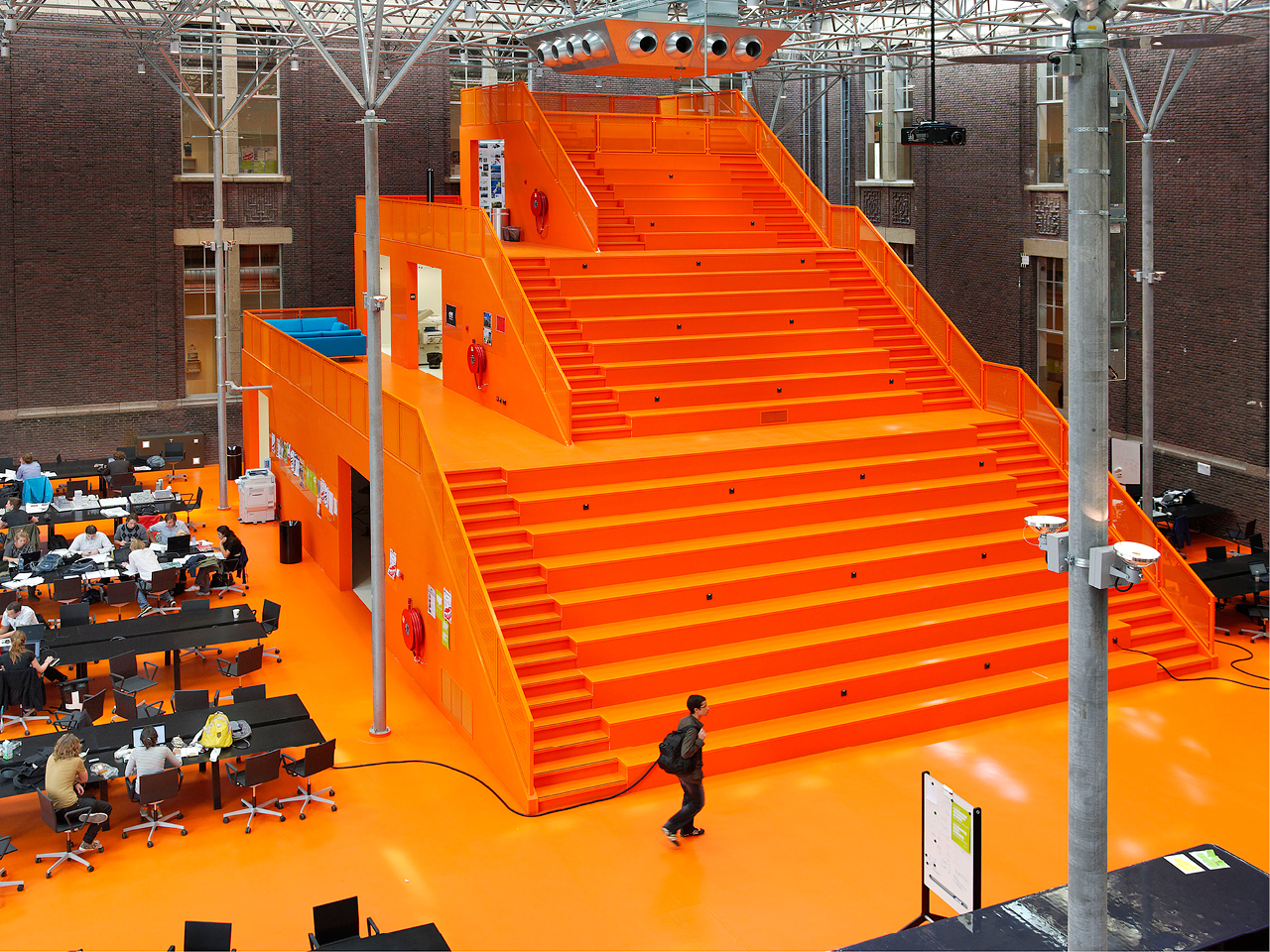 The Why Factory Tribune
The Why Factory is a newly established research institute lead by MVRDV and Delft University of Technology. Following a fire in 2008, the institute was forced to move into the former headquarters of the University. With the space allocated for for The Why Factory in a former courtyard, MVRDV designed a new facility which clearly distinguishes itself from the rest of the building in bright orange. The intervention emphasizes the independent status of The Why Factory within TU Delft, and puts the students literally above their tutors.
Location

City

Delft

Year

2009

Budget

€450,000

Surface

370 m²

Client

Delft University of Technology

Status

Realised

Programmes

Themes
Several weeks after The Why Factory – a newly established research institute, lead by MVRDV and Delft University of Technology - had moved into their new residence on the top floor of the Faculty Building of the Technical University, the building was destroyed by fire, on May 12, 2008. As result, a historic building – the former headquarters of the university, was renovated to accommodate the faculty for the next five years.

The East conservatory became the new residence of The Why Factory. Surrounded by the glass and steel structure designed by Eekhout and the original facades of the monumental historic building, the institute clearly distinguishes itself from its surroundings by its bright orange color. This strong color was chosen to emphasis the independent status of The Why Factory within the TU Delft. The wooden construction of the Tribune which accommodates the office and meeting rooms within, is painted in the same color so that the institute is a unified element within the space.
The ground floor of the tribune provides a conference room and lecture room. On the first floor are the offices of various collaborators, and on the top floor is another meeting room. The interior is kept work-friendly white, for the same reason the furniture outside of the Tribune is kept black.

The door openings are larger than standard doors, so that the interior of the tribune is legally, according to building regulations, part of the conservatory's interior and thus no additional air-conditioning is needed.

In addition to lectures and films, the tribune can also be used as an informal work space. This is facilitated by a strong wifi-network and sockets at the seats. The pyramid form of the Tribune allows for additional work spaces on the balconies, which is practical in times of deadlines and crowds.


To offer an alternative to the so called Blokkenhal, or 1970s interior, of the old building, the goal of the furnishing was to be versatile and flexible. The space needed to be able to adapt to a wide variety of uses: studying, working, meeting, model building and storage, film projections, exhibitions and of course parties and events.
The work places for students are specifically designed for the building by Richard Hutten Studio. Eight tables for making models are distributed in the open space. Extra shelving underneath the tables allows for storing the models, and the tables are on wheels so they can easily be put aside to make room for a presentation or an event in front of the Tribune. The tables are also designed for exhibition displays.

The project clearly gives The Why Factory a distinct identity within the larger faculty complex and puts the students first: they literally study on top of their mentors. The orange floor space is their territory.

VISIT
The T?F Tribune is open to the public, however it is a working educational facility so please be mindful of those working within The Why Factory.
Opening hours are 9am-5pm Monday to Friday.
Website : www.thewhyfactory.com
Address : Julianalaan 132-134, 2628 BL Delft
© all rights reserved