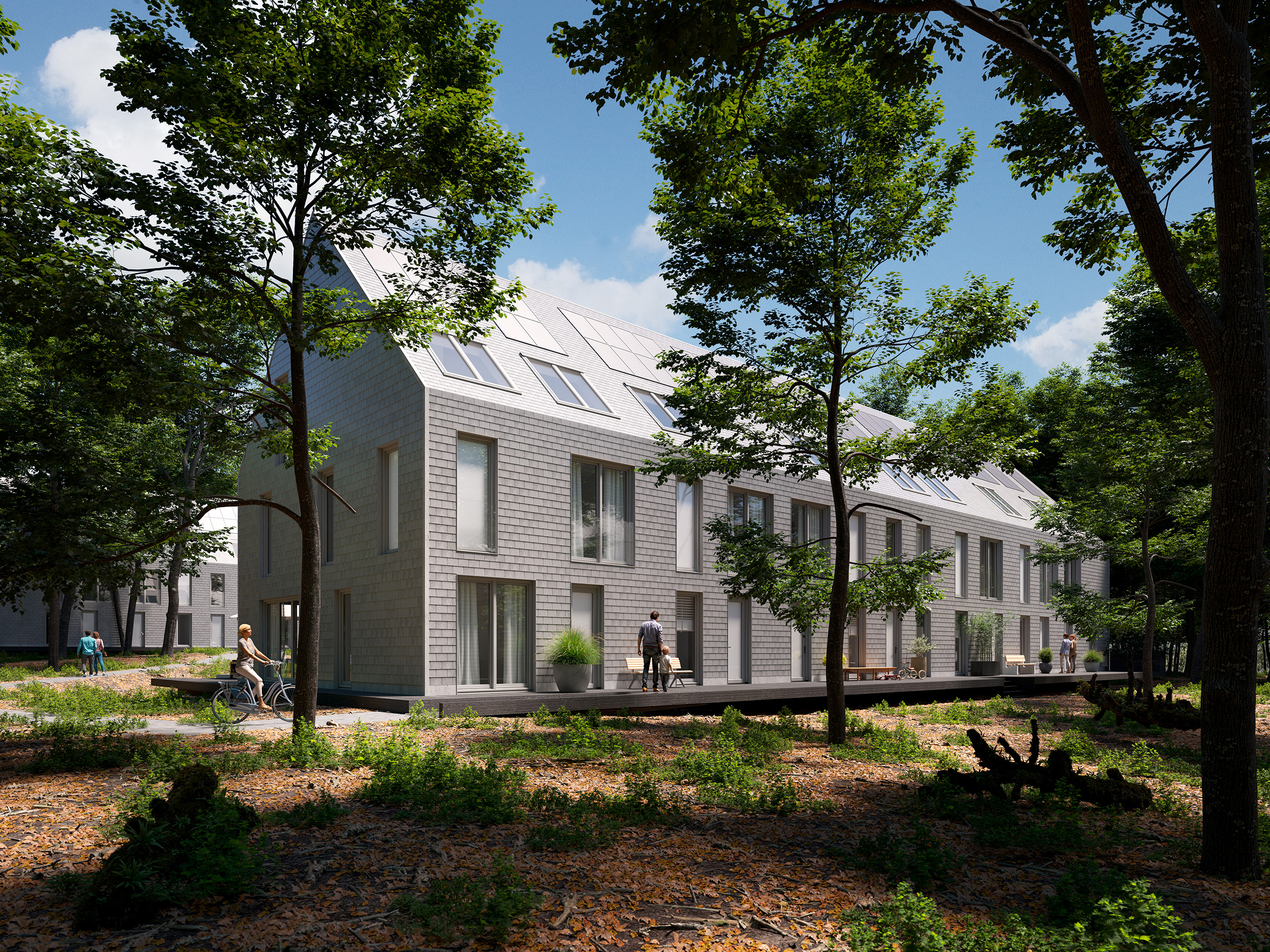 Housing Buitenplaats Koningsweg
Located in a forested area on the outskirts of a national park, the 21 townhouses are designed to be as sustainable as possible, and offer an idyllic lifestyle that minimises the borders between the house and the surrounding natural environment.
Location

City

Arnhem

Year

2018

Surface

4932 m²

Client

KondorWessels Projecten

Status

On site

Programmes

Themes
Located on the edge of the Hoge Veluwe national park, Buitenplaats Koningsweg was originally built by the German army during the Second World War, forming a collection of barracks, bunkers, and logistical buildings disguised as farmhouses. The site is now an ensemble of national monuments, and in 2010 MVRDV designed the masterplan that proposed a mixture of preserving some historic buildings while recreating some structures with neutral grey buildings the same size and shape.
As part of this masterplan, the three buildings now under construction (listed as plots KKN1, 2, and 3) were designed by MVRDV for developer Kondor Wessels and host seven homes each. These "townhouses in the forest" are raised above ground level, with a small projecting deck that seems to float above the forest floor. The outdoor space of the houses is minimally enclosed: the homes have no garden, but instead an intimate connection to the surrounding forests, with large shared spaces between the homes on both the front and back of the buildings.
The three buildings incorporate many sustainable approaches. Their front and back façades are constructed with timber frames, and where concrete is required it uses recycled aggregate, while the decks outside use recycled plastic. The total environmental impact of the materials used will be a third lower than current regulations, and is intended to comply with the proposed regulations that will be in place by 2030 – eight years ahead of schedule.
"I am delighted that construction has started," says Nathalie de Vries, founding partner of MVRDV. "These townhouses have a high standard of living quality, and residents will soon be able to enjoy both the Veluwe and the forest; I heard the first deer had already been spotted. Besides, the Kröller-Müller Museum, with famous paintings of Mondrian and Van Gogh is nearby. Buitenplaats Koningsweg is a wonderful example of sustainable reuse of heritage, I hope the project inspires many others."
The grey slate of the walls and roof is punctuated by large solar panels. Despite the homes' large windows, triple glazing and high levels of insulation ensure that the buildings use energy efficiently. This results in almost all of the homes being energy negative in operation. Car parking spaces for the homes are included underneath each building, and are designed to enable electric car charging and bicycle parking in the hopes of encouraging more sustainable transit choices by the residents.
© all rights reserved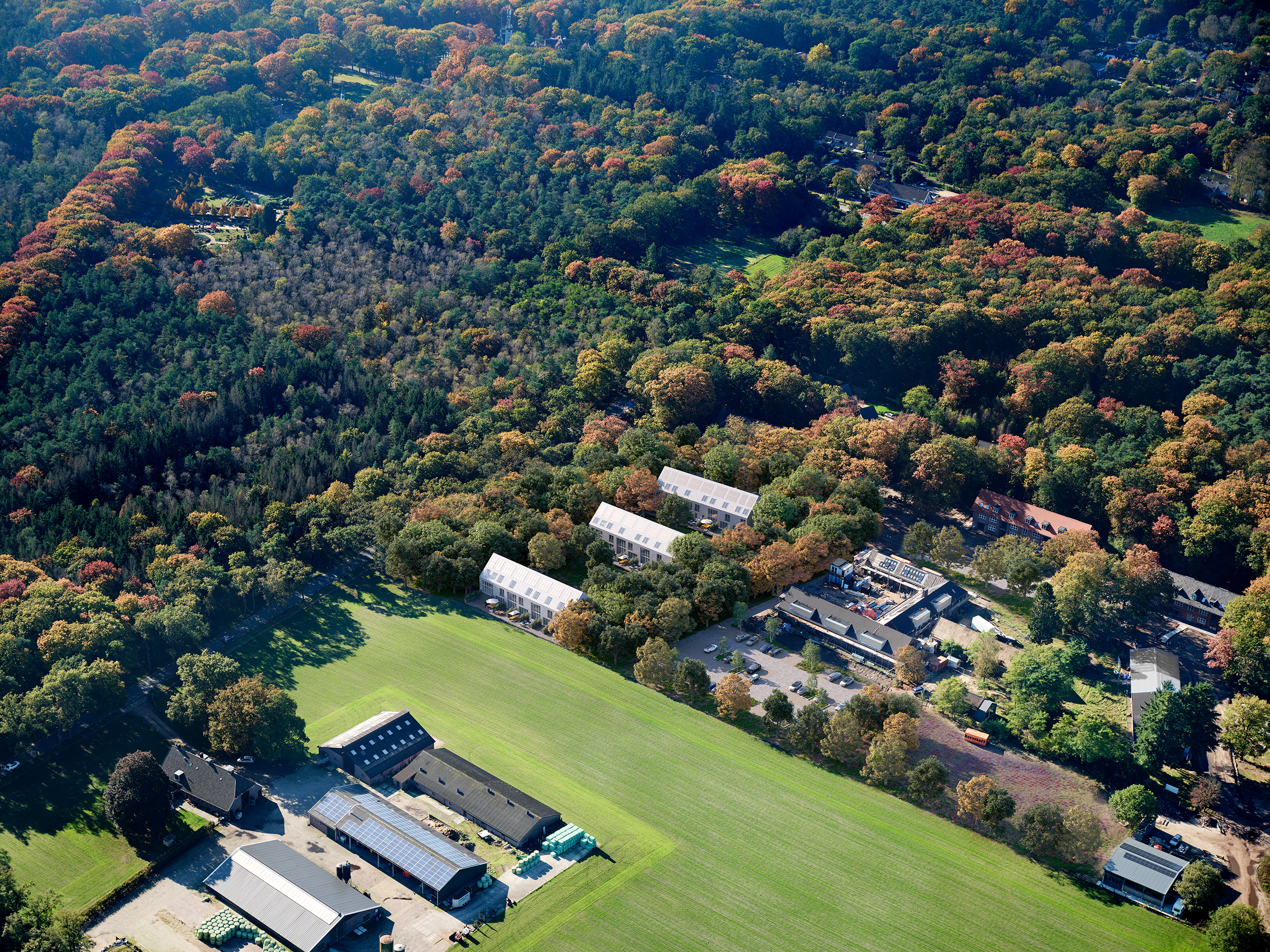 Architect
Founding partner in charge
Partner
Design team
Visualisation
Strategy and development
Partners