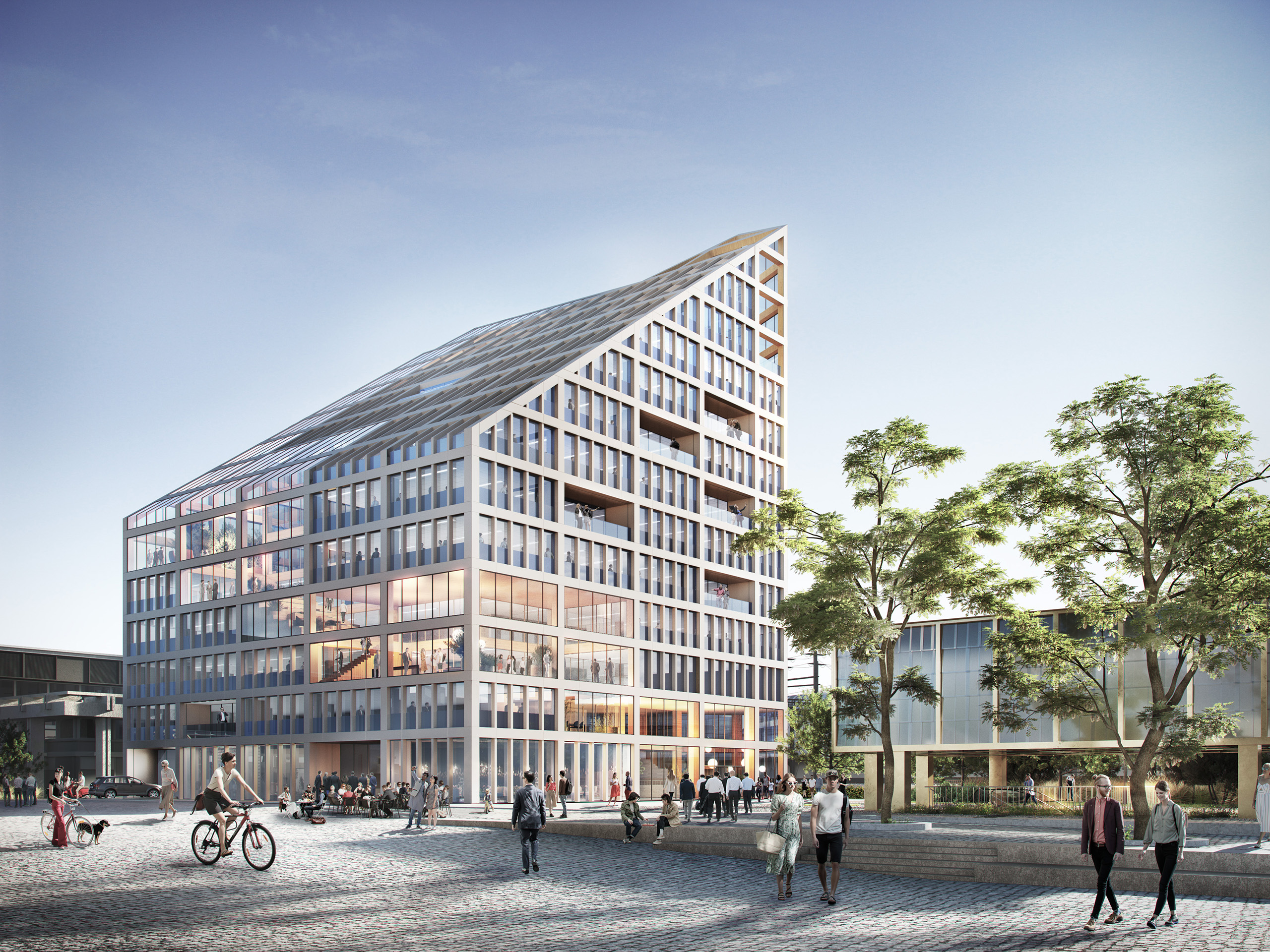 Le Signal
The proposal for a new office building of the Swiss national railways makes the most of its location on a challenging site next to a railway. With its sloping roof, Le Signal creates a distinctive landmark building that welcomes people arriving to Geneva by train. At the same time, it relates to the surrounding buildings, connecting to the context through its use of public space and the social spaces within, which proudly display the interior life of the building to those outside.
Location

City

Geneva

Year

2021

Surface

16000 m²

Client

CFF Immobilier

Status

Competition

Programmes

Themes
Designed alongside Geneva-based FdMP Architectes, the project's most notable feature is its sloped roof, with the lowest point matching the height of its neighbours to the west and preventing the building from blocking sunlight on the rue des Gares. The slope reaches its maximum height on the east of the building, where the site backs onto the train tracks. The edges of the building on this side are determined by the irregular boundaries of the site, and the combination of the slope and the unusual plan results in the design's unique, eye-catching roofline.
The key feature of the design's interior is the terraced social space, which begins in the lobby and wraps around the building to the panoramic restaurant at the building's highest point. Filled with a diversity of plants, it creates an unconventional link between spaces and users, while its glass façade makes it open and visible to the city.
These social spaces can offer a wide array of additional functions and atmospheres to make the building an innovative and collaborative place to work, including meeting places, conference platforms, relaxation areas and a winter garden. The possibilities can be adapted to the needs of users and evolve with their wishes. In addition to the social space, balconies are added on the north, west, and south façades, offering attractive outdoor spaces that are easily accessible from every floor.
Thanks to its verticality, the design frees up public space on the south forecourt. This public square creates a clear, user-friendly, and generous interface between the building and a new entrance to the station. A green curtain, planted with trees and flowerbeds, acts as a buffer between the railway tracks and the Montbrillant district.
The design incorporates a variety of strategies to reduce energy consumption: the sloped roof incorporates solar panels, while the social space offers a crucial asset for climate control, working alongside heat exchange pumps to create an efficient passive ventilation system. In addition, the structure of the building is proposed to be built mainly in wood and the façade uses terracotta and aluminium, all of which can be sustainably sourced to reduce the embodied carbon of the construction.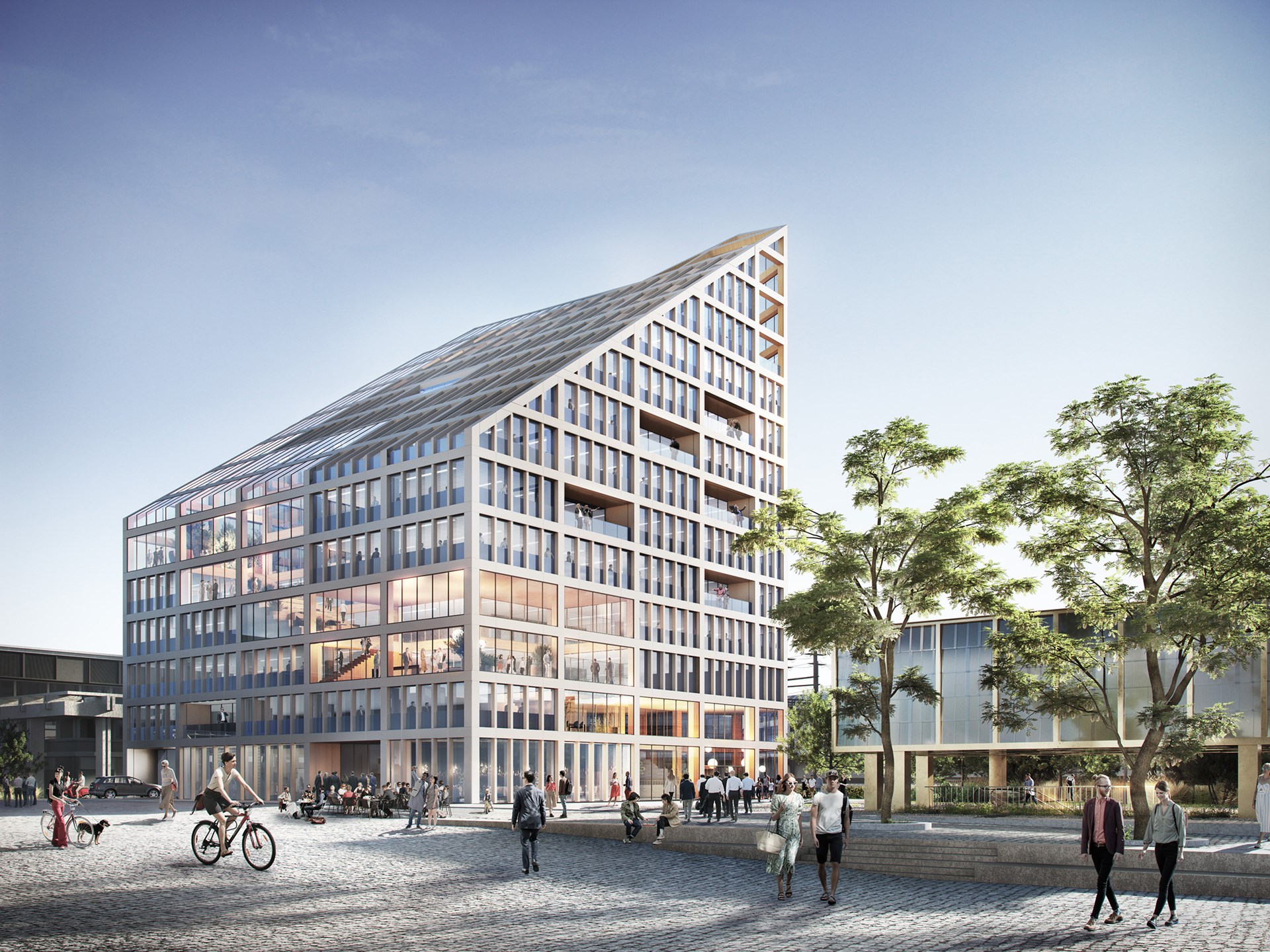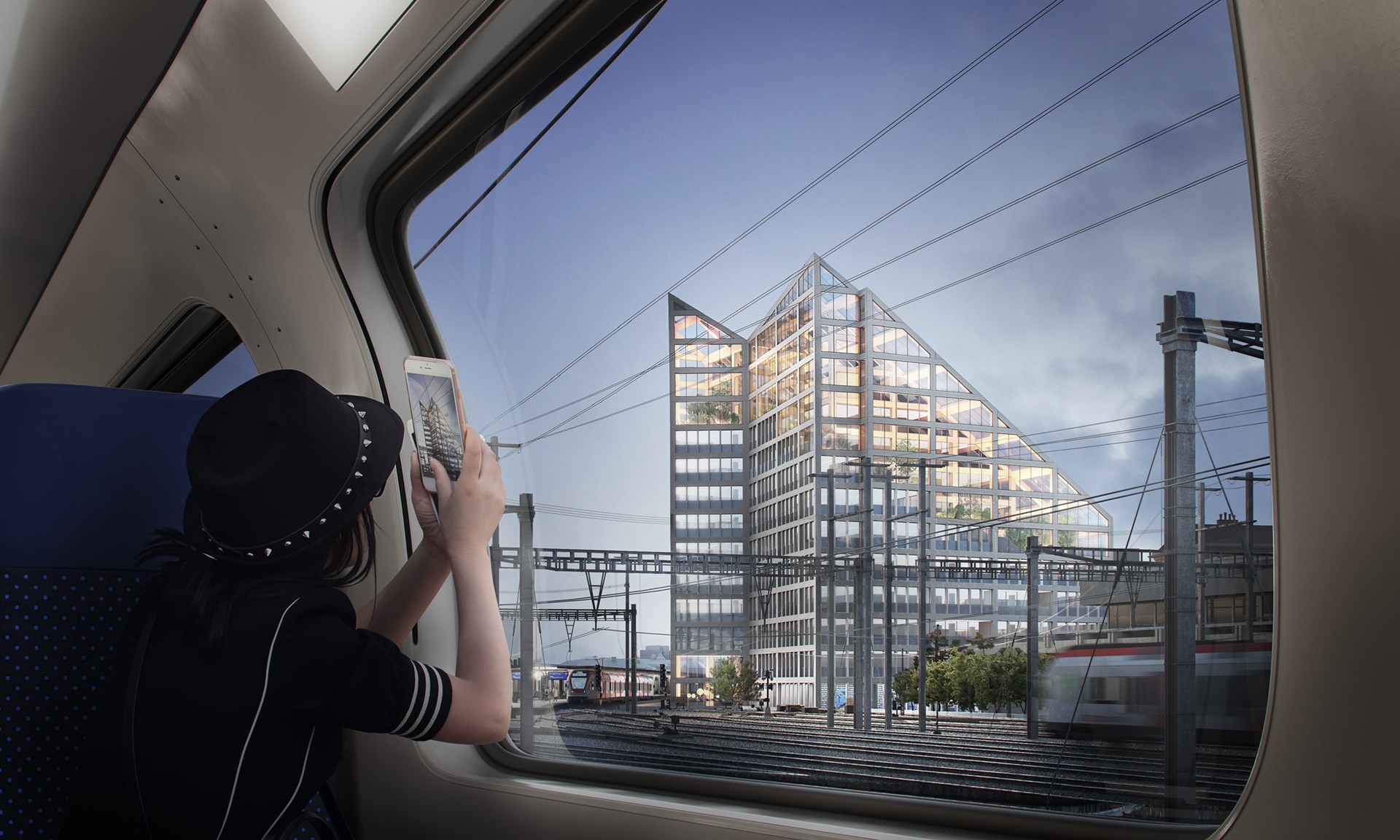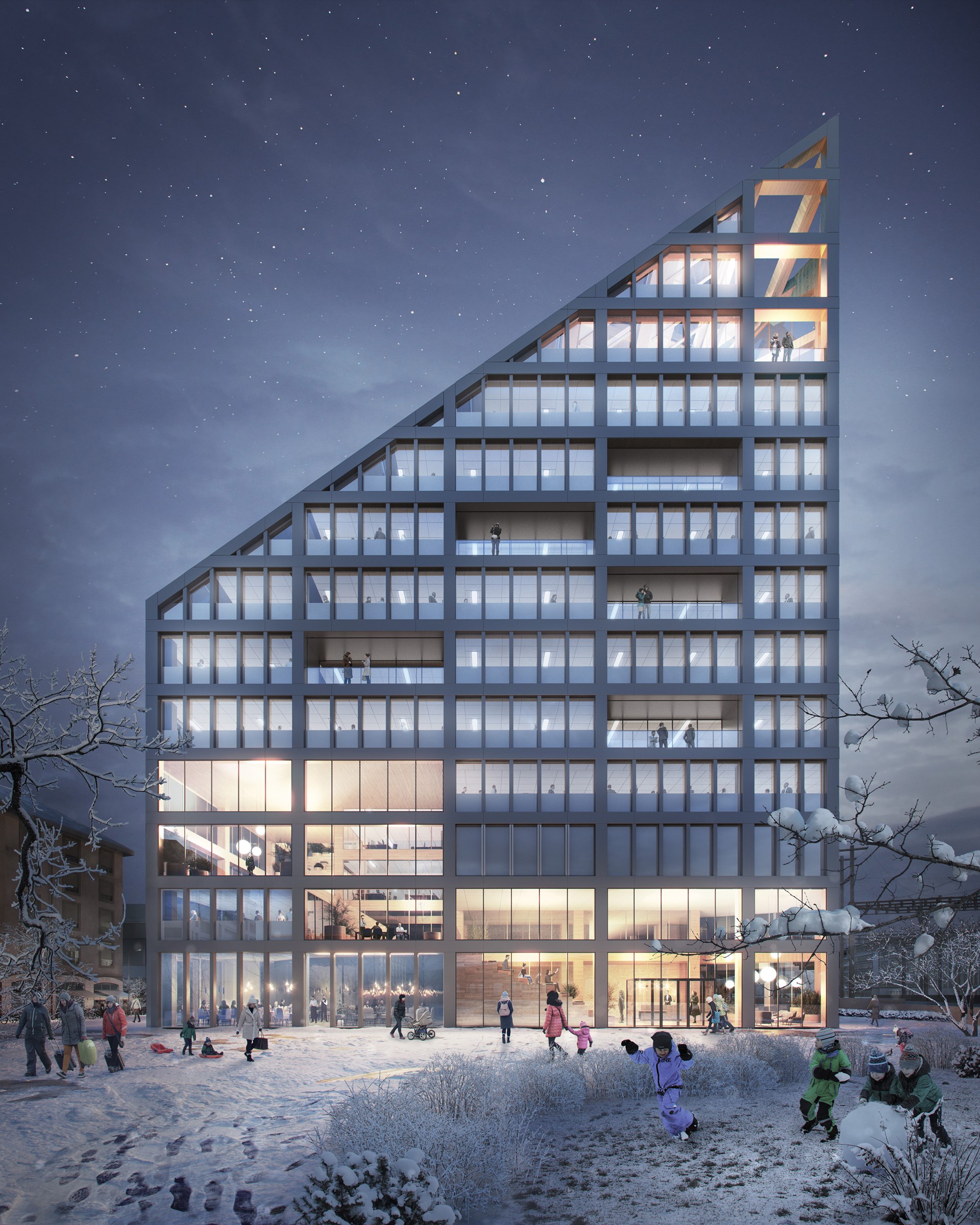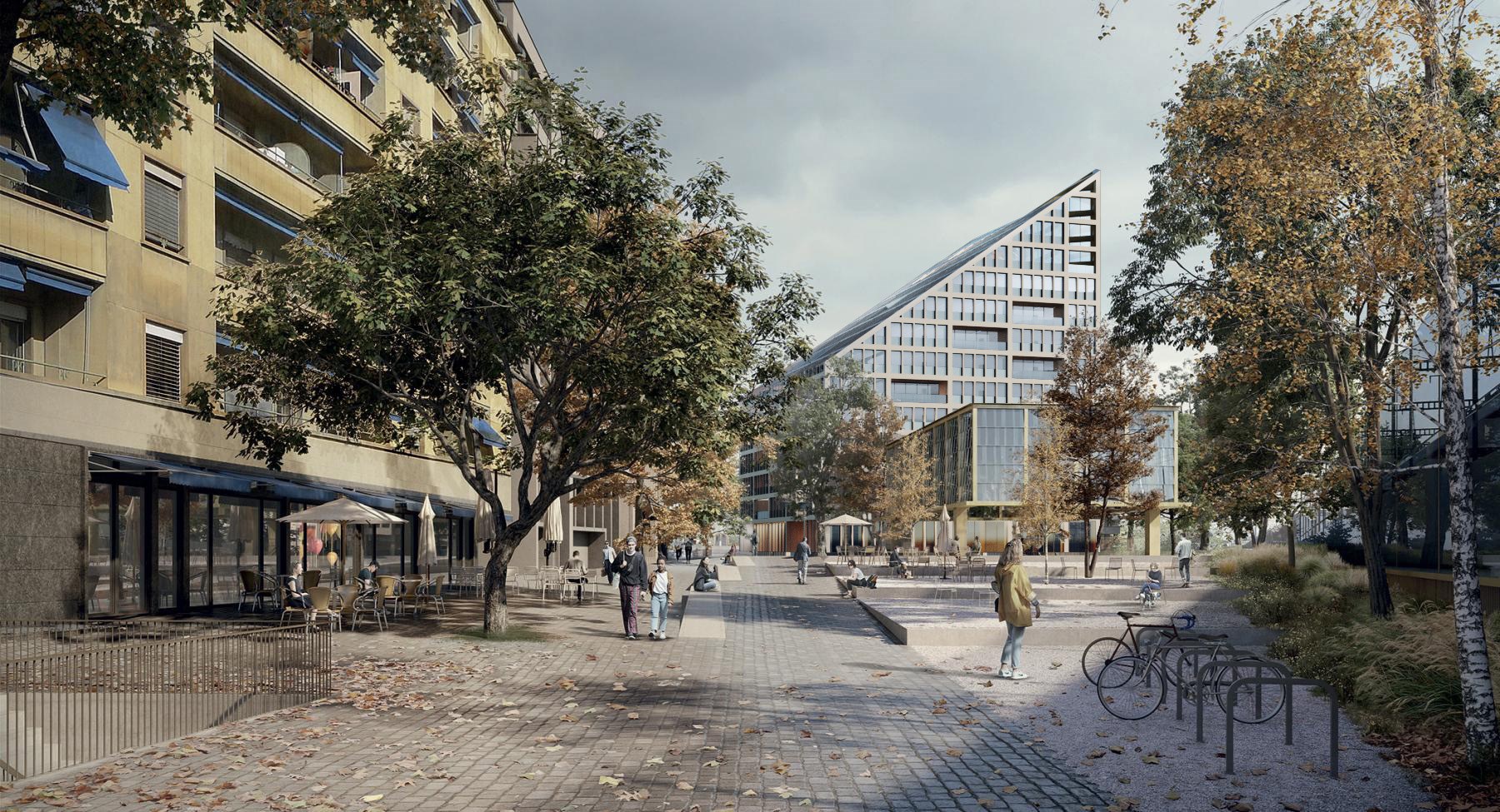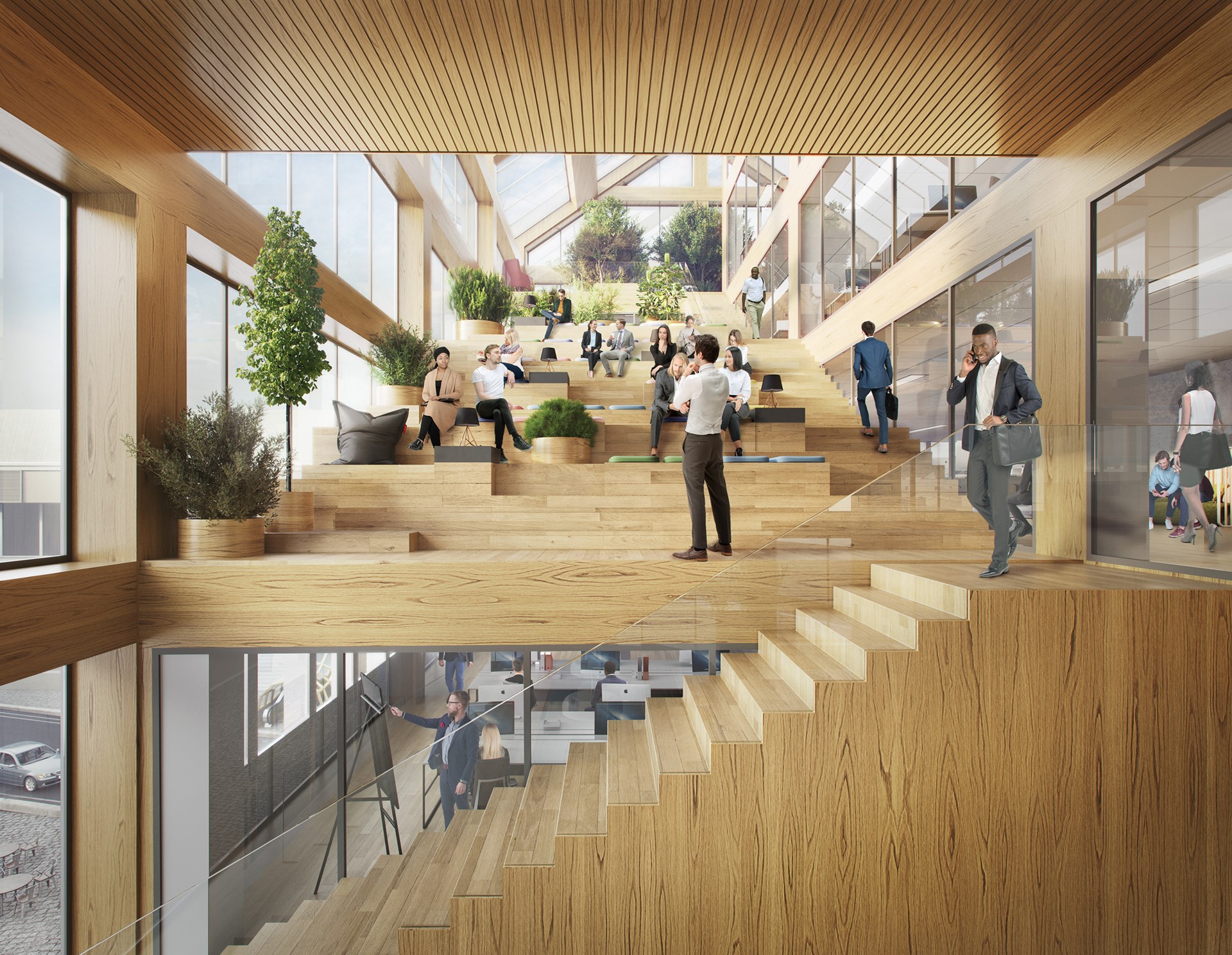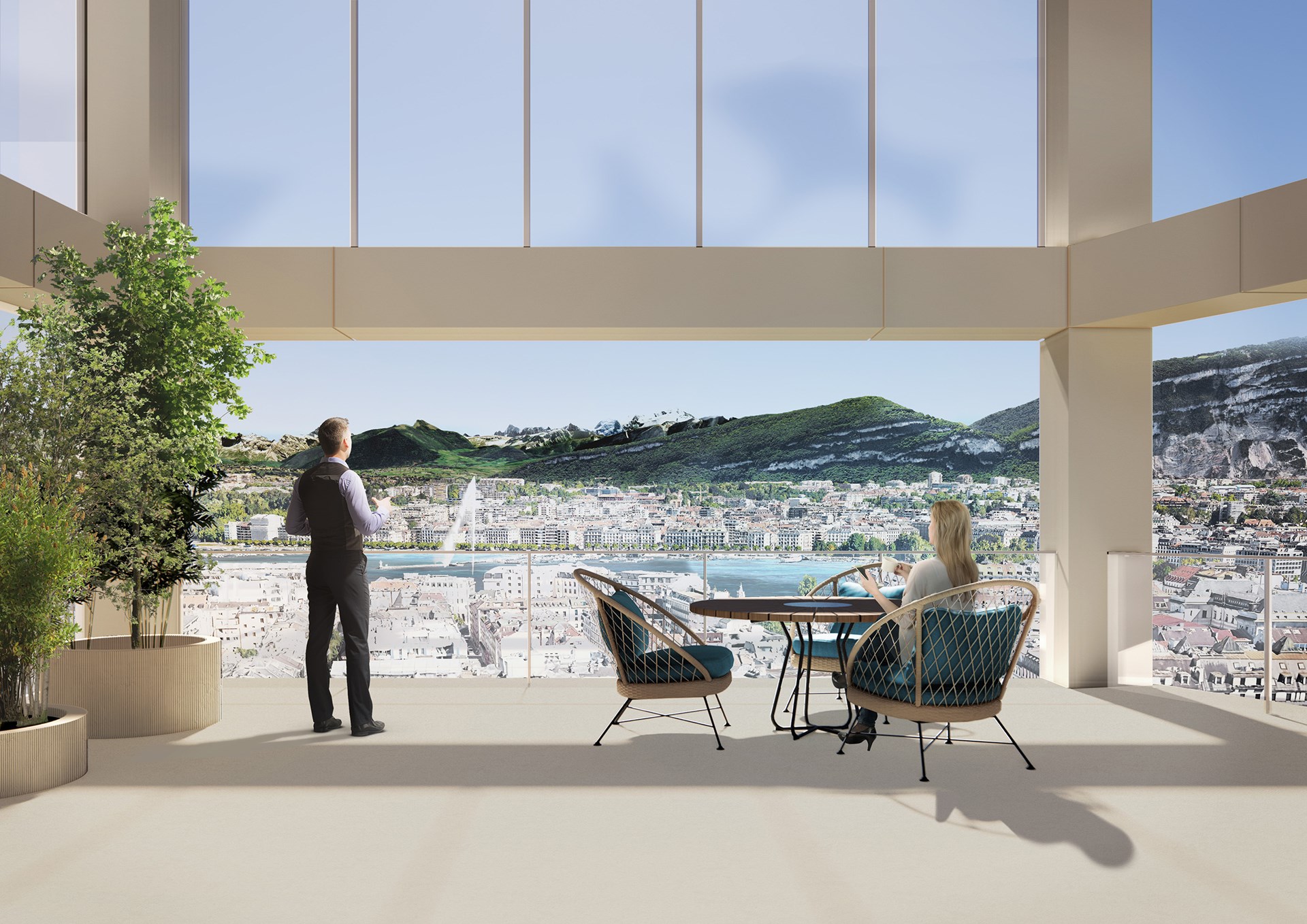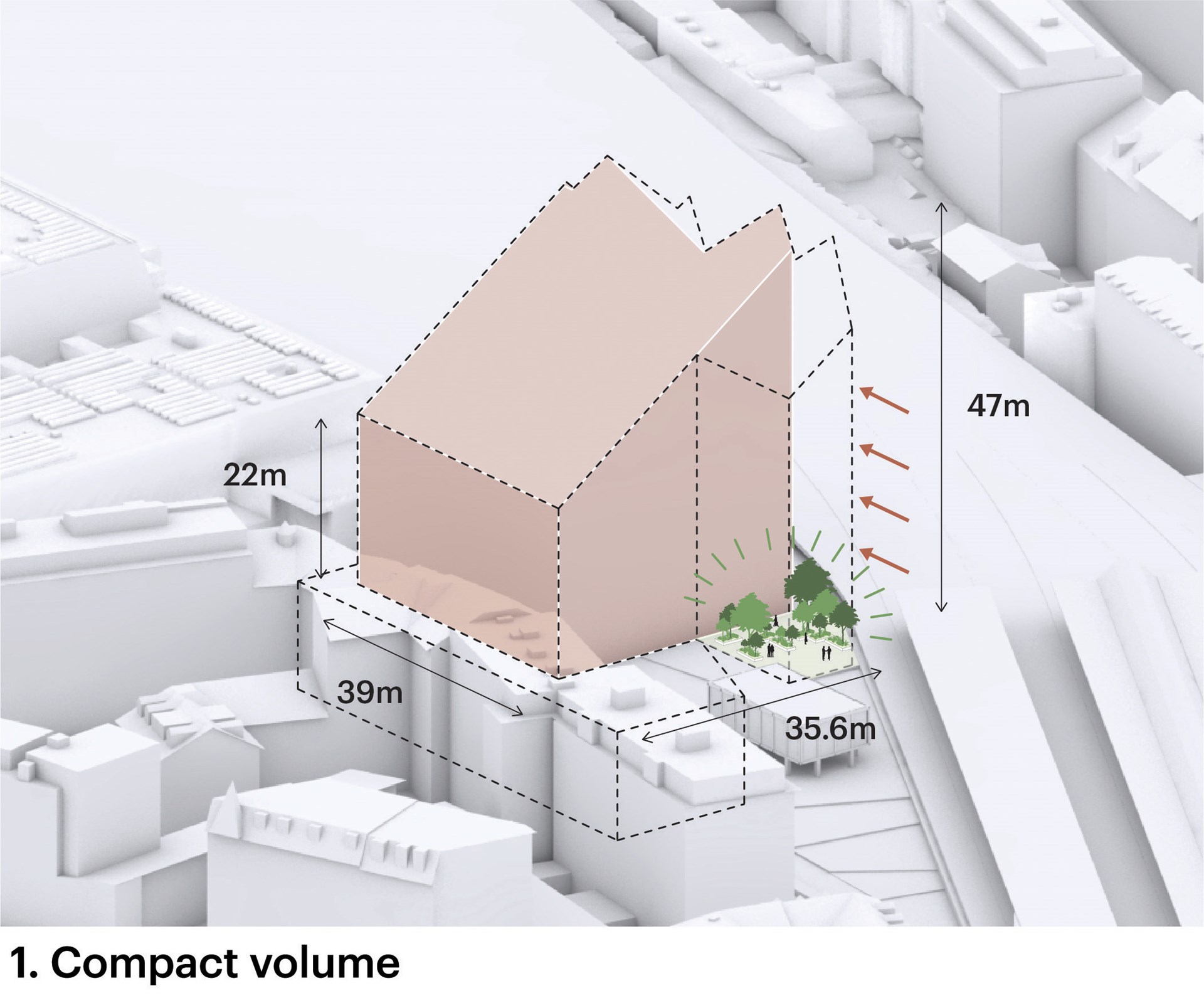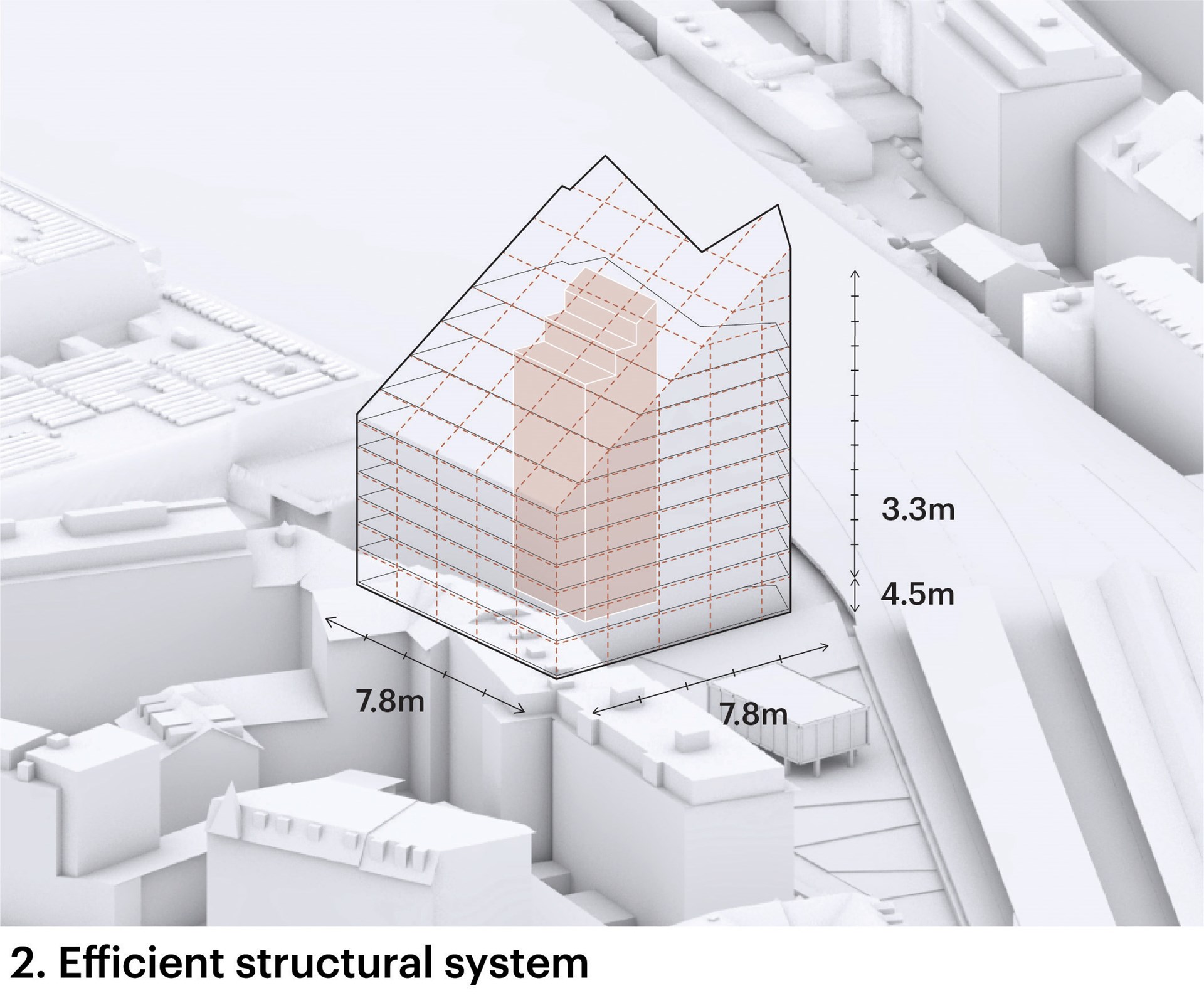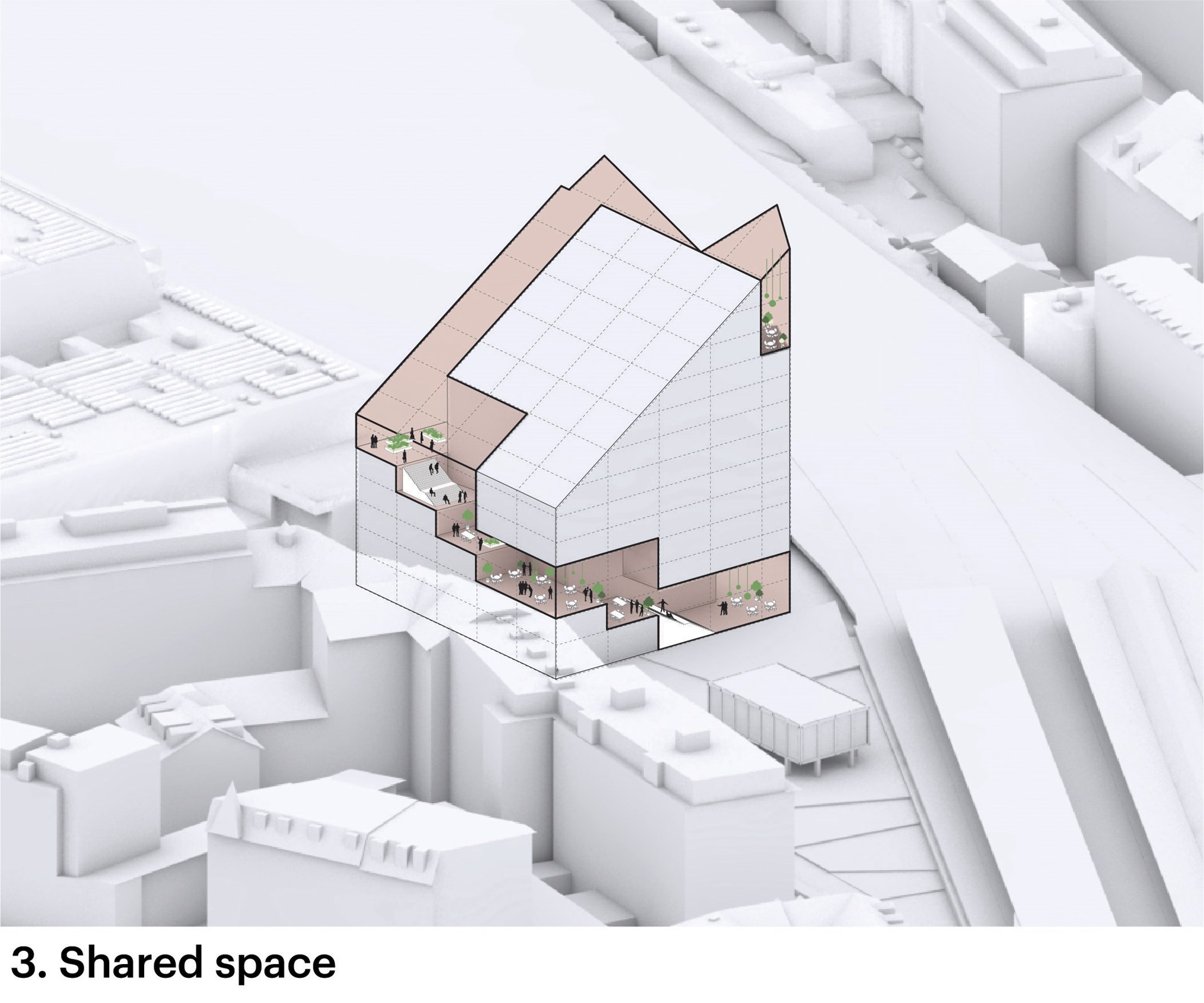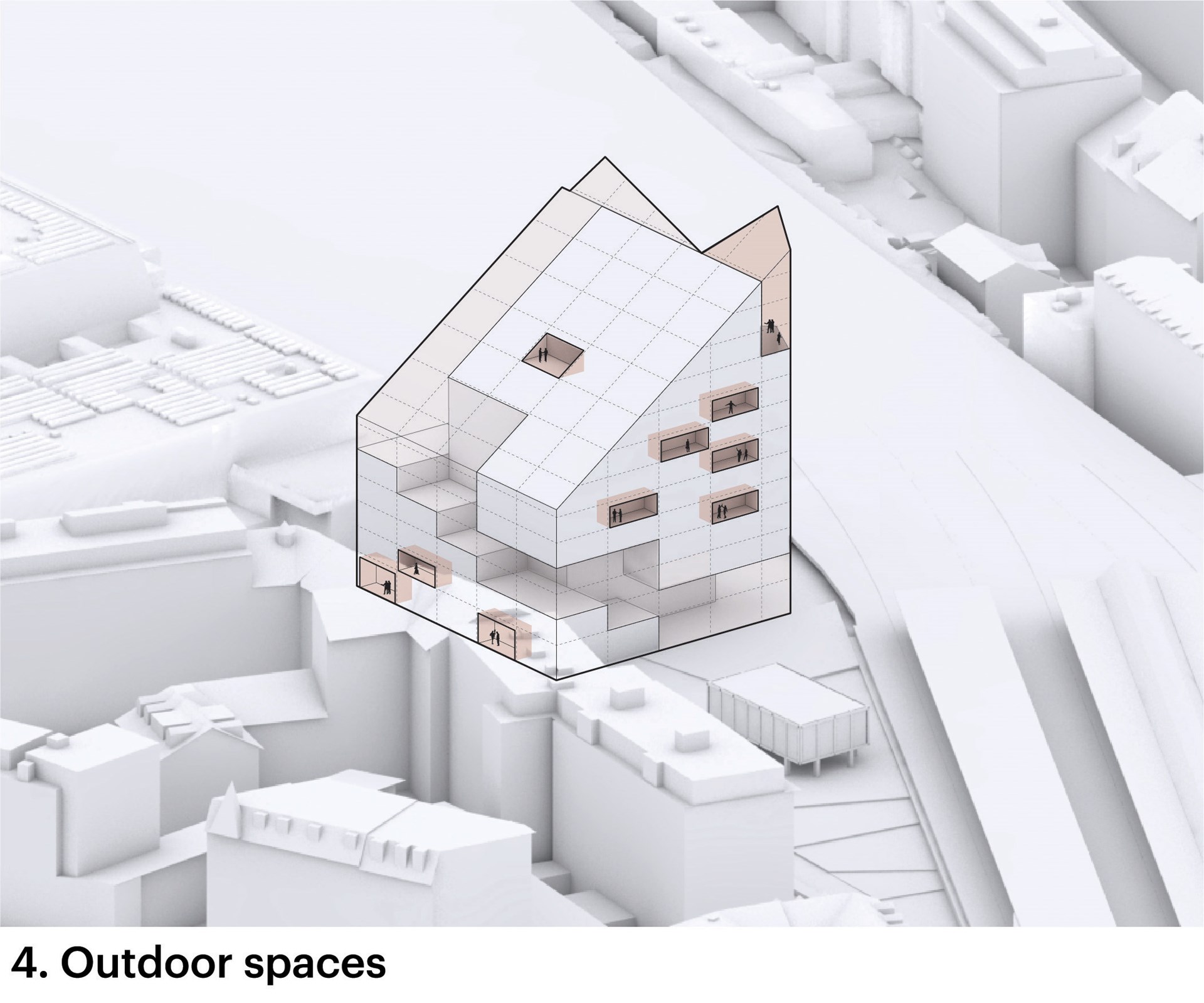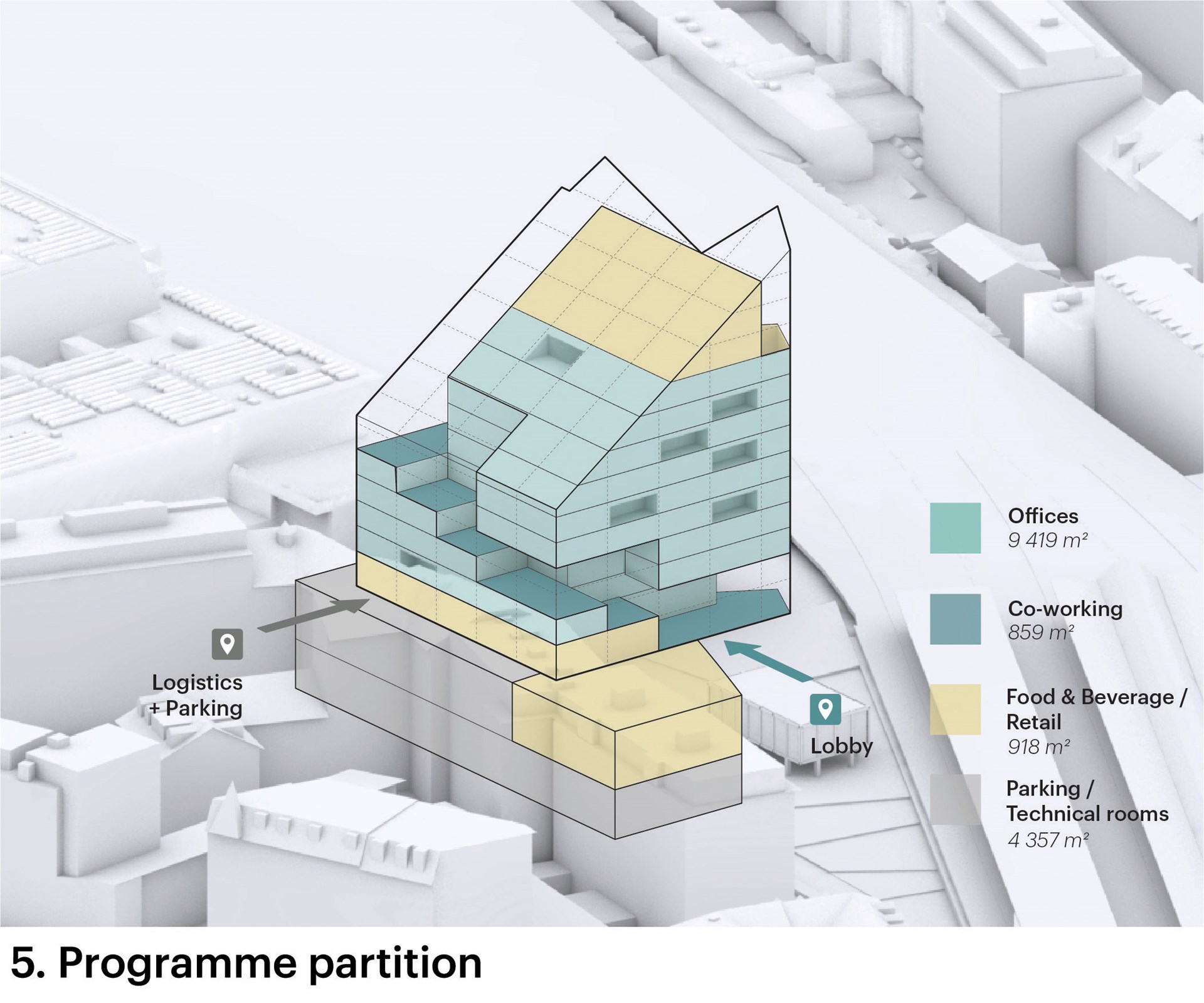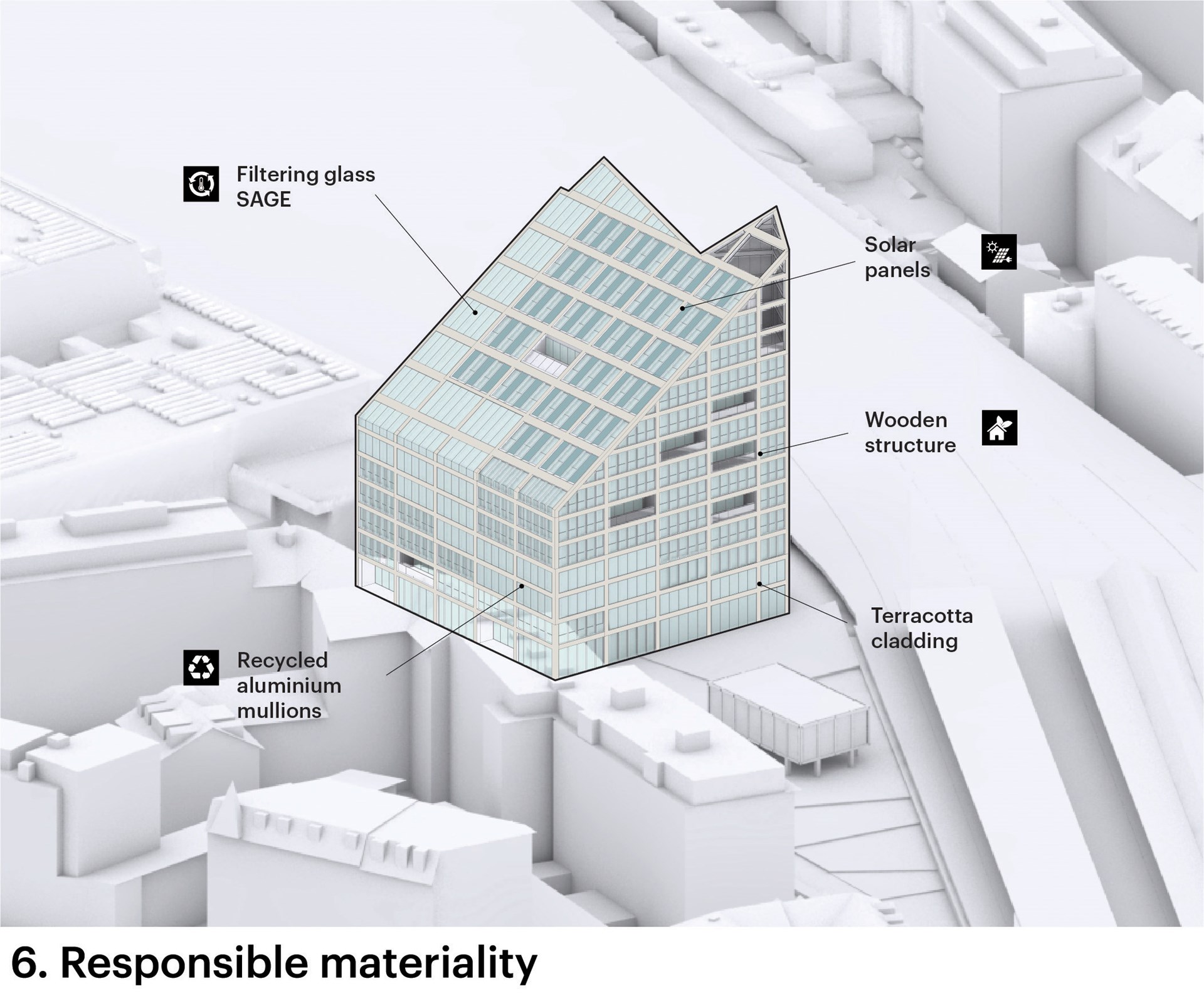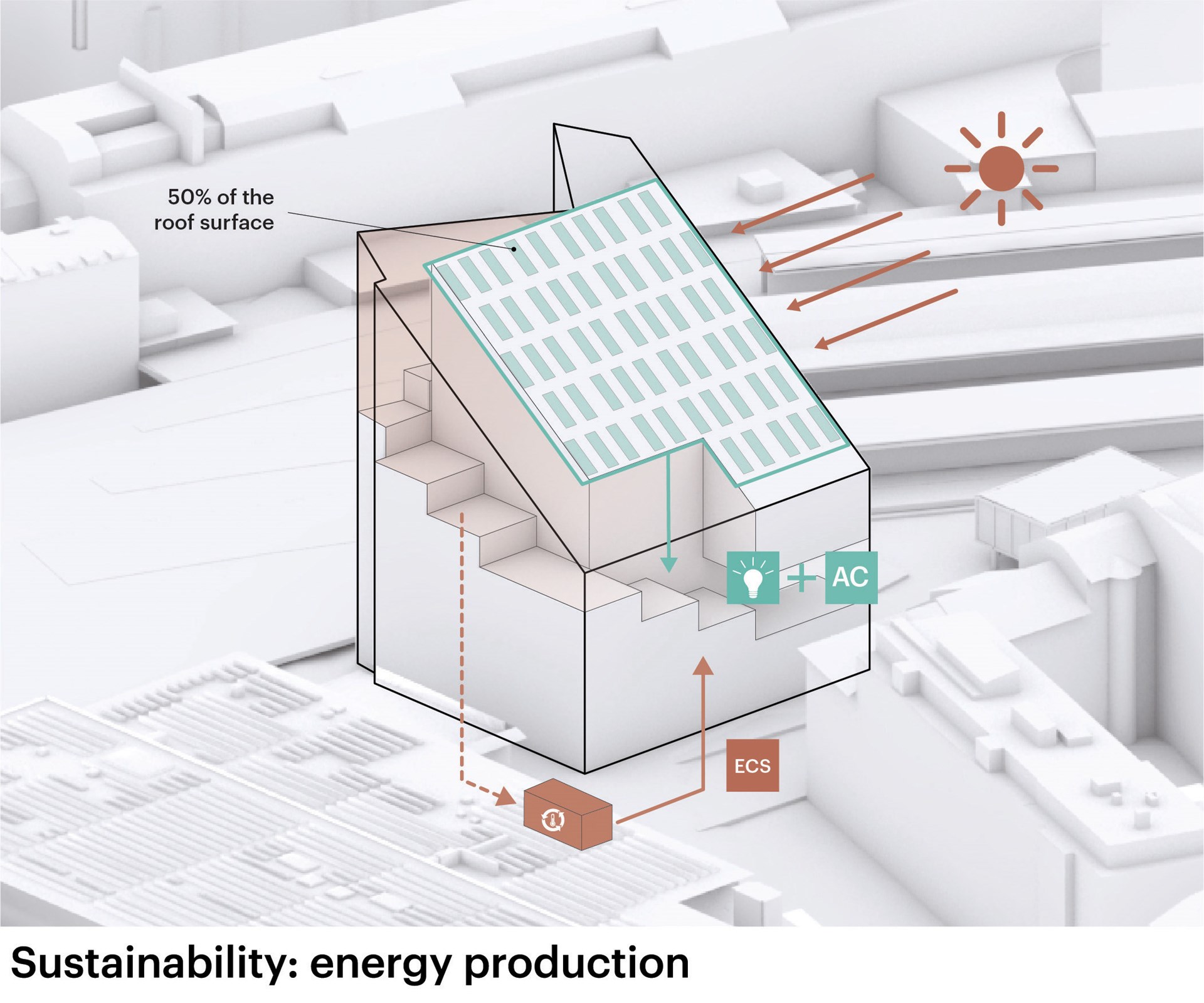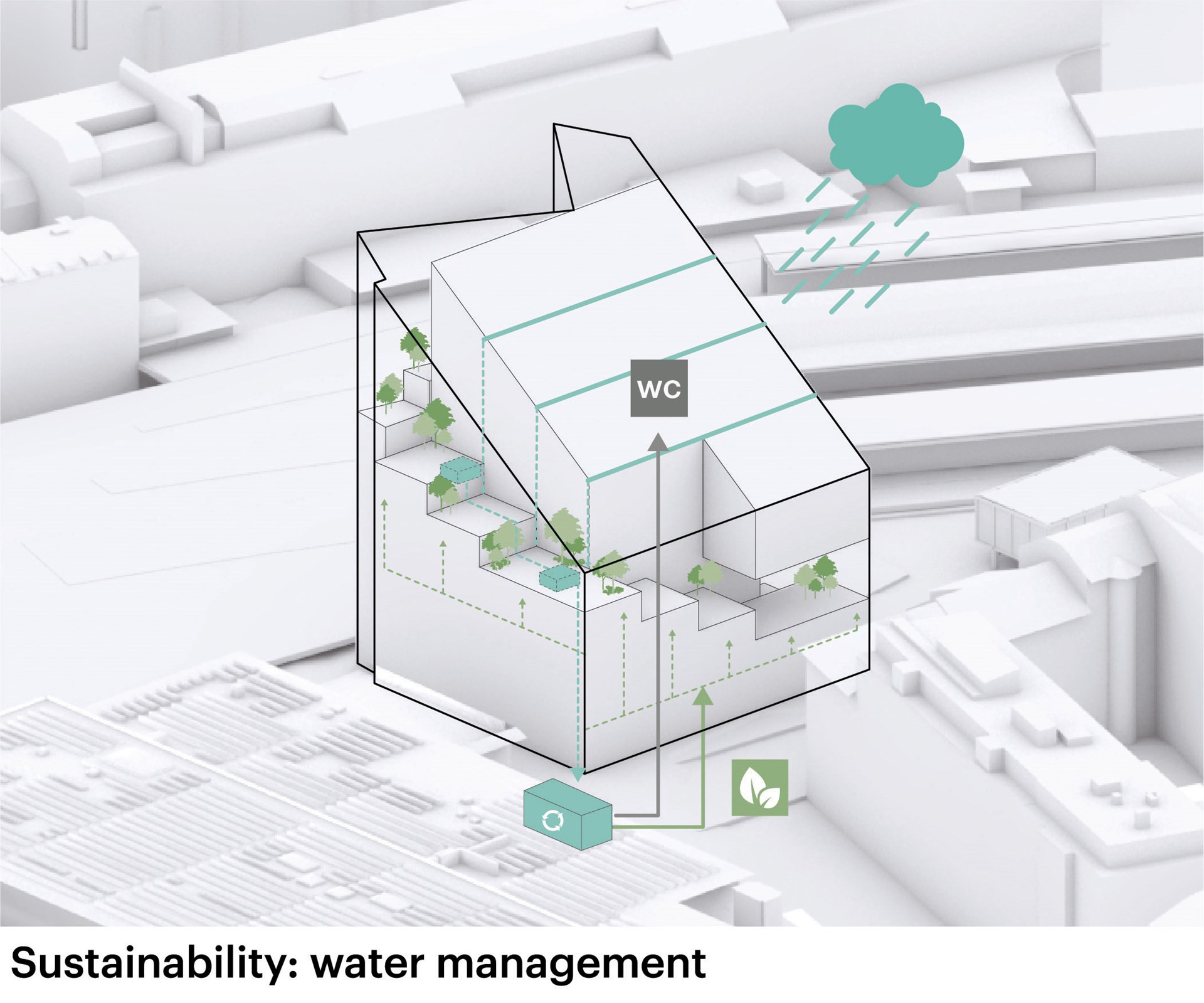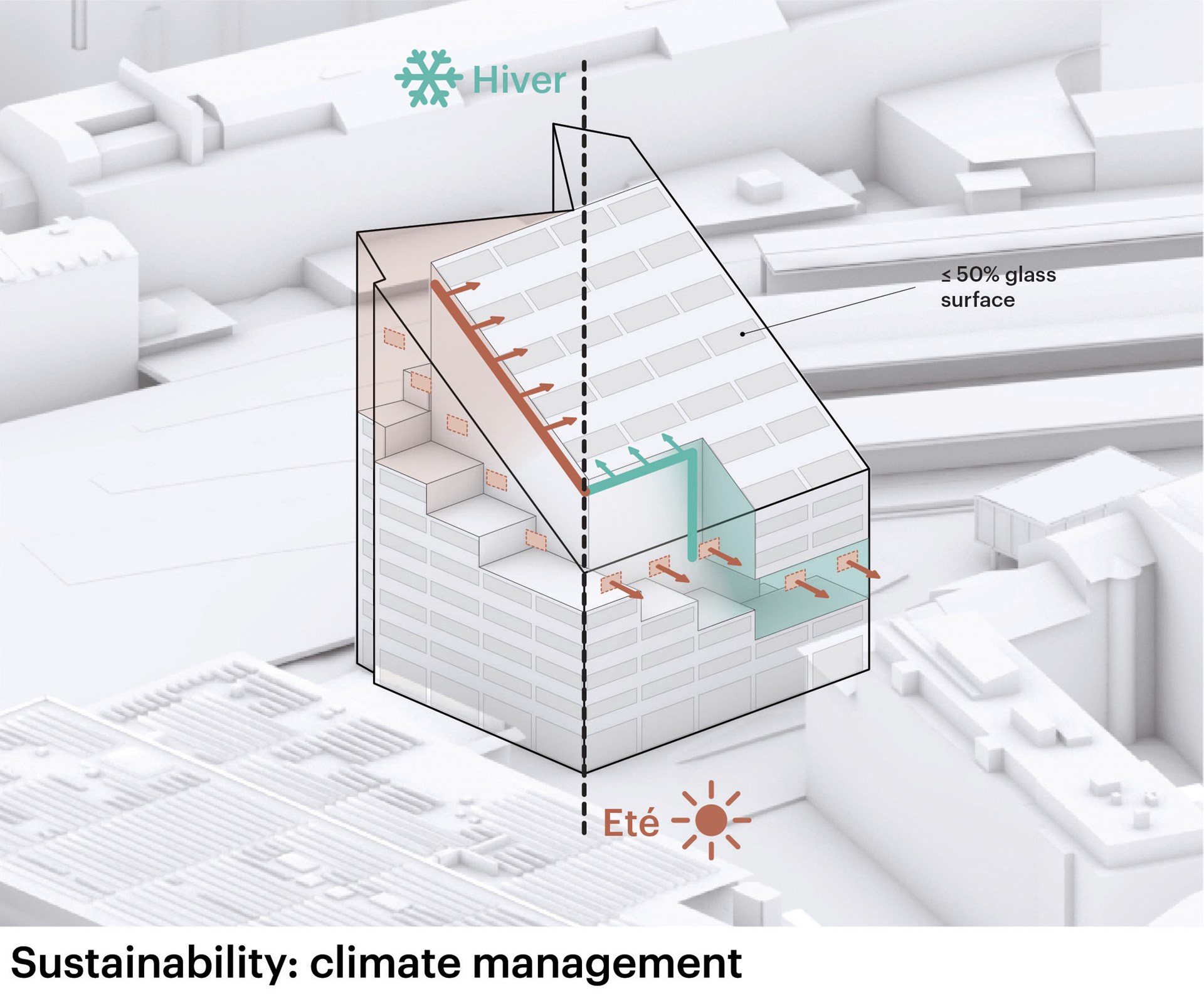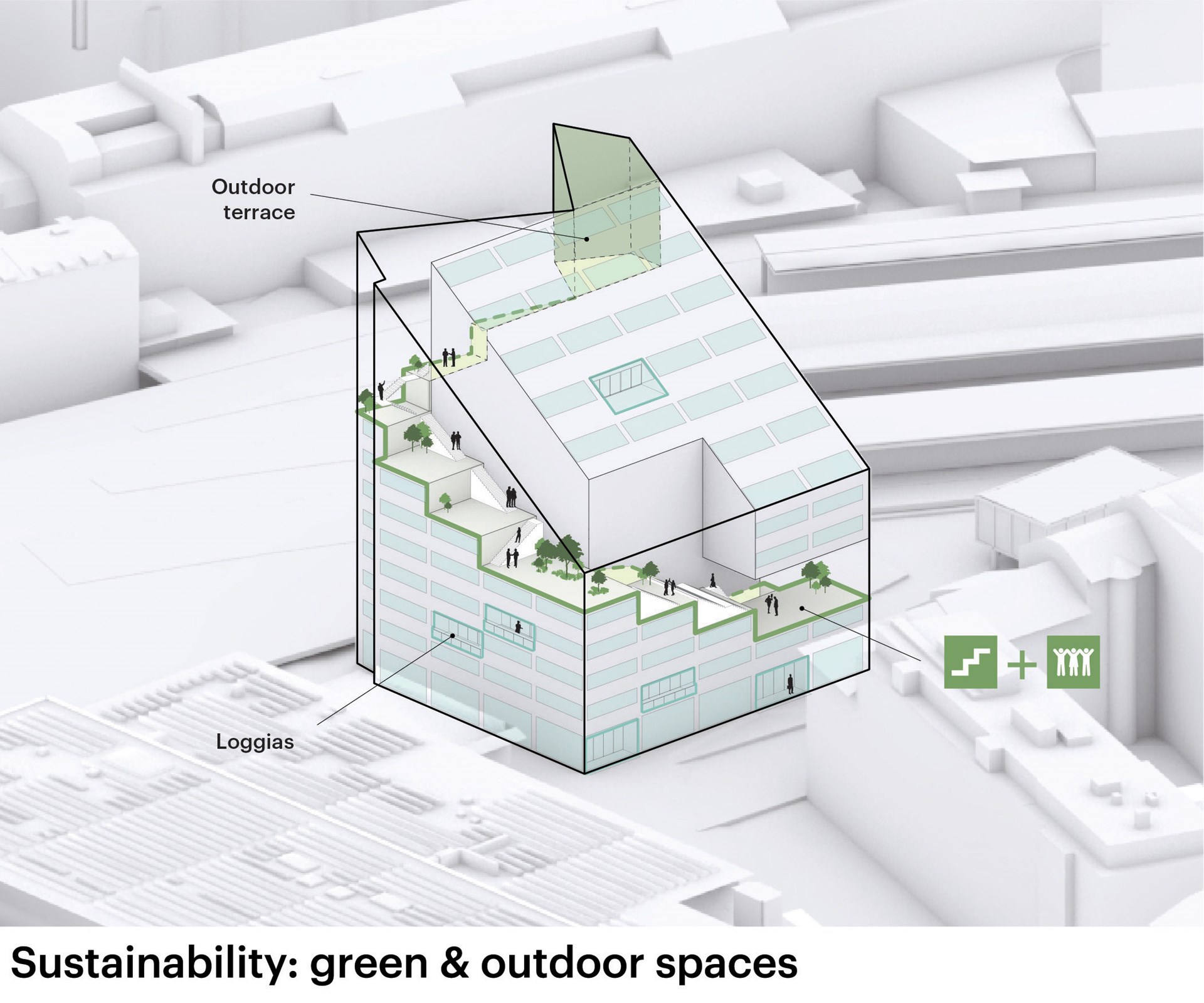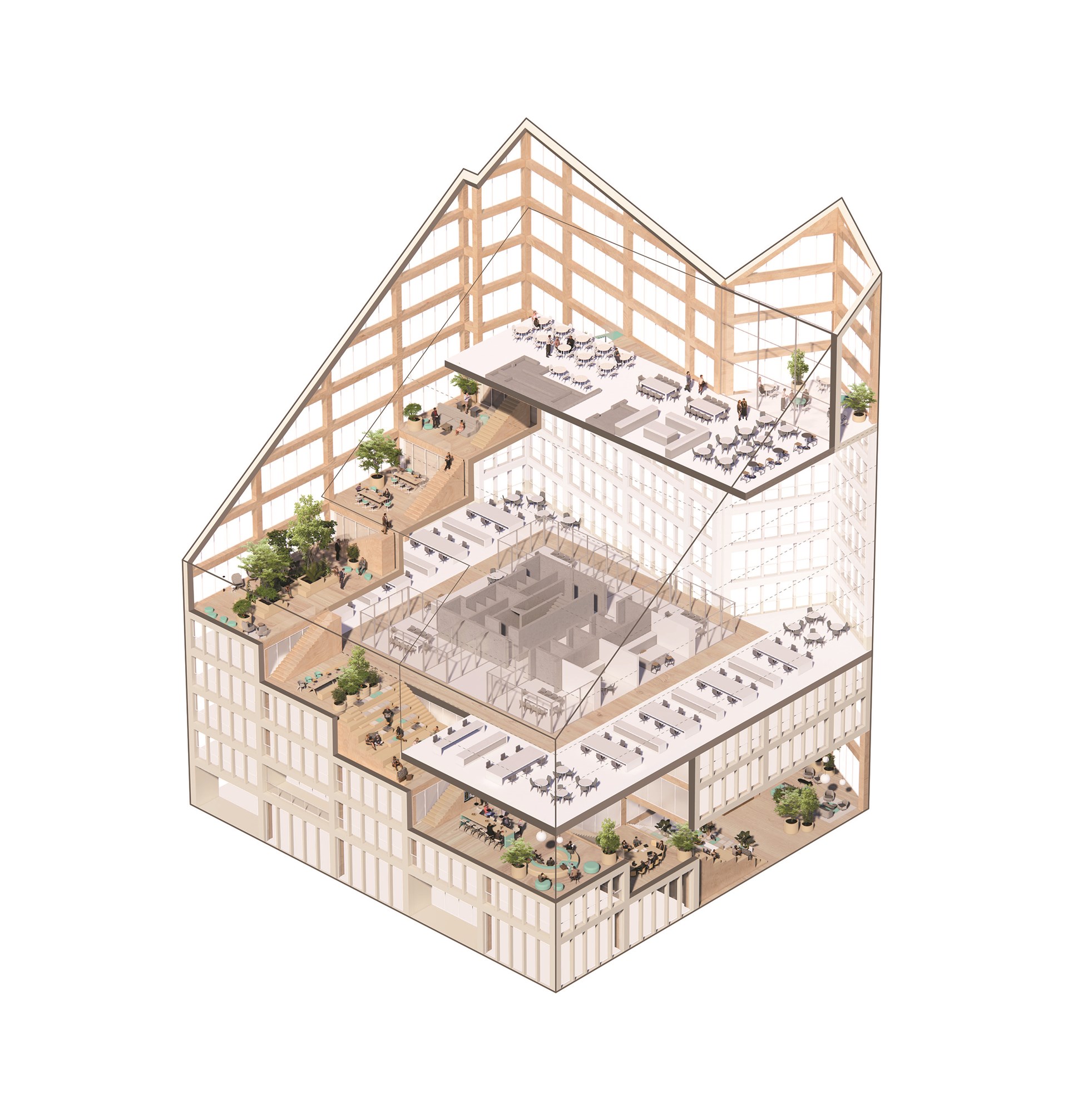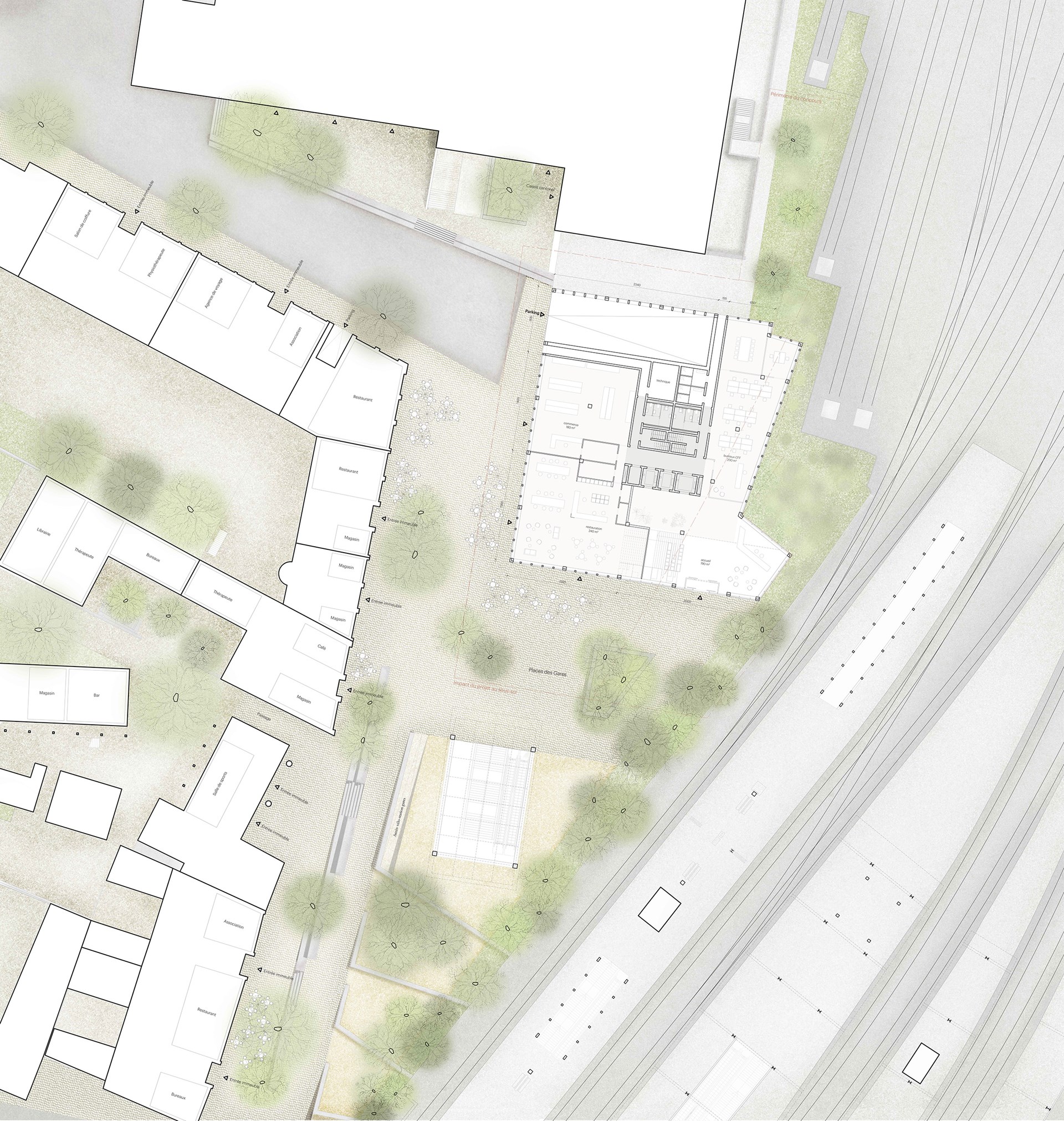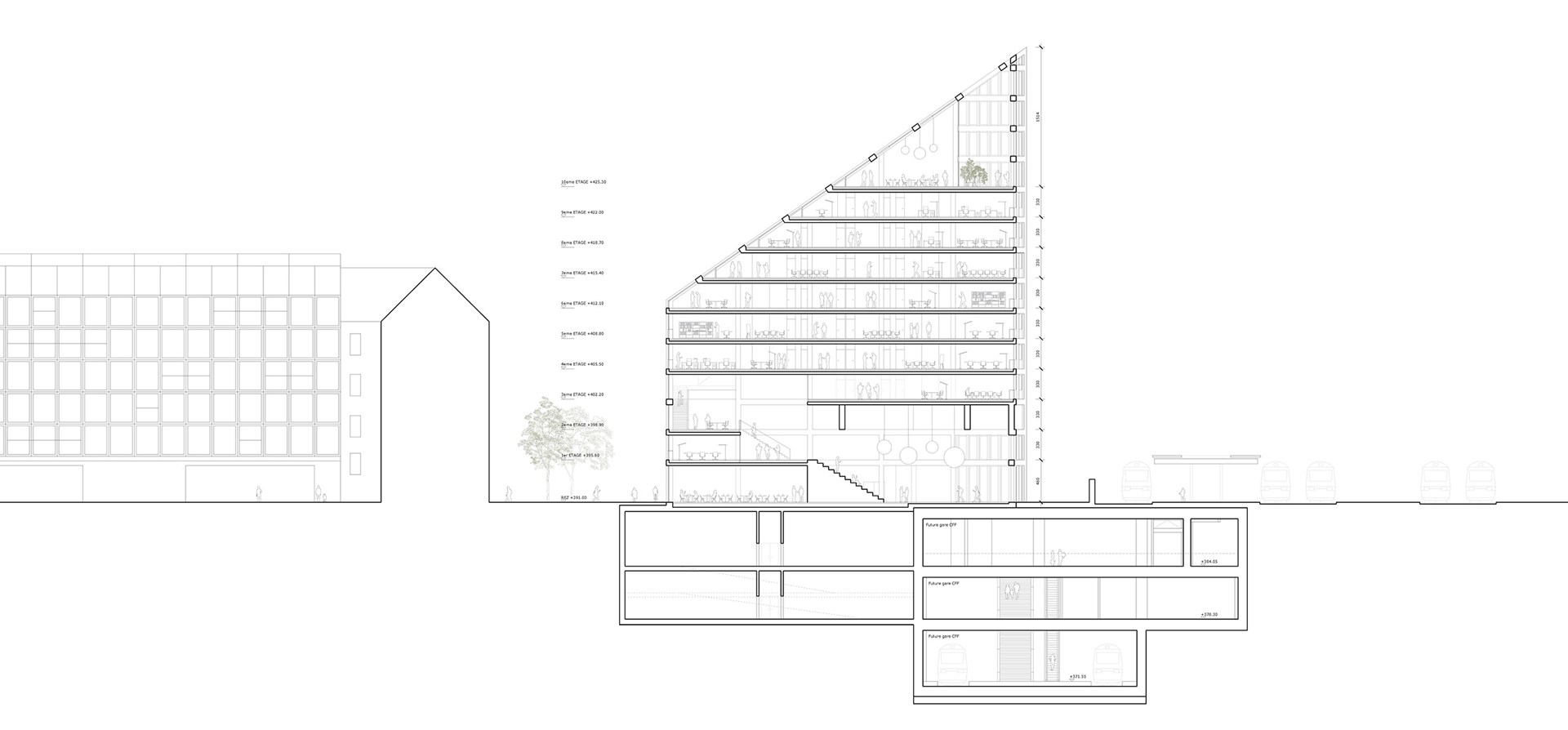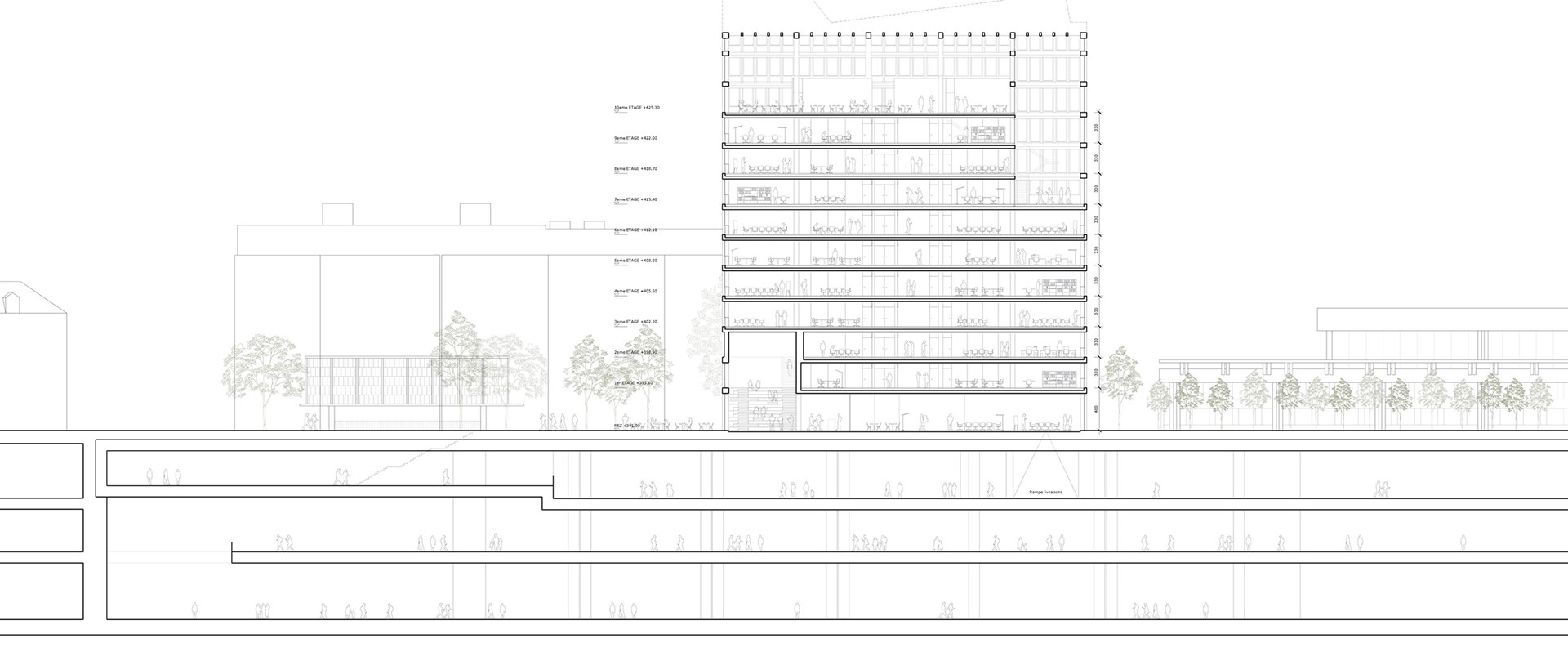 © all rights reserved