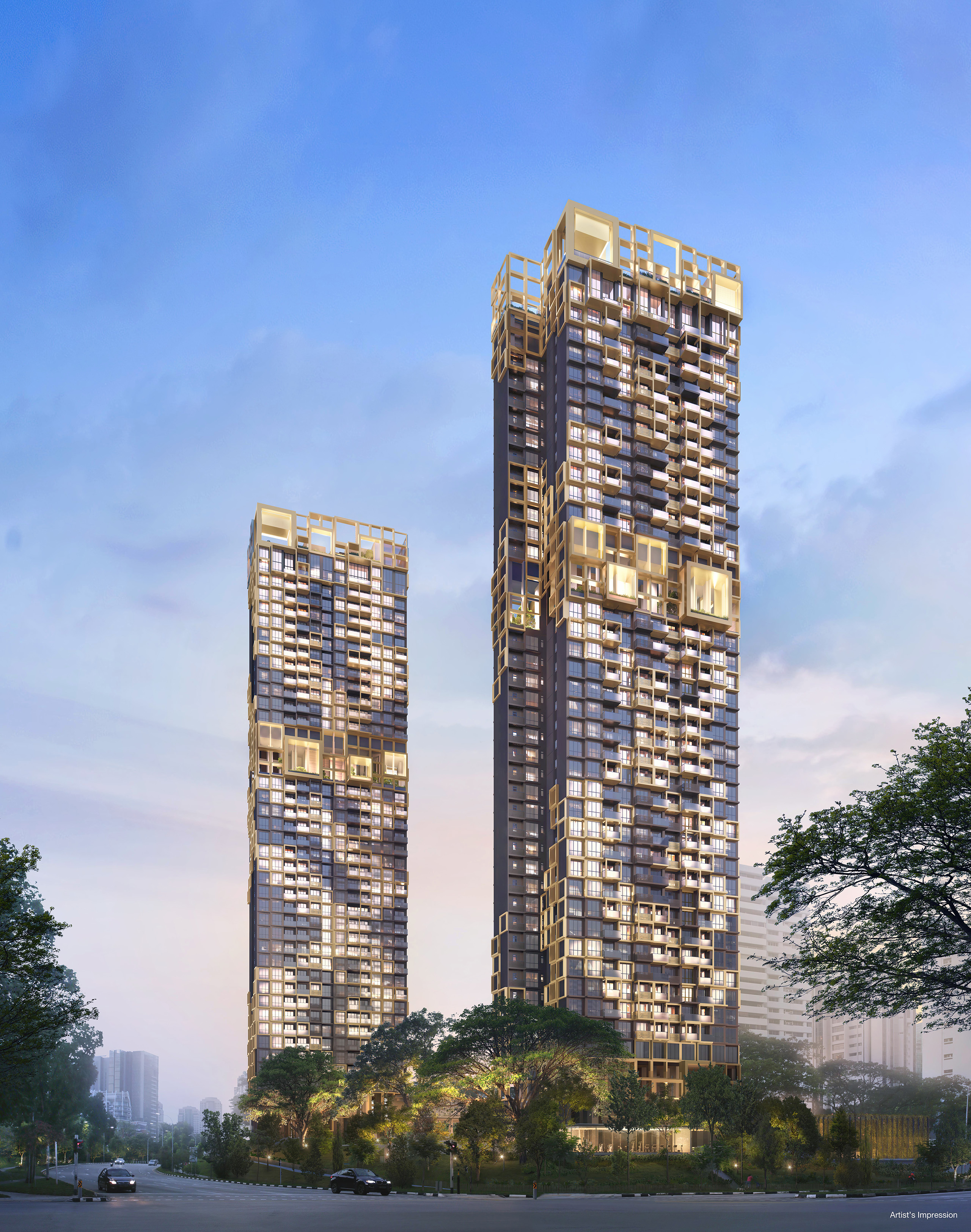 Irwell Hill Residences
Taking as a base the highly efficient and cost-effective design by Singapore-based ADDP Architects, MVRDV's façade designs add variety and the potential for greenery to the buildings' external appearance, and a sense of individuality to the apartments inside.
Location

City

Singapore

Year

2020

Client

City Developments Limited

Status

On site

Programmes

Themes
The 36-storey Irwell Hill Residences are in close proximity of to a wide range of shopping, dining, and entertainment options in Orchard Road, Singapore River and Great World. For the project design, developer CDL hired ADDP Architects to create a design that utilised prefabricated prefinished volumetric construction (PPVC), a type of construction in which entire rooms, including their finished surfaces and facades, are built in a factory and stacked together on site. This technique has a number of benefits, including a fast on-site construction time and high quality finishes; its downside, however, is that it often results in a repetitive and unimaginative appearance.
MVRDV was therefore included in the design team to add a twist to the design and make the buildings more suited to the high quality of their location. Inspired by two key features of Singapore's urban environment –innovation and nature – MVRDV's design capitalises on the qualities of the PPVC system to create a "pixelated" façade, with each prefabricated "unit" creating one pixel. A catalogue of designs for these units, using two different colours of metal frames, creates variety, and the different pixel designs are stacked in various ways to create a pattern in the overall façade. The pattern created is inspired by climbing plants that can be found on tree trunks, lending the building a naturalistic appearance.
On the 24th floor, MVRDV proposed a 5-storey-high skygarden with food and drinks facilities for residents, while the rooftop features a terrace with social and leisure functions such as sports and relaxation facilities. In both of these sections of the building, the rigid grid of the pixelated façade loosens, with frames of various sizes showing off the trees and plants within.
Thanks to the high-quality, low-waste construction enabled by factory production, PPVC is by its nature a more sustainable construction technique. However, low-waste construction is only truly sustainable if a building makes a valued, long-term contribution to its neighbourhood and thus has longevity. MVRDV's façade design for Irwell Hill Residences achieves this, demonstrating that a pragmatic design approach can also be an interesting, diverse, and lively one.
© all rights reserved