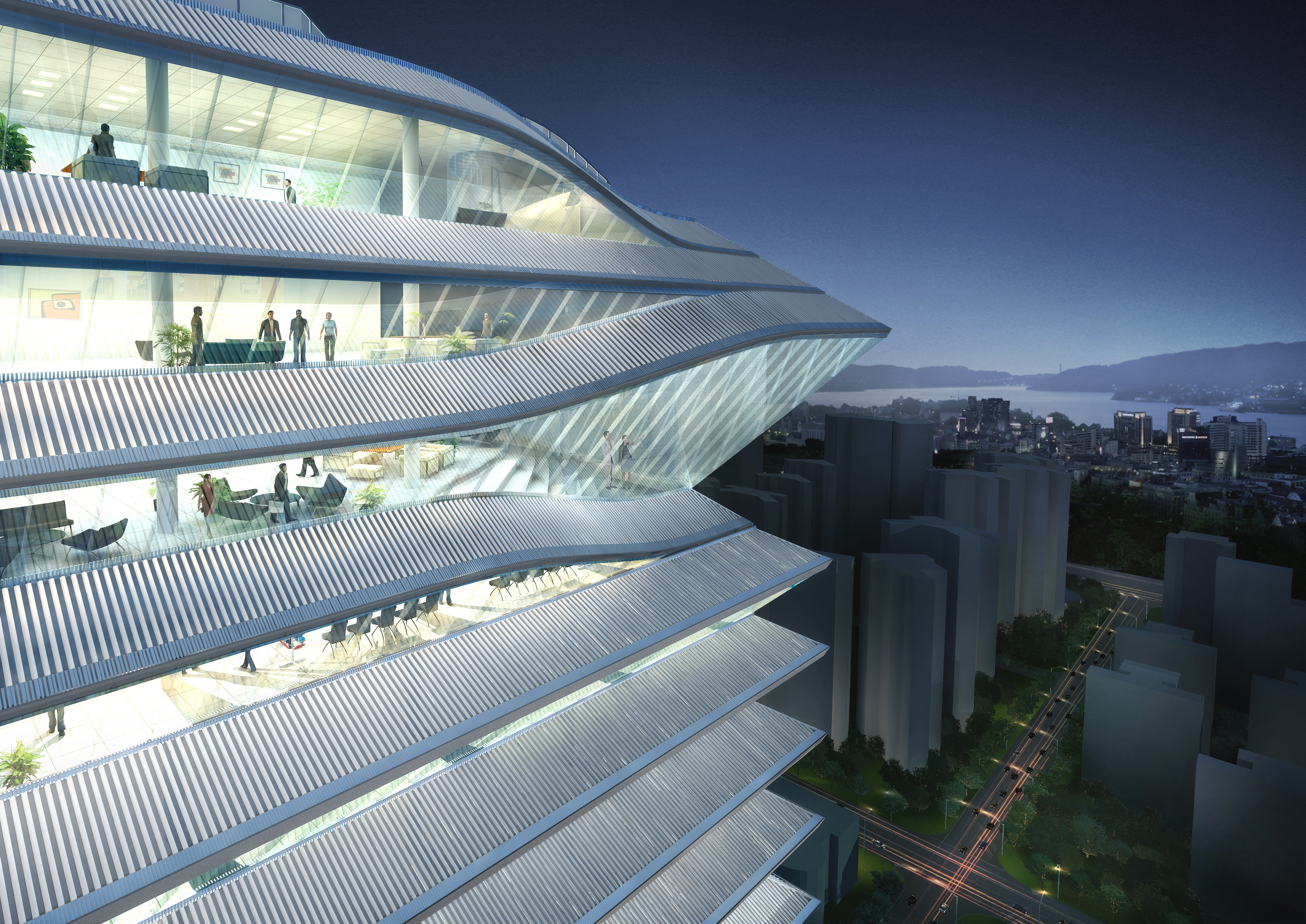 Guosen tower
The new headquarters building for Guosen Securities in Shenzhen, is a new symbol for a dynamic and growing corporation. Fundamentally, the tower had to be energy efficient and a high quality working environment. In an effort to maximise views and direct daylight for every worker, a compact floor plan was chosen, with no workplace more than 11 meters from the façade. Stacking these floors lead to a square tower over 200 meters tall with an elegant, slender form.
Location

City

Shenzhen

Year

2010

Surface

80000 m²

Client

Guosen Securities Ltd. Co.

Status

Competition

Themes
The edges of each floor plate have been folded down at an angle of between 35 to 55 degrees, shading the floor below and reducing the energy demand for cooling building. Large glazing panels connect the louvers, offering the office workers excellent views of the surrounding cityscape.

The louvers vary in size according to their orientation, on the north side they are small whilst on the south side they are larger. The angle of the louvers allows for the addition of solar cells, and reduces the energy demand of the building by 33 %. The louvers are also used for water collection to feed a grey water circuit to reduce water use. A lengthy water pipe system runs invisibly through the façade collecting the heat from the solar cells to heat up water for the building.
The louvers are a practical addition to the façade, but at the same time they create a distinctive identity for the tower, which begins to resemble a giant Chinese lantern.

In the communal parts of the building the louvers are lifted to allow for a larger glass panel. The main entrance, the restaurant and the conference centre are clearly recognizable on the facade as a result of double ceiling heights. Some of these spaces are designed as small amphitheaters for informal meetings, with terraced seating and an uninterupted view over the city.
The building fits seamlessly into the urban surrounding; all sides of the ground floor have a commercial plinth or glass facades that connect inside and outside.

The low rise volume next to the tower holds a shopping centre and a conference centre. Underneath the building a tunnel offers pedestrian access to a nearby metro station. At the top of the tower, the double high executive lounge is situated. The façade is opened up entirely to create a panoramic view towards Hong Kong Bay.
© all rights reserved