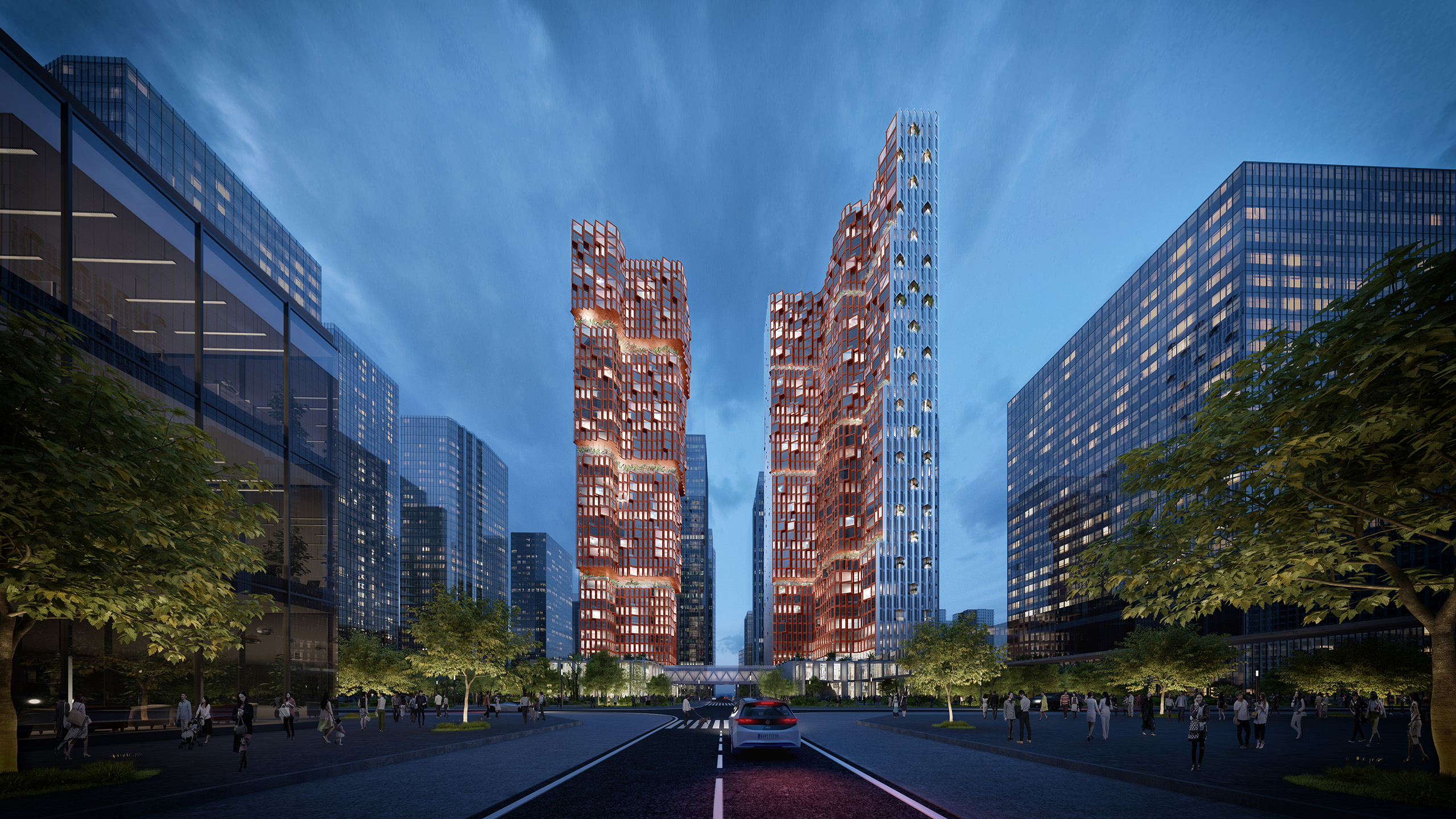 Qianhai Cast
Qianhai Cast is a mixed-use commercial and residential complex that integrates itself into its surroundings while also suggesting a community-focused enclave. Located in the rapidly developing western part of Shenzhen, the project brief was for an apartment complex for middle class, mostly young professionals. The design responds to the needs of this target group with two buildings that, through their form and specialised façades, respond to climate conditions and encourage a sense of community.
Location

City

Shenzhen

Year

2019

Client

Shenzhen Qianhai Talant Leju Co. Ltd.

Status

Competition

Programmes

Themes
The Qianhai Bay area is quickly becoming one of Shenzhen's most important districts, a hub for many of the city's signature businesses from tech companies to the logistics industry. Occupying two adjacent city blocks, the brief for the "Qianhai Talent Apartments" was for two buildings aimed at attracting the many young professionals that will work in these industries. Apartments ranging from studios to 3-bedroom homes, a bevy of amenities for residents, and a ground-level podium filled with retail outlets make the complex a convenient and relaxing refuge from the intensity of urban life.
The form of the two towers is created by taking a single cuboid block and "breaking it apart". The eastern building steps back on three levels to create terraces while the western building has corresponding overhangs. The buildings therefore are like a "cast" of each other, envisaged like a geode broken in half to reveal its sparkling crystalline interior. These two pieces are then positioned so that the "exterior" faces the edge of the site on the northern, western, and eastern sides, while the jagged "interior" faces the centre of the site.

This effect is reinforced by the project's façades. On the site's perimeter the façades are more austere and reflective to respond to the surrounding city, while the façades facing inward are colourful, lively, transparent, open, and green. These façades are designed with careful attention given to sun exposure, using a jagged shape to provide shade from the intense midday and afternoon sunlight of Shenzhen. These variable, jagged forms also provide spaces for outdoor terraces in some apartments.
Greenery and open space is a vitally important part of the Qianhai Cast design, with the ground level hosting a park that is not only a pleasant green public space, but also follows Shenzhen's "Sponge City" policies of collecting and absorbing excess storm water during extreme rainfalls. This green park is echoed on the third level, where residents have access to a sports and activity area on top of the podium, including an outdoor swimming pool that bridges the two adjacent city blocks. The towers themselves also have outdoor spaces, with terraces created at each step-back and overhang. These terrace levels each have a variety of communal amenities, and further split the towers into "neighbourhoods" that help residents to identify with their particular place in the complex.
© all rights reserved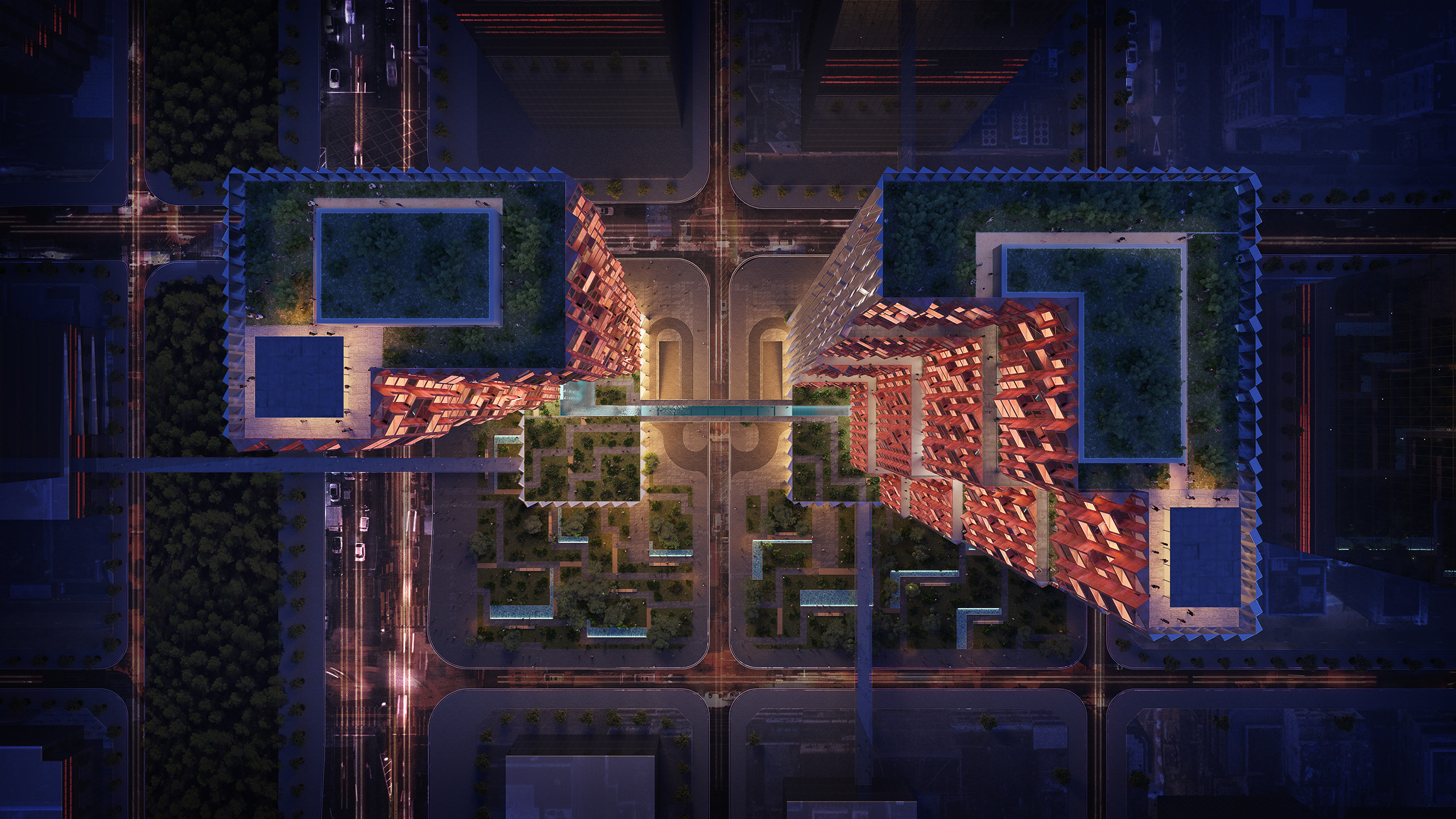 Architect
Founding Partner in charge
Partner
Design Team
Director MVRDV Asia
Visualisations and Animation
Copyright
Partners