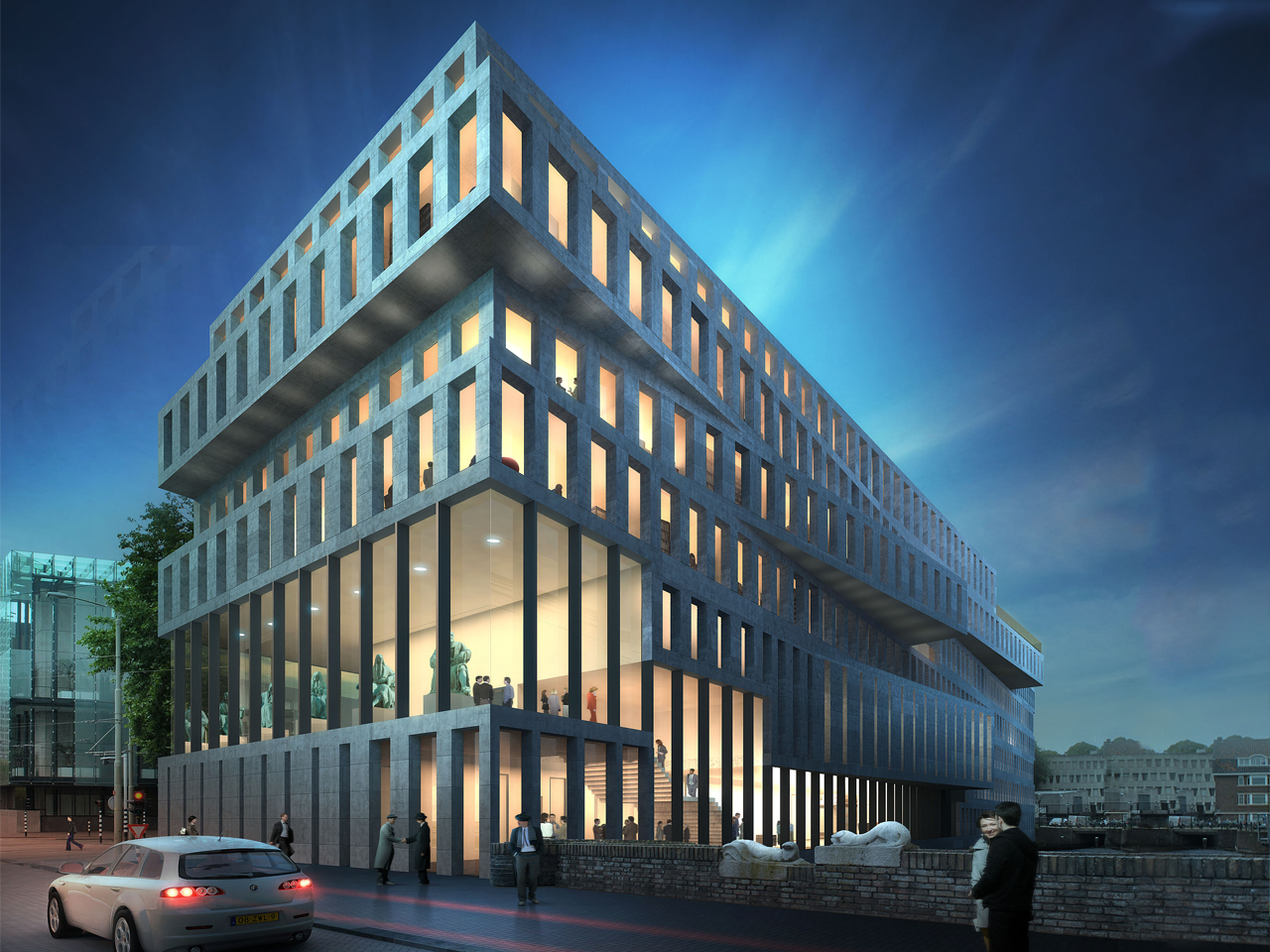 Netherlands Supreme Court
The design for the new, 15.000 m2 Supreme Court of the Netherlands is the combination of two architecture elements, the building that follows the primary process of the supreme court and the opening of the stacked rings by which the sunlight can enter the building through a large atrium.
Location

City

The Hague

Year

2011

Surface

15000 m²

Client

Quartz Consortium (Ballast Nedam, Strukton)

Status

Competition

Programmes

Themes
The design for the new Supreme Court of the Netherlands follows two different conceptual principles: a functional one relating to the process of filing a case in the Supreme Court, and an a spatial principal, opening up different parts of the program to a large central circulatory atrium, or to the outside, as appropriate.

The result of these two operations is a series of stacked rings, which are offset and overlap and expand in a variety of different ways, liberating the building from the simplicity of a rectangular box, and the rigidity of stacked floors.
Materially, the building combines high transparency and vistas with subdued, more densely shaped elements and areas. The purpose of this is to symbolize the Supreme Court's position in society: openness and communication where possible and clarity and seclusion where necessary.

Due to the repetitive nature of cellular office buildings, workstations and so on, significant efforts have been made in detailing (etched stone, varying window heights, individual floor plans) to create diversity and variety in this working environment. Graceful composition and urban contextuality are provided by key moments in the design, such as above the main entrance, where a transparent façade at ground level and cantilevered floors above mark the location for visitors.
The working environments are designed to be pleasant and of high quality, both in actual offices as well as in the more luxurious common areas, such as the library or restaurant, which provide opportunities for moments of quiet inspiration as well as interaction with colleagues.

The courtrooms are quiet and calmly designed spaces where all ICT technology is concealed in an elegant manner in double skinned walls, decorated with a pattern of relief and perforations. In the foyers opportunities for interaction with the city are created through glazing. The building also responds to the intense media coverage of the Court's proceedings by the national media, with privacy, security, and access all forming key issues in the design process.
© all rights reserved