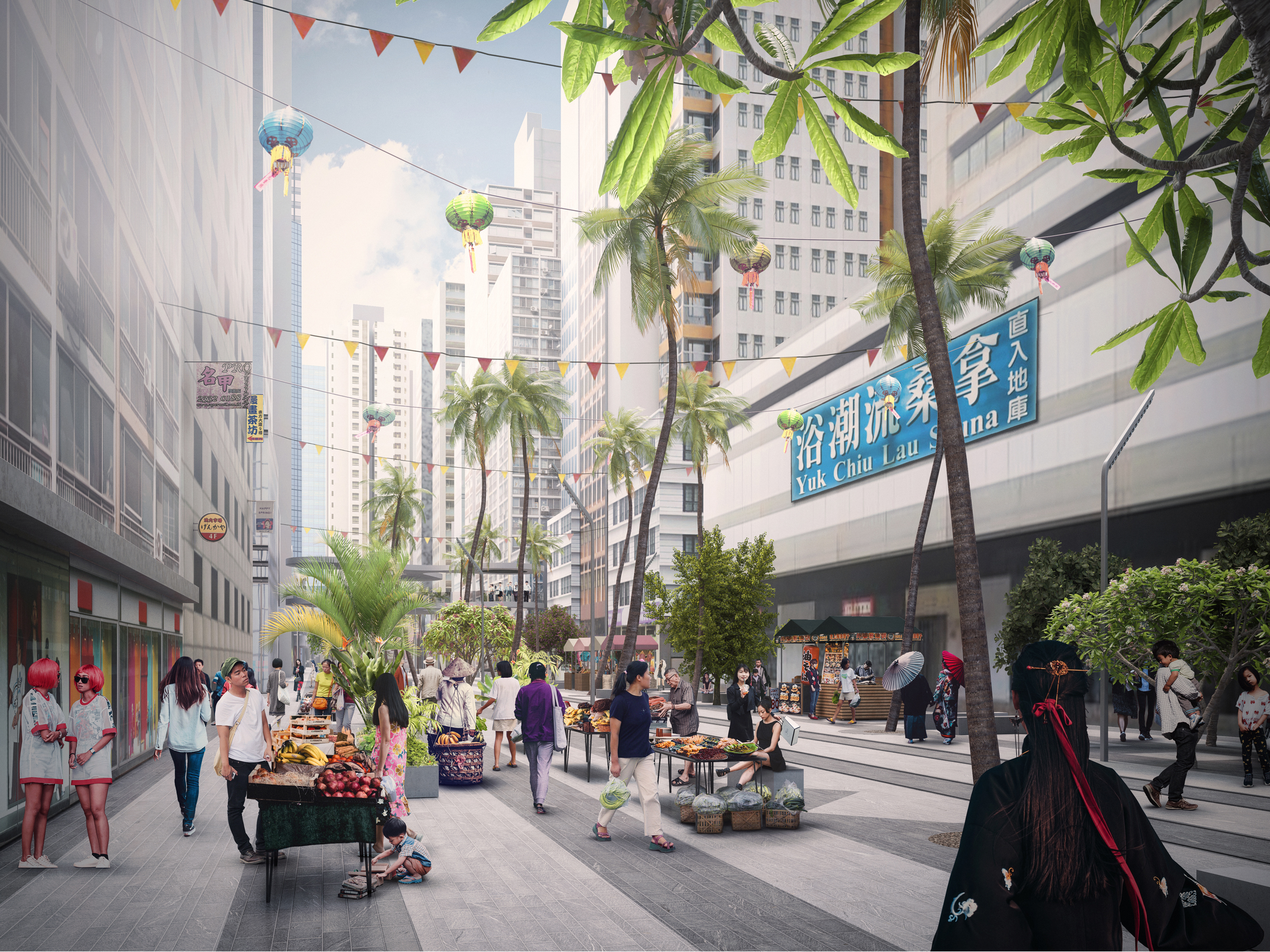 Super Walk
Hong Kong is extremely accessible but not easily walkable. Due to its intense density, the city's pedestrian network—created in parts by different means, at different times and to serve different needs—is defined by its complexity. MVRDV proposes Super Walk.
Hong Kong's pedestrian network exists as a combination of elevated and underground passageways: a continuous accessible ground plane, a public space that hosts cultural activities, entertainment and socialization in three dimensions. Private and public uses, including malls and office lobbies, merge into a hybrid space. Despite the efficiency of this extensive and functional network it is labyrinthine and difficult to navigate. The proposal starts from the urgency of providing visual order. In a strong gesture, the ground is covered by a long zebra crossing pattern, a statement to give back the space to pedestrians and an easily recognizable new identity. The new De Voeux Road Central, envisioned as an infinite zebra crossing, increases the ease of crossing from North to South, from the hills to the waterfront. In a careful process of additions, flexibility remains the first priority to face future changes: a simple surface with essential devices to make a walkable and recognizable space, a new program to activate the space and make it livable, new smooth connections to create a cohesive network. The program enhances local amenities, gives space to the future and attracts residents and visitors to generate a dynamic public realm.
An inifite zebra

An infinite zebra crossing reconnects the city to the waterfront across its harsh topography. This grand gesture gives De Voeux Road Central a new identity and a sense of belonging to Hong Kong's people. In the first phase, essential devices are integrated into this new surface to ensure walkability. As an urban-scaled interior, a new microclimate of temperature, humidity, smell, and lighting, along with new circulation and navigation creates a pleasant and walkable pedestrian environment ready to host activities. The stripes become part of the navigation signage: they define a clear separation between pedestrian circulation, program, tramline, and the loading/unloading traffic lane, allowing free movement of people across a seamless surface.

A new destination for everyone

The new DVRC will act as a collection of existing identities and local characters and cultural, creative and artistic expressions: a food street market, an office lounge, a street playground, a dining terrace, a fashion design street, an open-air art gallery, a night life street, and a family gathering place.
The program mix will bring opportunities for social interaction, inclusiveness and diversity of users. It is a flexible space that hosts local communities and tourists, giving space back to residents and future development of the city. New facilities and program activate the space and invite people to stay, transforming the DVRC from a transit street to a destination for everyone.

The backbone of a smooth pedestrian network

The last step focuses on the implementation of North-South connections along the crossing alleys toward the waterfront and the inner neighbourhoods, improving the transition between elevated footbridges, underground and ground level routes to create a smooth pedestrian network. Fragmented existing routes are linked to each other and become easier to navigate, connecting this critical artery to the cultural and heritage sites that surround it. At main nodes, new canopies, pavilions and footbridges link existing elevated routes and, countering the lack of space on the ground, create new vertical public space.
© all rights reserved
Architect
Principal in charge
Design team
Project coordinator
Visualization
Strategy & Development
Copyright: MVRDV