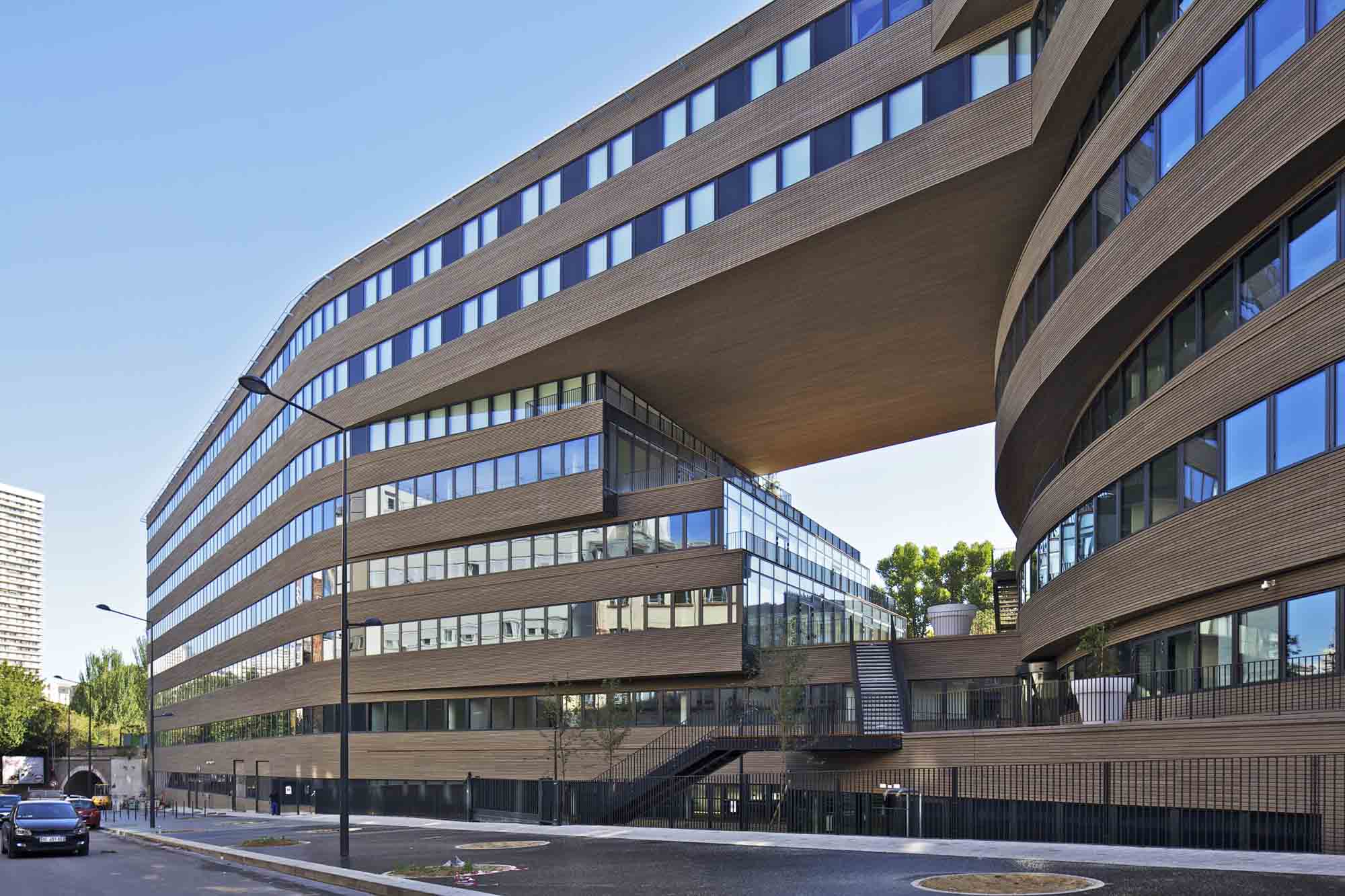 Pushed Slab
The Pushed Slab building is a response to stringent sustainability and spatial flexibility criteria, as well as the desire for a high quality working environment, and the requirement to maintain protected views of Paris. It will be the first building to be constructed in Paris' first eco-quarter, and with an energy consumption 49 kWh per m2 per year it is uses at least a quarter of the energy of a typical office building.
Location

City

Paris

Year

2015

Budget

40,500,000

Surface

19000 m²

Client

ICADE, Paris, France

Status

Realised

Programmes

Themes
The building is located on a former rail embankment of approximately 4.150 m2. The volume follows the site restrictions, a slab-shaped volume of 150 m long and 21 m wide. An opening in the volume preserves the view of a historic building. To create this urban window and to enhance the urban quality of the neighbourhood, the slab is "pushed" until it breaks, then twisted and pushed to the south. This pushing act creates a distortion of the floors, offering multiple terraces which can be directly accessed from the work areas as well as from the external staircases. The urban window offers a large terrace on the second level. The terrace and the balconies will be furnished with trees planted in large pots, offering employees a friendly environment to relax.
The building has two faces: a calm side in dialogue with the urban fabric of the north side of Paris, and a more dynamic side facing south, rectangular to the boulevard. The building is wrapped in a skin of wood. The windows form a rhythmic ribbon, offering optimal sunning and light control of the inner spaces. To contribute to the sustainable development and taking the impact of deforestation into account, certified wood from France will be used.
The climate is controlled by natural ventilation; 1500m2 solar panels on the roof provide renewable energy and a greywater circuit will be applied. Blinds will be integrated into the south façade and in the cuts. The building will be insulated from the outside in order to reduce thermal bridges. The accumulation of these proven reliable techniques results in a highly efficient low-energy building which leads to an energy consumption of 49 kWh per m2 per year.

Visit

The Pushed Slab is currently a working office building. Please bear this in mind when visiting and take care not to disturb those inside.

Address: 10 Rue Brillay-Savarin, Paris
© all rights reserved