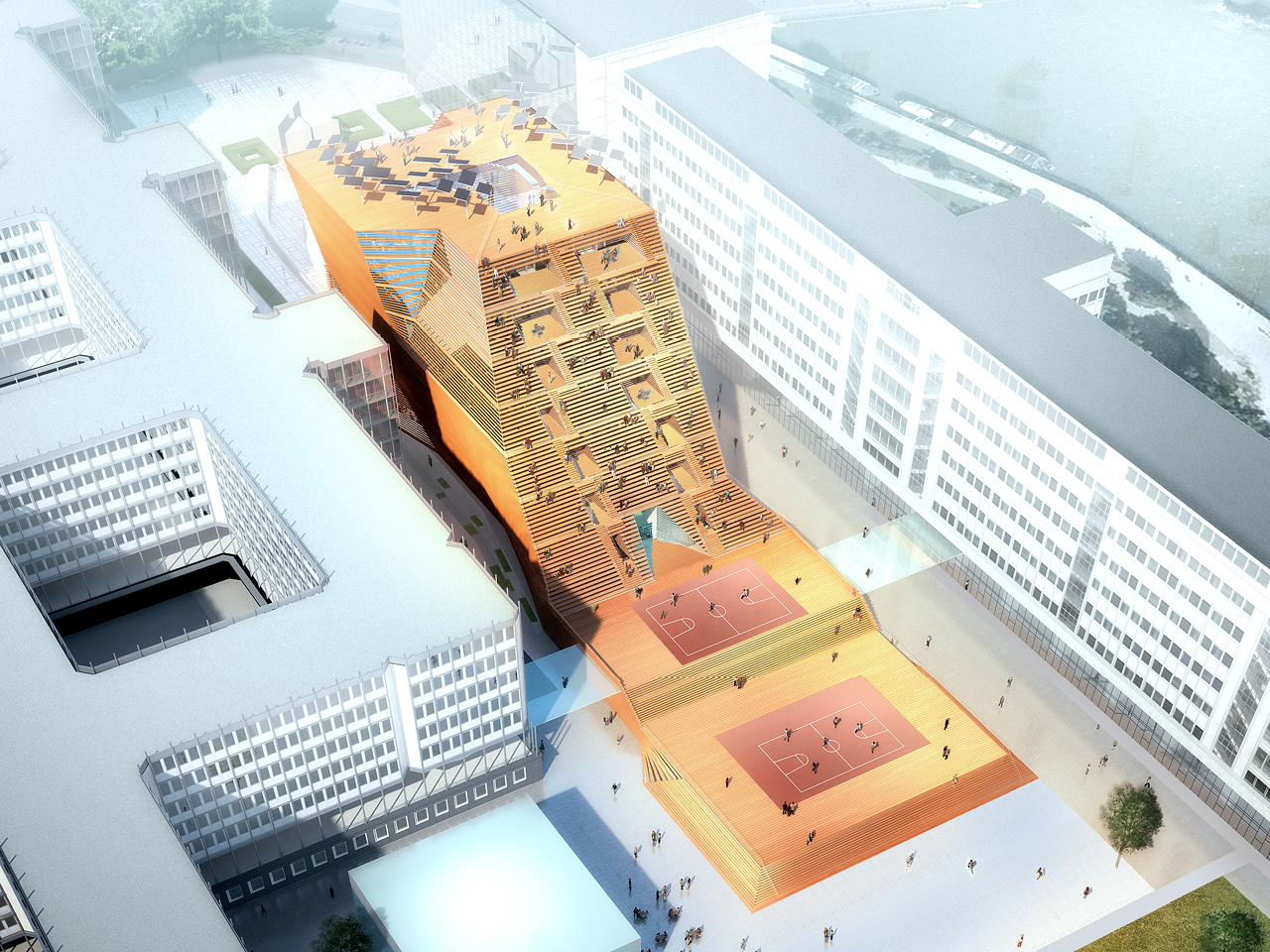 Paris Tribune - Universite Pierre et Marie Curie
The Paris Tribune is an attempt to balance the introverted, private functions of university research facilities, with the public, extroverted environment of a university campus. Its terraces create a truly public environment, while its podium provides a public space on a scale not built in Paris for centuries. The building's form responds to various pressures for light, space, and programmatic functions in a practical way, hoping to become iconic not through form, but as a platform for use.
Location

City

Paris

Surface

12000 m²

Client

Université Pierre et Marie Curie, Paris, France

Status

Competition

Programmes

Themes
The University Pierre et Marie Curie, located at the Jussieu Campus in central Paris, has recently opened itself up to private contractors. This raises questions about the potential role of these entrepreneurs. Should the project be introverted? Or should it be an activator for the academic community? How could it become such an activator? How to encourage cross disciplinary collaborations between departments? How to encourage discussion, debate and criticism? How to exhibit research? How to be more attractive? How to "put in place" development for the university?
MVRDV started by looking from a purely pragmatic point of view for the ideal form of the project: a ring of programs organized around a central communal atrium. However, this arrangement provides no added value to the surrounding urban environment, which in this case is the rigid, 1950s Jussieu Campus. The atrium block is stretched to fit the site, and sliced to bring light into tight campus. It responds to purely practical, rather than iconic, demands, creating a shifting mass of horizontal lines. There was a strong desire to provide the campus with a gathering place for its scientific community, students and the general public in order to promote the exchanges on all levels. Thus, each level of the south facade gradually shifts in relation to each other creating a succession of promenades and terraces. This truly public space for interaction allows the interior to become a closed atrium, accessible to researchers and students.
The gesture creates a platform for the campus, a Tribune looking towards the park. Through this form, the roof of the gym becomes a stage or podium suitable for conferences, sports and performing arts, projections (by setting up a giant screen), concerts, meetings , readings and other events. This podium, in effect a public space on a scale not built in Paris for centuries, is directly connected via gateways into the building. It also extends to the park, becoming both a new heart for the Modernist Jussieu Campus, and a connector to the city outside. The "Tribune" leads one gradually and naturally on the roof terrace of the building where one can enjoy the panoramic view of Paris, including the towers of Notre Dame.
© all rights reserved