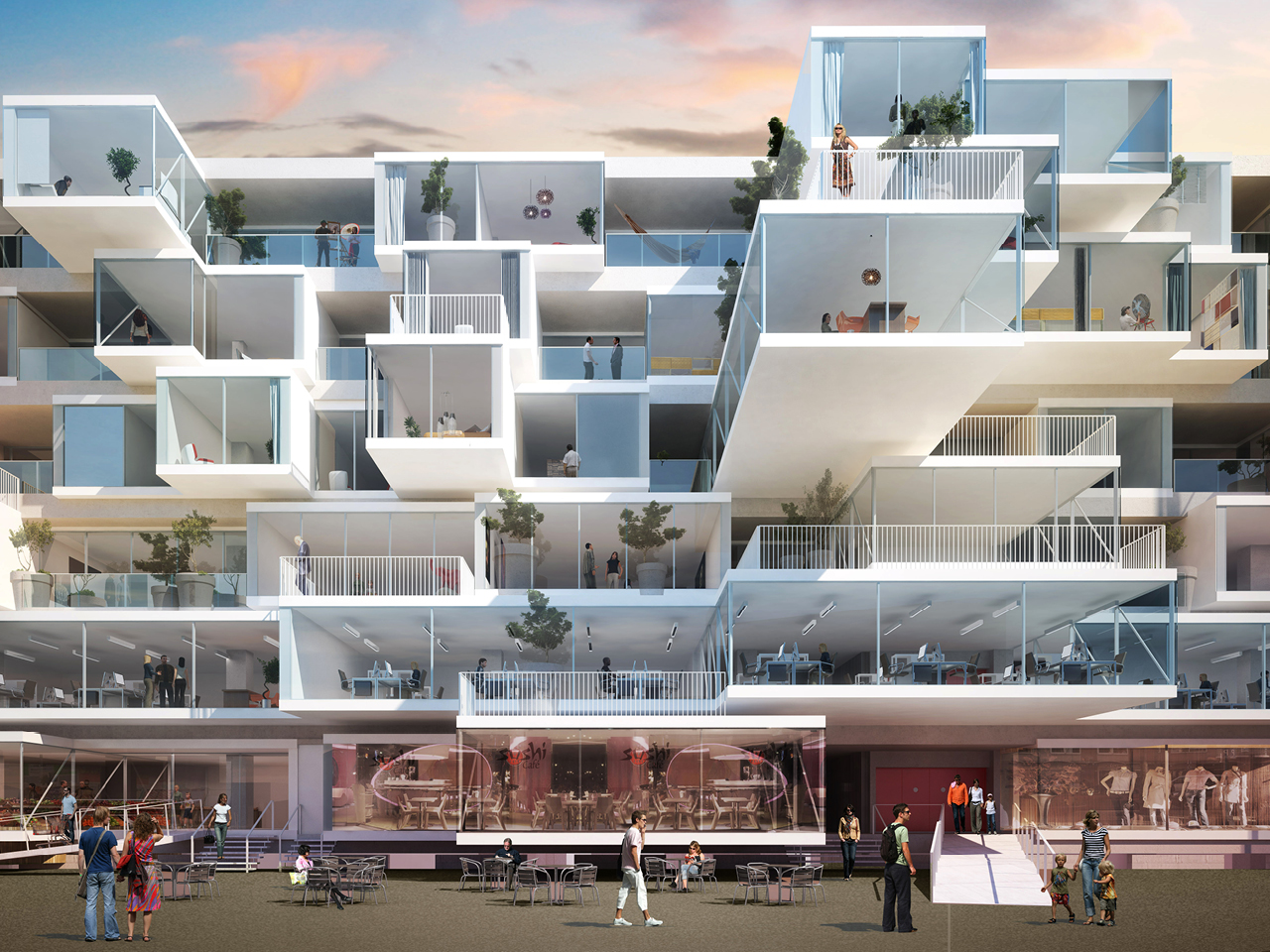 Transitlager Reloaded
The Transitlager, located near Basel, is a grand historic building originally built for the storage of cars: it is now empty and disused. The proposed housing fits into the existing building like a puzzle.The units are pushed and pulled over existing floor slabs, giving great diversity to both the façade and the typology of the units. People would not only be drawn to the 360 degree view of the Alps and the city, but to a unique apartment that boasts comfort, space and light.
Location

City

Münchenstein

Year

2011

Surface

27000 m²

Client

Nüsch Development AG, St. Gallen, Switzerland

Status

Design

Programmes

Themes
The Transit Lager in Der Dreispitz, Munchenstein, has become empty. Its original function, the storage off cars, has been repositioned to other buildings at distant locations. Now, the grand empty spaces with high ceilings feel like ball rooms. They awaken other dreams and possibilities. Working, living, dining… Imagine one can inhabit these spaces in a pure way… A clear series of steps have been developed to imagine a new life for the lager. To re-load it!
As a starting point the building is kept as much as possible; for economical, characteristic and ecological reasons. It is only stripped from the un-needed, desolate elements and obstacles where possible. The façade hardly has any qualities for its new life. When stripped, it reveals a 'rack', of oversized spaces, waiting for infill. On top of the rack some identical floors are added. One can say that the rack is extruded. This enlarges the characteristics and moreover the potentials of the existing structure. It has high and naked ceilings, beautiful columns. The volume is a strong entity in itself and will keep this value by remaining compact. The requested program fits the building like a puzzle. By putting the Gebrauchflache flush to the façade it leaves a minimal corridor and the leftover space in which to insert loggias.
The 360 degrees view over the Alps and over the city of Basel is what would bring people here to live. Besides that, a unique apartment with all the comfort, space, light and outdoors. Combined with the rough edge of the former industrial heritage. Der Dreispitz will offer a new atmosphere and new typologies of housing for a diverse public; mixing the quality of the oversized warehouses with the high standards of living.
© all rights reserved