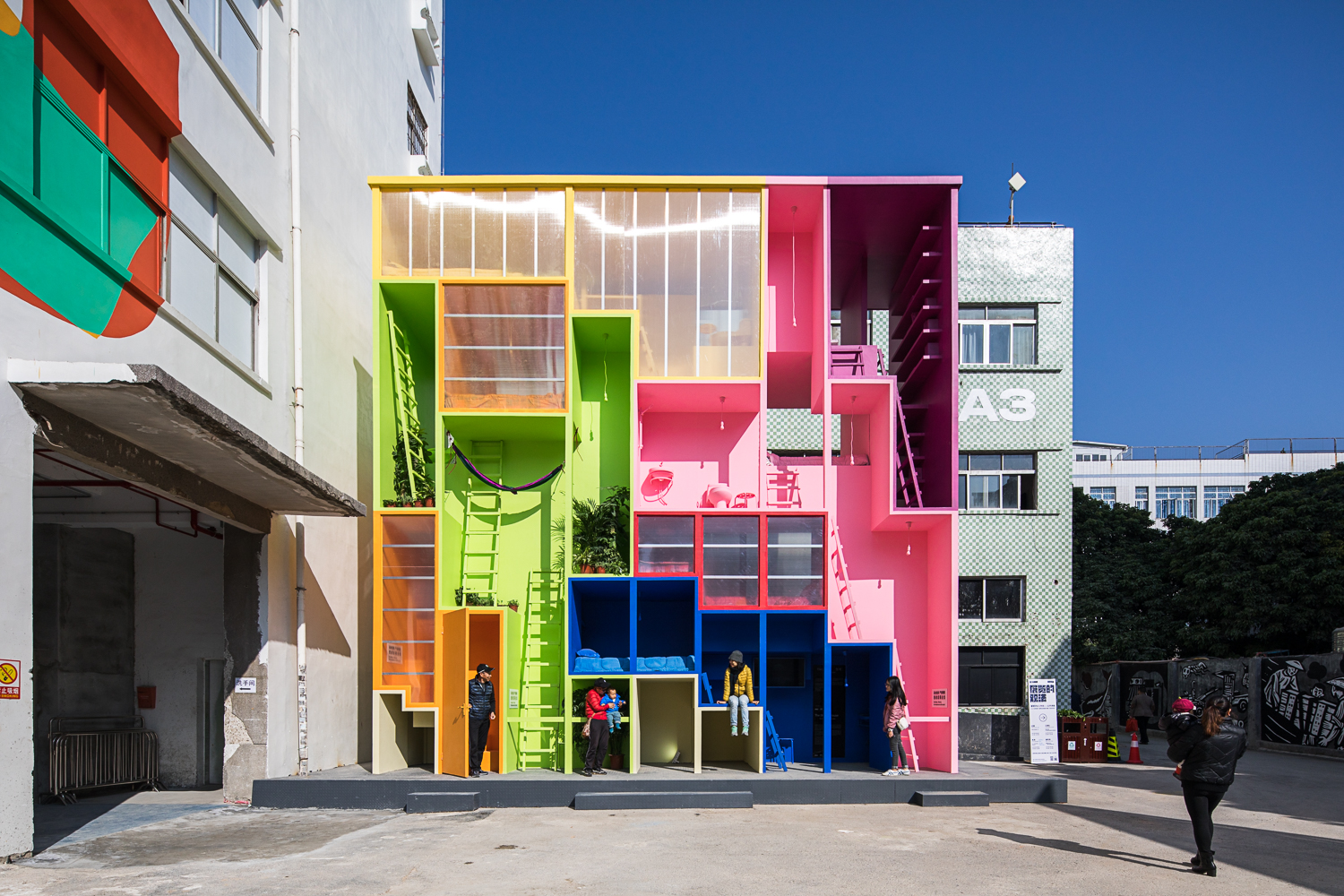 Bi-City Biennale 2017
MVRDV, together with research think-tank The Why Factory, contributed to the 7th edition of the Bi-City Biennale of Urbanism/Architecture (UABB) held at Nantou Old Town, Shenzhen. MVRDV was one of 200 exhibitors from over 25 countries that reflected upon the theme 'Cities, Grow in Difference' through site-specific exhibitions and public space interventions.
Location

City

Shenzhen

Year

2018

Status

Realised

Programmes

Themes
The Urban Village section at the Biennale presented a number of interventions within the sub-theme of "Hybridity and Coexistence" which reflected the unique urban reality that urban villages present in Shenzhen and the Pearl River Delta region.

Within this theme MVRDV, together with The Why Factory, contributed interventions exploring future cities: The Future City is Wide: Products that will Change our Cities, (W)ego House and The Vertical Village. In addition to these installations The Next Hutong, a research project by MVRDV that reflects on the hutong's development over the last decades and proposals for a better way to model its future, was presented.
The Future City is Wide: Products that will Change our Cities is the result of over ten years of research by students of The Why Factory into future city products. How will these products change the world? What will it be like to live in an absolutely wonderful, infinite, fast, green, fun, biodiverse, compact, porous, (w)egoistic, and flexible world? What urban forms might appear? The products shown in the film installation offered a wide range of answers to these questions with endless possibilities.

(W)ego House was an installation of several rooms made to fulfil idealistic but egoistic perspectives in a limited space. When confronted with the dreams of others, users must learn to negotiate with each other to optimize use of limited urban space. The (W)ego installation afforded visitors a window into the future of adaptable housing. A future in which the coexistence of multiple lifestyles is optimized in a dense reality.
The Vertical Village: Individual, Informal, Intense envisioned a new model for the development of Asian cities. MVRDV and The Why factory proposed The Vertical Village, a three-dimensional community intended to bring back personal autonomy, diversity, flexibility and neighbourhood life to cities in Asia.

The Next Hutong is based on research conducted on The Xianyukou Hutong located next to Beijing's Tiananmen Square. With redevelopment imminent residents have relocated leaving the hutong almost entirely vacant. How to respond to this unusual situation? The hutong's prominence in the urban fabric and the collective memory of Beijing means that its redevelopment comes with great responsibility.What should it become? MVRDV used this moment to reflect on hutong developments over the last decades and the need to create a better model for the future, the next hutong.
© all rights reserved