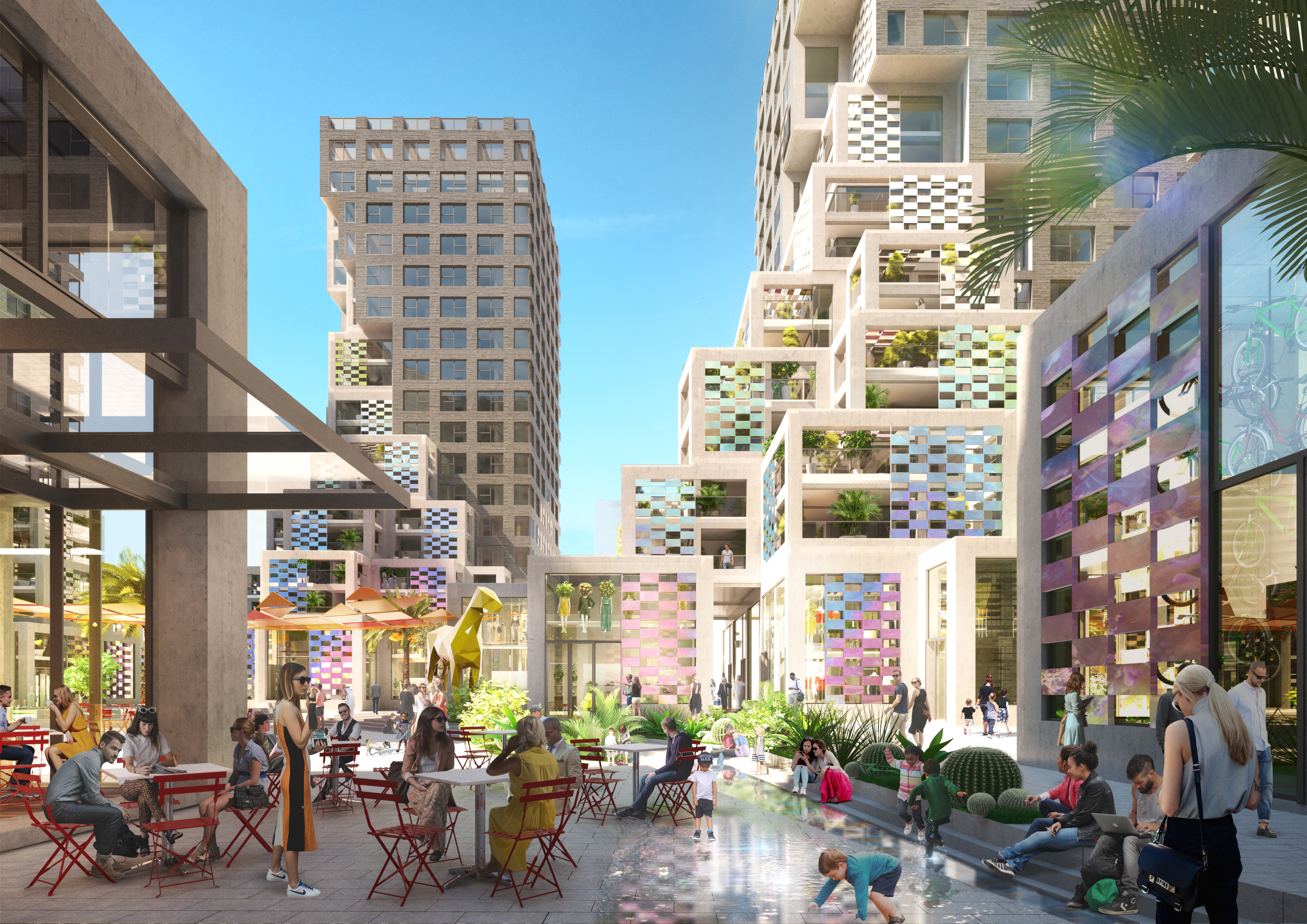 Pixel
Pixel, an 85,000-square-metre mixed-use development in Abu Dhabi, features 525 apartments, shops, offices, and amenities situated around a lively communal plaza. The design enables a lifestyle based around outdoor living and community spirit – an innovative approach in the Emirates.
Pixel is the first project under construction in Makers District, a new development on Abu Dhabi's Reem Island that is billed by developer IMKAN as the new heart of Abu Dhabi, providing a creative counterpart to the city's cultural hub on the nearby Saadiyat Island. Capitalising on the innovative, cosmopolitan spirit of Makers District, Pixel is envisioned as a development which embraces the outdoors and creates a sense of community, deviating from the prevalent typology in the United Arab Emirates of disconnected towers.
The development comprises seven compact mid-rise towers of varying heights for optimized views and shading, which are pushed to the edges of the site to create a central plaza in between. The outward-facing façades of these towers are simple, enriched with a 3D graphic pattern, but it is the façades facing the central plaza that truly bring the development to life; near the base of each tower, these façades "break down" into formations of balconies and bay windows, perfect for engaging with the lively plaza below and for embracing an outdoor lifestyle during the cooler months of the year. These balconies are further shaded by ceramic screens which, in a nod to Abu Dhabi's pearl diving heritage, are given a shimmering pearlescent finish. These screens also adorn a number of matching pavilions which MVRDV positioned in the central plaza to provide extra shade.
"The weather in Abu Dhabi is very pleasant for about eight months of the year, yet most housing there doesn't really encourage people to spend time outside. With Pixel, we wanted to show that a connection with the outdoors is not only possible in this city, but beneficial," says MVRDV founding partner Jacob van Rijs. "The values of Makers District – creativity, learning, and sharing – are all at their core about people. So our design creates outdoor spaces with the pedestrian plaza and 'pixel' balconies to encourage a sense of community spirit, enabling this social and creative atmosphere."
Pixel contains 525 apartments of varying sizes, ranging from studios to spacious three-bedroom homes. These apartments are arranged in a way that celebrates diversity, mixing more expensive units and more affordable spaces together instead of the typical model in which the most expensive units are placed on the highest levels. This is enabled by the development's central pedestrian plaza, which with its vibrant atmosphere offers a benefit to living on the lower levels. All the apartments further benefit from fully equipped fitted interiors, with the interior design also lead by MVRDV.
The pixelated form of the design also makes the towers wider at the lower levels, making them perfect for accommodating the development's offices – which, with their flexible layouts allowing spaces as small as 50 square metres, are perfect for start-ups – as well as shops, cafés and restaurants, a clinic, and a wide range of amenities including a pool, gym, community spaces, and a children's playroom. The central plaza also forms a part of "The Artery", a continuous pedestrian public space through Makers District that connects Pixel to the nearby beach.
© all rights reserved