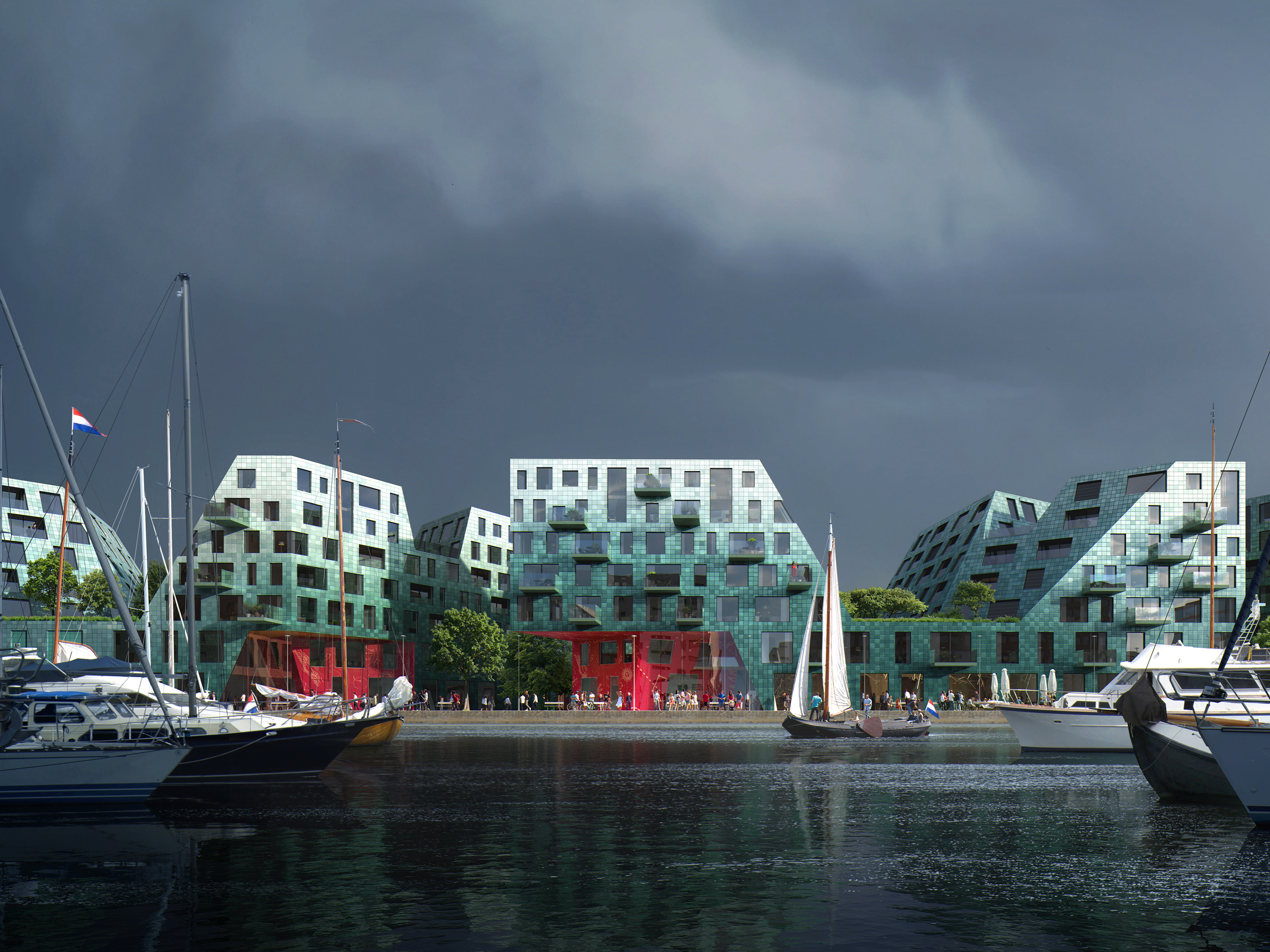 Ijburg Agora
MVRDV's design proposal for IJburg Agora seeks to create a 25,000m2 mixed-use neighbourhood consisting of distinct, porous buildings that establish fluid social dynamics between living, commercial and recreational functions.
Location

City

IJburg

Year

2017

Surface

25000 m²

Client

Synchroon Ontwikkelaars

Status

Competition

Programmes

Themes
The development of Lot 42A in IJburg Amsterdam presents the opportunity to establish a vibrant hotspot right next to the port of IJburg. A balanced mix of living, working, and recreation with a distinct nautical character that will become the beating heart of the district. A neighbourhood for and by the residents, but with attractions for the entire city. The programmatic concept is inspired by the Greek Agora, which literally translates as a 'gathering place'. A place for social and commercial activities, but also for recreation. It will become a desired destination for water sports, cultural activities, food and play. In the halls, quays and squares - IJburg comes alive.

SOCIAL DYNAMICS

The emotional heart of IJburg is one that doesn't yet exist. An exceptional combination of robust public indoor spaces and facilities creates an area of atmosphere and character. This dynamic is reflected in the spatial organization of the Agora of IJburg; a rich combination of quays, streets, indoor and outdoor spaces allowing for social interaction.
DIVERSITY AND FLEXIBILITY

A wide range of commercial and cultural functions - that serve different target groups - are given a place in the buildings. These include a hotel, cultural center, art film house, food hall and sports facilities. In addition to these public functions there exists a diverse residential offering: from family houses on the quay to compact rental apartments with great views and double height DIY lofts.The hybrid loadbearing construction and free-flowing lower floors require a concrete column system that, in combination with customizable timber construction for the upper levels, allows for a building that is flexible and transformable over time.

SCULPTURAL QUALITY

The location is characterized by accessibility and vast vistas - the design was inspired by this openness. A network of sight lines serves as a framework to sculpt the volume of the buildings. The angular shapes of the plans of the streets and interior halls derive from this logic. In doing so, the spatial character of the place is maintained and a distinct silhouette is created.
ECOLOGY AND LANDSCAPE

The building complex is embedded in a rich landscaped mosaic featuring many programs, trees, and plants that retain and clean water. Inspired by the water-rich environment, the building integrates landscape with ecological qualities. Building, greenery and water form one system; from roof to plinth and from shore to interior.

DESIGN WITH THE SUN

The sculptural shape is designed to allow the building and outdoor spaces to benefit fully from daylight and sunlight. The form is a result of an intensive design iteration process between the architect and engineer; aesthetics and logic. These include parameters such as daylight, facade exposure, favorable floor area, PV surface, and view; optimally balanced by computer simulations and continuous feedback. The positions and dimensions of the facade openings and balconies were optimized through a similar process. The seemingly random and diagonal architectural shapes have a hyper-rational background.
© all rights reserved