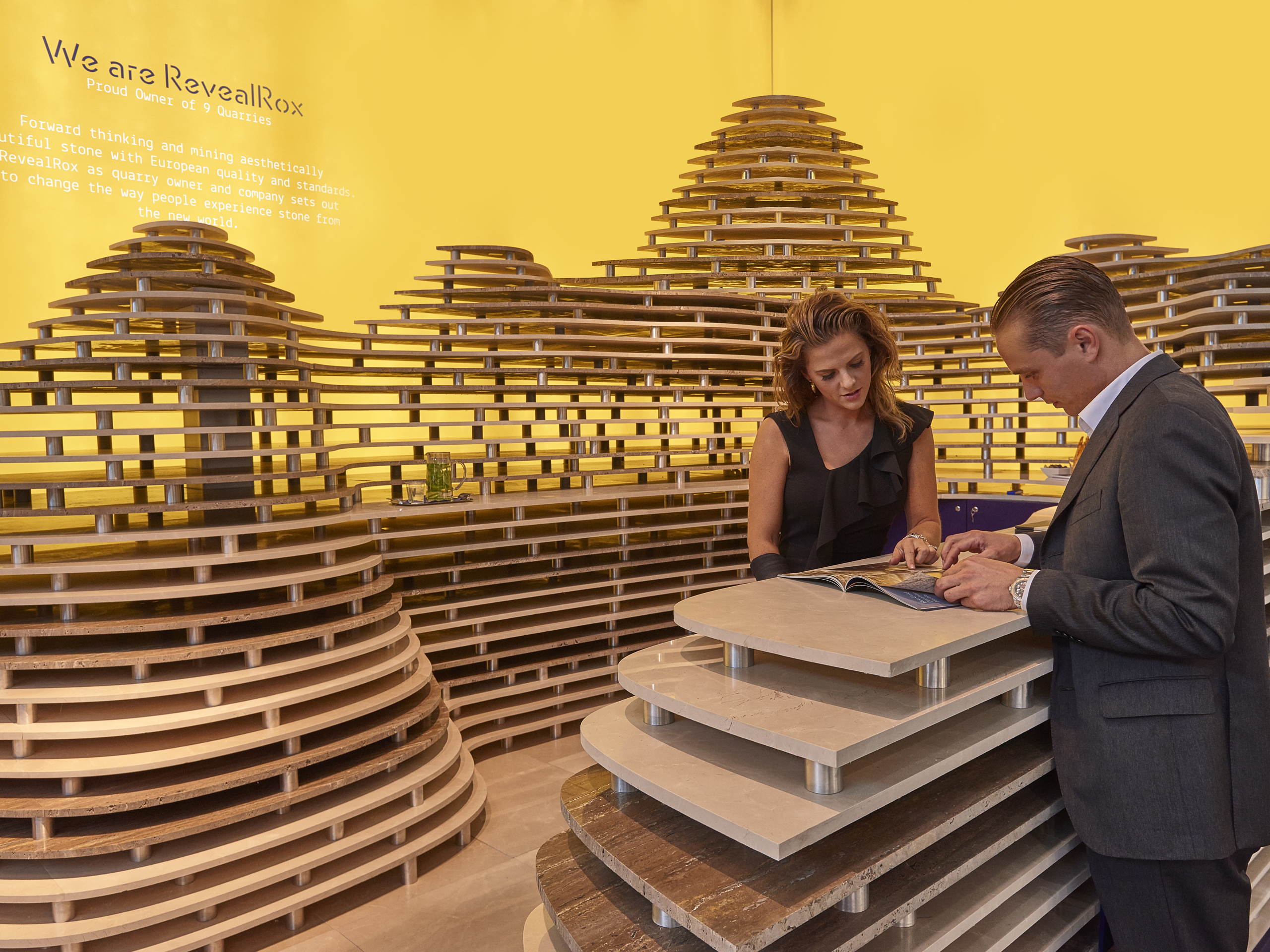 Marmomacc RevealRox
MVRDV's design for RevealRox is the first collaboration with the premium quarry owner that mine aesthetically beautiful stone of high quality and standards. Inspired by the ethos of the company, who retrieve natural stone products from rock formations, the fair stand's design is an architectonic interpretation of their working process.
Location

City

Verona

Year

2017

Client

RevealRox

Status

Realised

Programmes

Themes
RevealRox own nine quarries and have direct access to stones in travertine, onyx and several types of marbles from their mines.

To represent the company's exclusive aesthetic in the leading annual stone trade fair: Marmomacc in Verona, Italy MVRDV designed a distinct mountain-shaped stand constructed with natural stone from their portfolio.
The fair stand takes on the form of a natural landscape; a layered structure of organically shaped plates of stone. The spatial arrangement resembles the mining process that exposes the natural stone from rock formations layer by layer, stone by stone. In this way the stone appears both light and heavy, solid and transparent and resembles both source and end product.

Two different types of stone - marble & travertine - from the portfolio of RevealRox were used to form a sculptural backdrop for meeting and presentation.
Functional spaces and furniture such as a desk and lounge area have been carved out of the layered mass mimicking how centuries of erosion occur within natural rock formations. Due to its diverse and fluid arrangement the stand offers a unique perspective from each angle. The stacked layers of marble and travertine visually interact with the environment like a subtle moiré. The overall shape of the fair stand offers both seclusion and a welcoming gesture to the bustling fair scenery of Marmomacc.

A leading global event for the natural stone industry, Marmomacc represents the entire supply chain, from raw material to semi-finished and finished products, from processing machinery and technologies to applications of stone in architecture and design.
© all rights reserved