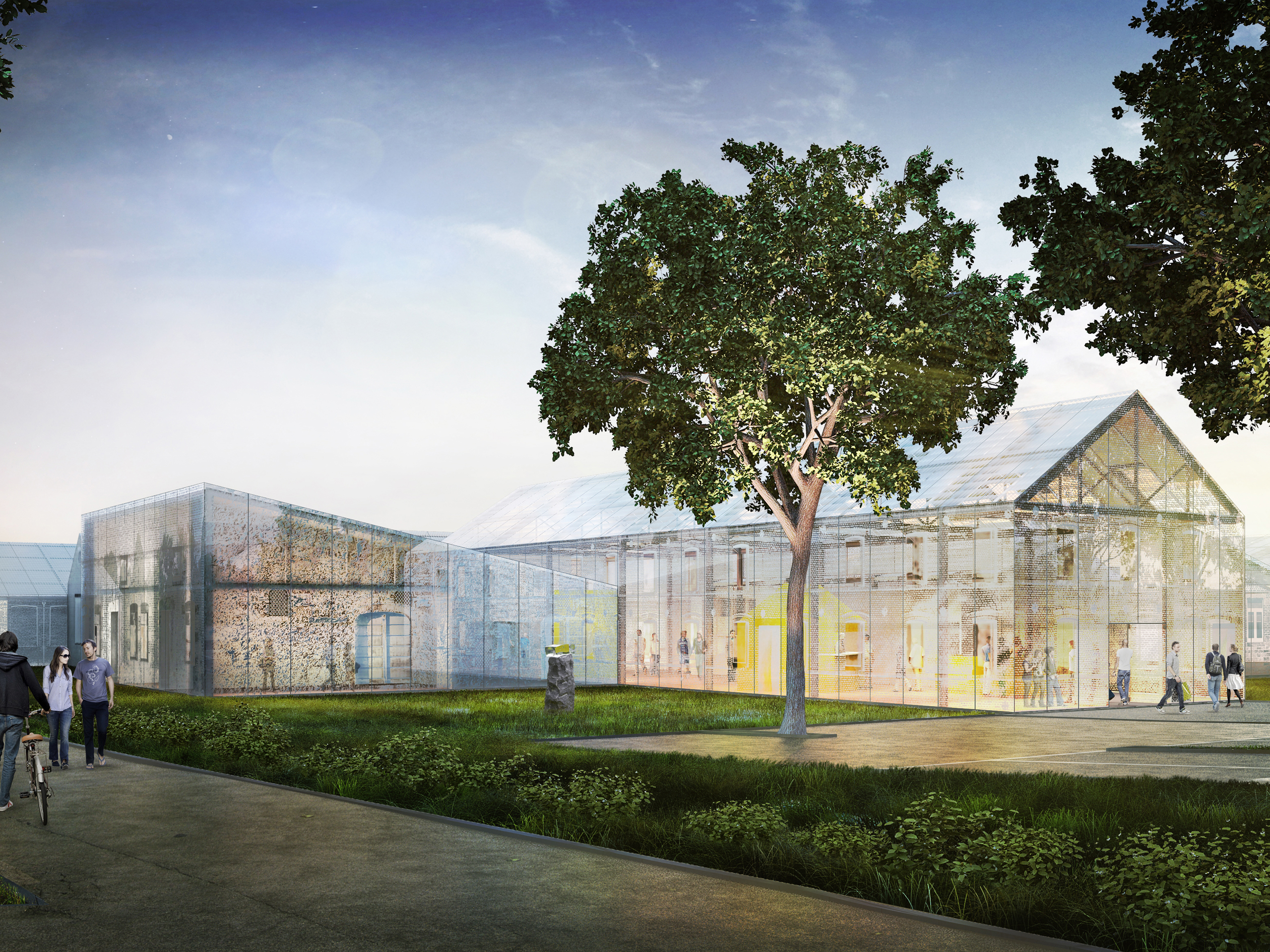 Glass Museum
The architecture of MVRDV's Glass Museum stems directly from the site in which it takes place: a village that has developed around the glass industry. The project collects a wide variety of roof typologies from the village according to their spatial characteristics and distributes them according to the requirements of the exhibition spaces. These volumes are then combined to form a village of different spaces and exhibition contents.
To relate the Glass Museum to its context, a survey was taken of all the varying types of industrial buildings in the surrounding area, characterised by their roof typologies.

Collecting these typologies together and using them as the basis for the design of the Glass Museum is not just a poetic gesture ; it provides the building with a scale and form appropriate to the area on the one hand, and gives visitors a distinct sense of the its industrial past. The building becomes rooted in its context, rather than being perceived a foreign insertion.
The volumes are wrapped in a unique material: glass in all its various forms, imprinted with images of industrial buildigns from the area. Using varying degrees of transparency, filtration and opacity in different systems of cladding, curtain walls and structural glass creates a diverse monument to the processes and technologies of glass production.

Each of the "houses" are modular structures, which take on a wide variety of materialities which respond and adapt to changing conditions and requirements.
The visitor's experience is defined by entry into a reception room of sorts, which contains a boutique, cafe and service spaces, and a sculpture garden at the center of the plan. The courtyard creates the opportunity for a scenic route through the building. Various exhibition spaces and an auditorium are oriented around the courtyard, with the north side devoted to non-visitor functions.

The organization of these is clearly defined, and based on principles of zoning. The staff zone is connected to private workshops and has its own logistics route to the north. It is also connected directly to the exhibition spaces. The delivery area, a covered loading dock, is also connected to the northern corridor. Technical facilities are located in the basement museum.


The exhibition spaces are characterised by a wide variety of modular display units, including 'tables', metal display cases with a backlit tray, which hang from the ceiling, and 'houses', which provide smaller display areas for detailed information. By hanging all display equipment, including lights, curtains, screens and banners, from rafters, the museum is incredibly flexible an can be arranged in an infinite number of configurations.

The modular, lightwight display systems are well suited to the similarly lightweight building itself, and are designed to fade into the background and make the glass pieces the centre of attention.
© all rights reserved