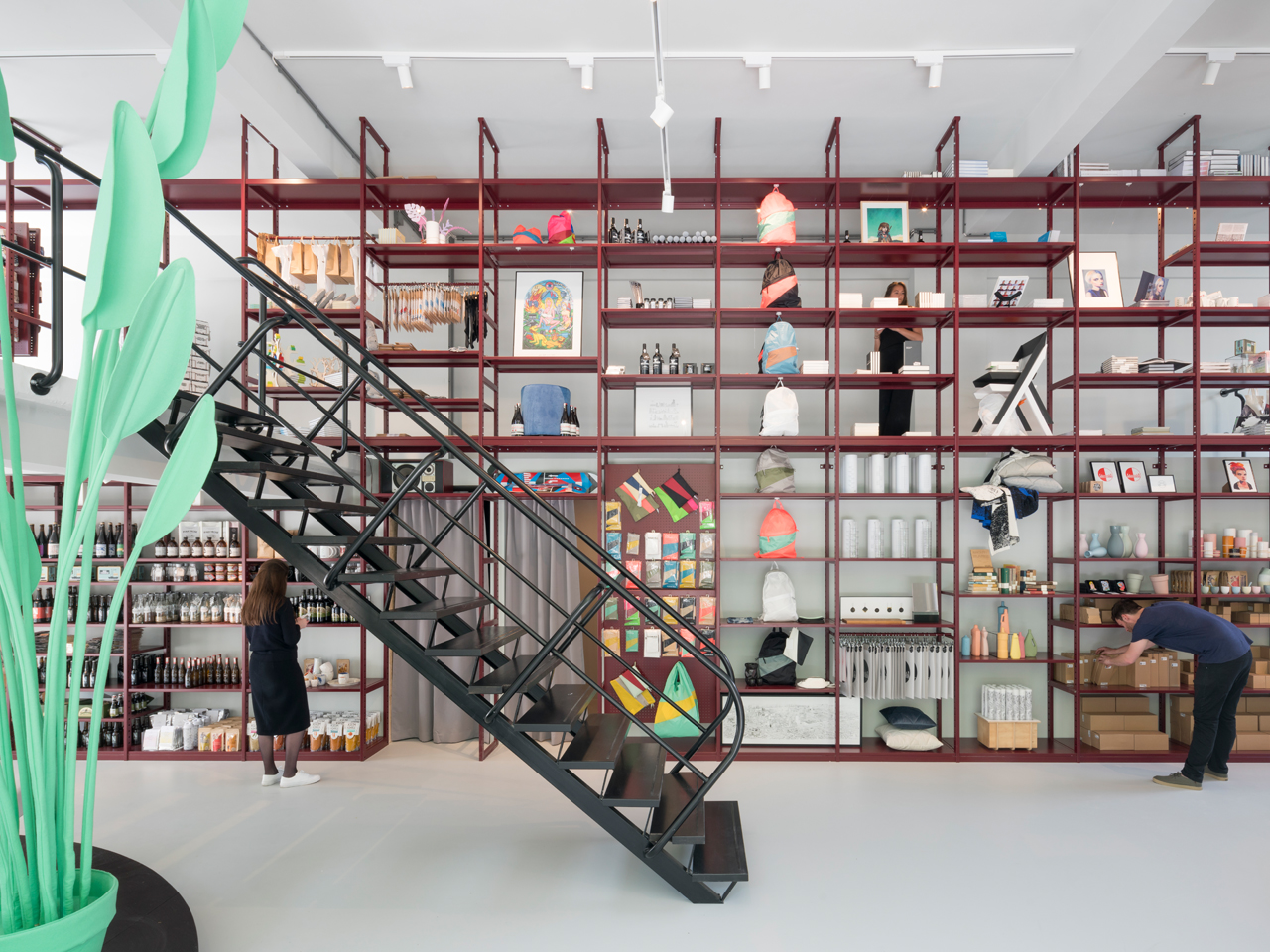 Groos Rotterdam
After four successful years at creative hub Schieblock concept store, Groos has moved to a bigger and more dynamic 300m2 space at the historic Het Industriegebouw. The new stores' identity designed by MVRDV restoring the existing facade and interior to its original industrial roots.
Location

City

Rotterdam

Year

2017

Surface

300 m²

Client

Undisclosed

Status

Realised

Themes
From The Wall Street Journal to Elle, and Architectural Digest to The Lonely Planet city guide; Groos has been named as a leading example for promoting contemporary goings-on in the world of design, art, food and culture in Rotterdam.

The one-of-a-kind 300m2 concept store is also heading in a different direction focusing more on high-end design, art, and collaborations with a range of creatives, yet still staying true to its original concept: to promote local talent from Rotterdam to a wide audience. The store's distinct bright pink wall displays original artworks, and its custom-made mint green candy counter is designed by Sabine Marcelis.
"As the store and city evolved, it seemed right for us to take the next step as well" says Groos co-founder, Tjeerd Hendriks. "We started out in Het Schieblock in an up-and-coming neighborhood with minimum funds and now we are moving to a monumental and historical building with world renowned Architects, MVRDV as our neighbors, and designers of our dream store.''

MVRDV's design proposal restores the space to its original form and makes the shop compact by creating a custom-built cabinet of Rotterdam products which allows maximum floor space for a changing events and gallery program.
"We felt glad to have Groos joining us right next door at Het Industriegebouw, a historic building that now houses a diverse group of creatives", says Jacob van Rijs, MVRDV co-founder.
Het Industriegebouw was an obvious choice for Groos' new home as an icon of the reconstruction of Rotterdam designed by the legendary architect Hugh Maaskant in collaboration with Willem van Tijen. Its original function as a communal building is now being restored as it continues to return to its former glory. From growing tech start-ups to creative entrepreneurs, artists, architects, designers and from fine dining to high-end retail, Het Industriegebouw is Rotterdam's urban place to work, eat, shop and relax and now, also the new home of Groos.

MVRDV continues their contribution to the local scene, with this design of the new Groos store and shares in the drive to support Rotterdam's entrepreneurial and creative spirit.
© all rights reserved