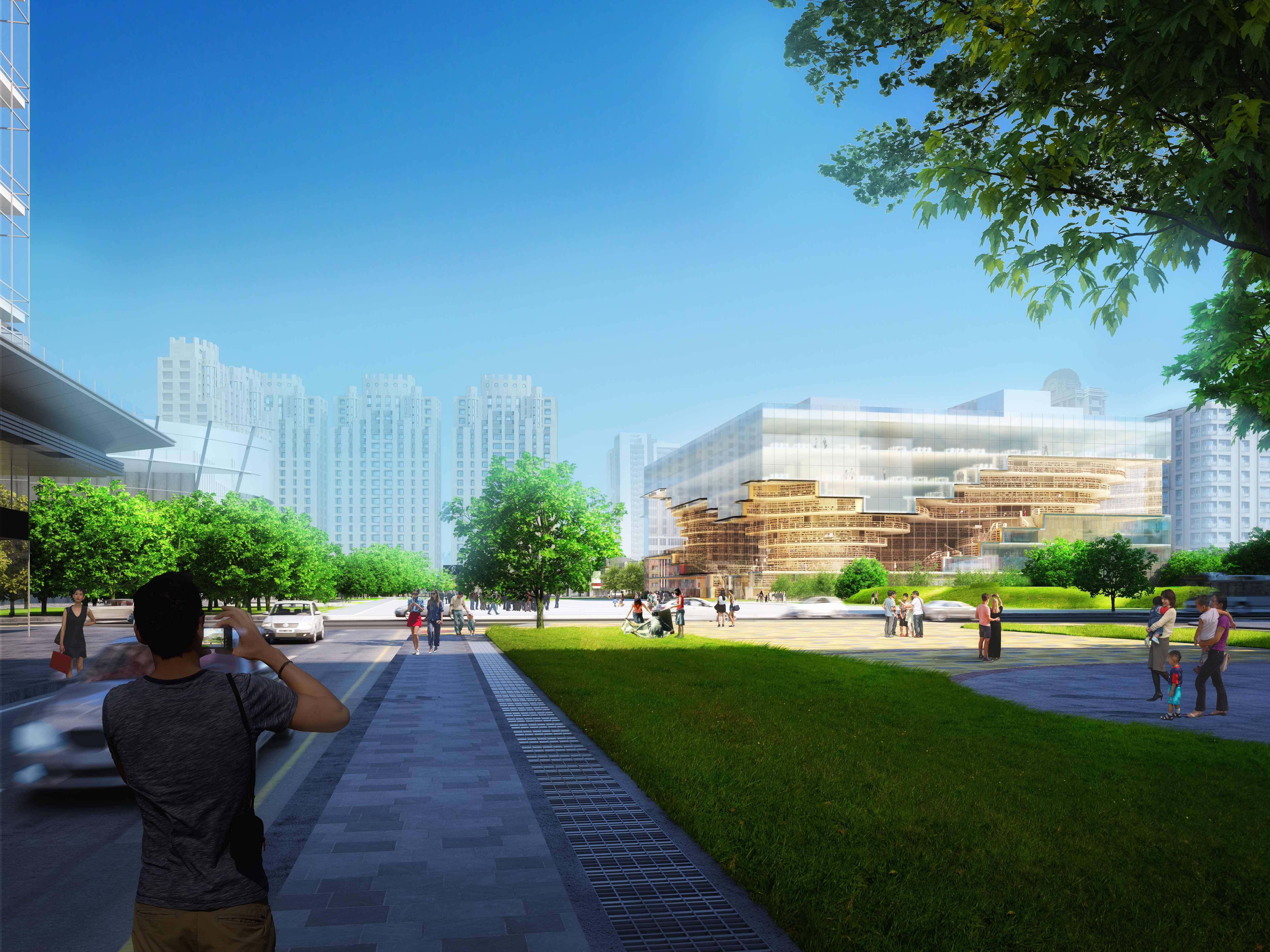 Taoyuan Library
The new Taoyuan Library typology is a diverse space for reading and learning, but also opens up into plaza due to its positioning on the northeast side of the square, allowing for maximum views, but at the same time connecting it to the square's lively atmosphere.
Location

City

Taoyuan

Year

2017

Surface

31300 m²

Client

Taoyuan City Government

Status

Competition

Programmes

Themes
MVRDV's proposal for the design competition for a new public library in Taoyuan seeks to create an open, living, breathing and social space for book lovers located right in the city's central plaza which is slowly becoming Taoyuan's true central space.

The main volume is rectangular shaped which means that it doesn't compete with the oval shape of the pre-existing art centre, thus creating a Ying-Yang composition. The building with its porous façades connecting it to surrounding streets allows the different levels act as rooms and also interacting as welcoming entrances and terraces that spill out of the building

"The terraces form a true reading and study landscape that combines intimacy with a great overview of the square'', says Winy Maas, "With a concentration and understanding, the green terraces and building overall form an intriguing monumental but hyper friendly reading environment."
The library is composed of a combination of different programs with open ones like the reading room, city room and collection room. The open programs overall form a giant 'reading room' that extends from façade to façade. It becomes a central space where one can look up books from racks, read at tables or have a coffee. The room is surrounded by openable and closable glass facades that show the park and city.

This city room, on the other hand, is composed out of a series of smaller rooms and gardens that each contribute to the usage of the square. These are the true public parts of the building whilst enclosed connected through the cabinets allows the possibility enter adjacent program spaces including theatres, lecture halls, shops, archives and offices. The lawn can be used for picnics, whilst the garden for relaxing, sitting and offering a more contemplative space.
© all rights reserved