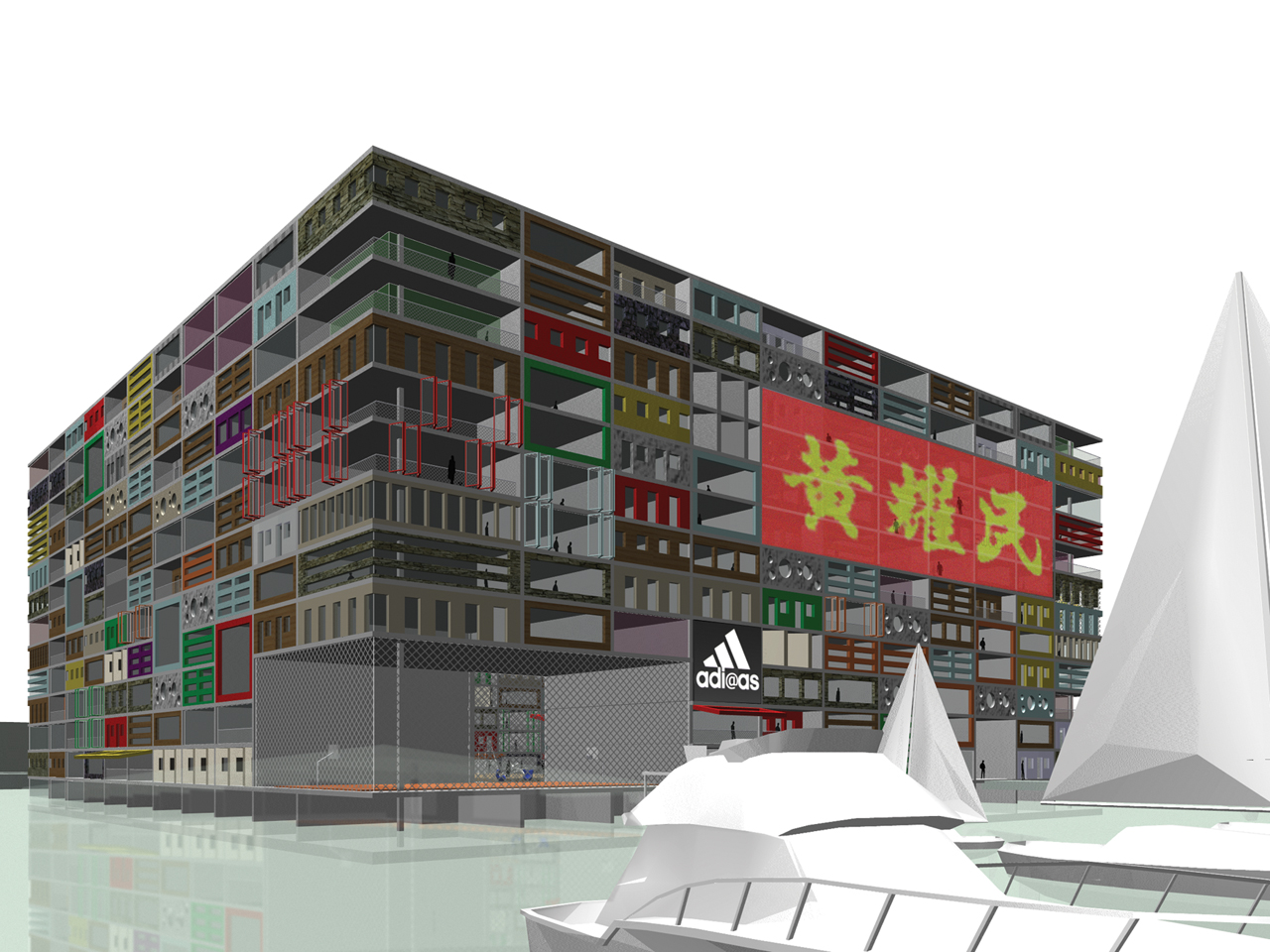 Sluishuis
This is the opportunity to add a monument to the city near Amsterdam's city centre. A model for this urban extension, which makes the Pampusplan slip our minds. Or does it reopen the discussion? Is this the moment to combine all history's ambitions in a new icon? A modern 'statue of liberty', combining all possible ecological, technological, sociological and political ideals.
Location

City

Amsterdam

Year

2001

Surface

4000 m²

Status

Competition

Programmes

Themes
THE IDEAL

It's completely self-sustaining. A windmill, solar cells turning towards the ideal sun position, a water purifying facade, a clear swimming lake and double orientated dwellings. A column grid and high floors allow flexibility.

A mix of programmes, enough parking places, a direct connection to the public transport. Public spaces: a public swimming lake, a marina and boardwalks, a public 'sky-plaza'.
RESTRICTIONAL ARCHITECTURE

Do financial and urbanistic restrictions justify this position? High ground price, high building costs and the obligation to provide cheap housing. Because of the fixed envelope a thick courtyard building seems to be the only financially viable possibility.

Is this still architecture, or is only restriction? These restrictions led to a concrete structure and a two-apartments-per-core organization.
Big apartments, small apartments, duplex, double's, triple's, studio's, offices. The ultimate skeleton for individual freedom. Multiple choice architecture with marble, brick, glass, cage, mesh, empty, bird nests, advertising-panels (which improve the feasibility). But is this acquired freedom really freedom? A 'statue of liberty' of nowadays?

Two proposals were designed providing very different solutions to the set of issues. Ultimately the chosen option was the aforementioned restrictional courtyard building.
© all rights reserved