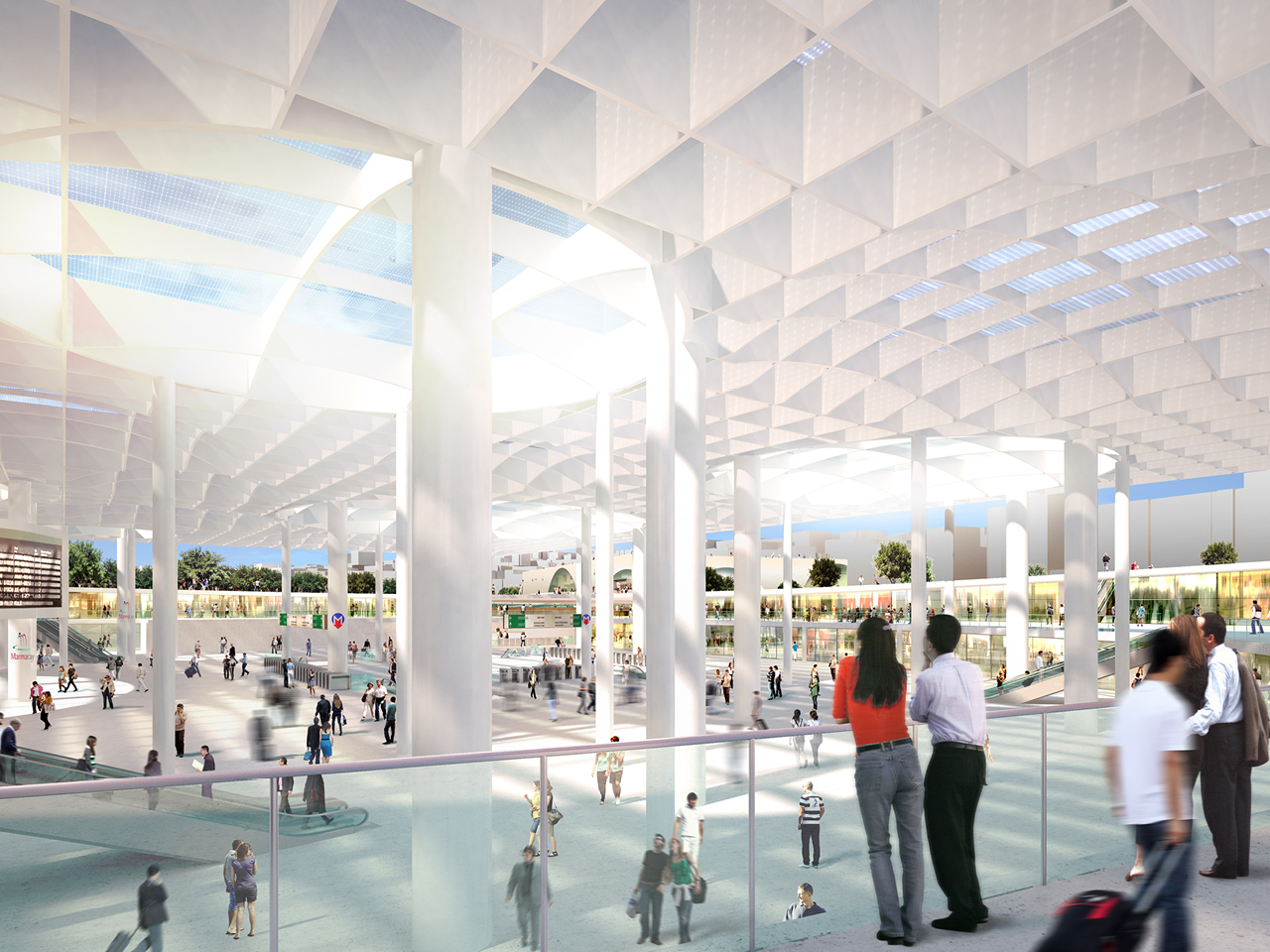 Yenikapi Archaeo Park
If a cosmopolitan city is to be defined as a place where circulation of different people, knowledge, technology, cultures, ideologies, capital and goods throughout history intersects and transposes, then Istanbul has performed this function for several thousand years: Istanbul is a 'global junction point' that not only connects continents, but also civilizations and lately, new forms of modernities. The Yenikapi Archaeo Park is MVRDV's solution to the clash of modernity, a metro station, and history, ancient ruins.
Location

City

Istanbul

Year

2012

Surface

160000 m²

Client

Bimtas Bogazici Insaat Músavirijk A.S.

Status

Competition

Themes
The Yenikapi area is in constent transition; over a period of 20 years the current huge asphalt surface that makes up a complex of bus stations will be transformed into an open-air laboratory for excavations, and will finally become the luscious green void it has been in past times. The river silted the Theodosius Port in ancient times, turnining the walled area into an incredibly fertile oasis. It has even been used to grow food, and after was a botanical garden for many years; developments that can be traced on historical maps.
MVRDV's proposal for the area tries to rectify this past history, and the many sensitive archaelogical sites in the area, with the modern need for a transport hub, adding cultural and public facilities along the way. The museum will allow access to the ruins, while protecting them from the station below. It will be an open-air experience, rather than a hermetically sealed box. Near the station and next to the excavations are the entries to the underground plaza. The transfer point is opened up to the public realm with enormous gateways into this sunken plaza. The plaza offers a generous intersection between ground level and the transport hub below, and is surrounded by shops, cultural program, cafés and restaurants. By putting this commercial and transport program underground, it allows Yenikapi Plaza to be placed above ground, a grand public space that dense Istanbul so needs.
In addition to the underground and overground plazas and the Archaeo-Park, the new City Archive will become a significant cultural facility and tourist attraction. It will provide a place for visitors and citizens of Istanbul alike to about the city's impressive history and ancient trade connections. The City Archive will house the numerous findings, research and restorated objects that come directly from the archaelogical sites, and will compliment the Archaeo-Park as a monument to the city's collective memory.
© all rights reserved